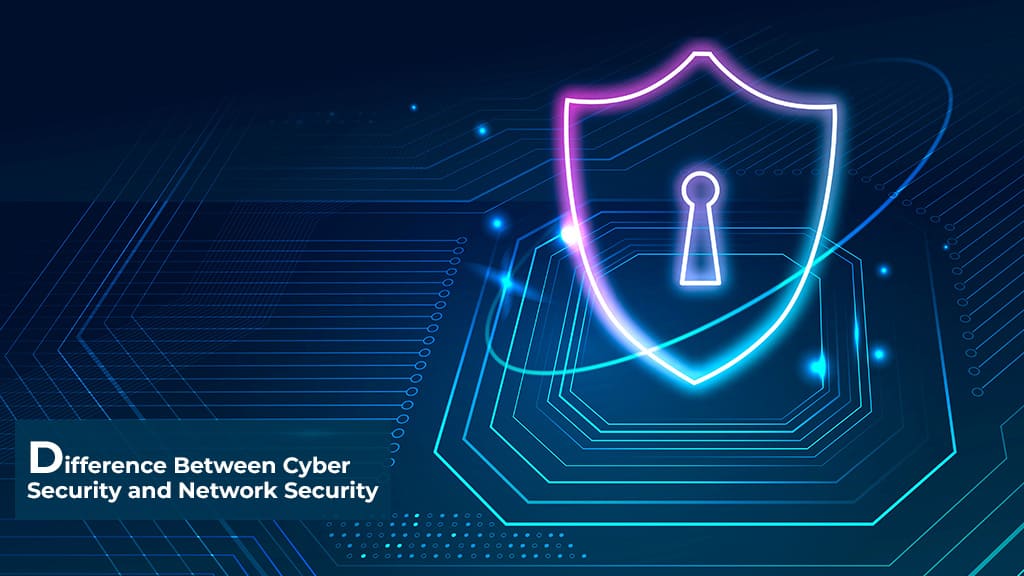 Get valuable insights and stay ahead of the curve with this essential guide in terms of cyber security and network security.
Cyber security and network security may be the sides of the same coin in the subject of the technical world, but the literal meaning for both is completely different.
With the rise of the tech era comes the increase in cyber and networking attacks; therefore, the demand for virtual security has also increased.
And due to this, the professionals and experts in the internet security sector are highly in demand. To secure the stored information and network routes, cyber defence knowledge is potentially in need.
This blog has good information to make you understand cyber and network security and their main differences.
Let's get started.
Cyber Security: All Inclusive Protection from Unwanted System Access
The definition of cyber security is to secure the cyber system meaning every bit of information and all data stored from being accessed by any unwanted entity.
Cyber security protects the data and information stored online and on-system from cyberattacks, unauthorised accesses and digital malware attacks.
It is a critical component of any modern organisation, regardless of industry or size.
These cyber solutions protect sensitive data, financial information, and other valuable assets from cyber threats.
Organisations must implement a robust cybersecurity program encompassing a range of best practices and tools.
What are some Cyber Security Essentials?
Here are some ways to strengthen the cyber security of an organisation:
➤ Network Security
Cyber security is essential to having trusted network security backed up with firewalls, intrusion detection systems and other security measures.
➤ Regular analysis
Cyber security engineers must conduct regular audits and assessments to address the vulnerabilities in the system security.
➤ Encrypted data
Encryption is crucial cyber security essential as it lowers the chances of data loss in an unreadable format. Access is only possible with deciphered key owned by the authorised person.
Why is Cyber Security Important?
With this, the possibilities of online attacks such as Malware, Phishing, Man-in-the-middle, SQL injection, DOS etc., deprive us somewhat.
Cyber security analysts operate with various techniques to deeply understand the requirement and deploy security over servers and organisation systems.
Network Security: A Defensive Wall for Your Networking Infrastructure
The definition of network security is securing an organisation's computer network from external and internal threats and ensuring the safest information flow over the net.
Network security provides a protective cocoon to every networking layer from the sender end to the receiver side to safeguard from data breaches with required confidentiality.
It involves protecting the computer network infrastructure from unauthorised access, misuse, modification, or destruction.
Network security management ensures data and resources' confidentiality, integrity, and availability.
What are Network Security Solutions?
The given network security essentials are the backbone to provide robust security to a network:
➤ Network Access Control (NAC)
NAC is a network security solution that controls access to the network based on predefined policies. It keeps an eye if only the authentic users are entering the network.
➤ Data Loss Prevention (DLP)
DLP is a network security solution that monitors and controls data leaving the network to prevent data loss or theft. It ensures that sensitive data goes through the web with proper authorisation.
➤ Firewalls
Firewalls are a network security solution that is a barrier between the internal and internet networks. It monitors incoming and outgoing network traffic; alert and then block the malicious access attempts.
Why is Network Security Important?
Network security solutions are vital to adequately defending vast amounts of data over the network infrastructure.
It can protect the organisation and data integrity and limit accessibility against unwanted resources and intruders.
Difference Between Cyber Security and Network Security
| | | |
| --- | --- | --- |
| Name | Cyber Security | Network Security |
| Definition | It protects anything and everything present inside the cyber realm by striking against cyber fraud. | It defends everything over the network realm and fights against Trojans.. |
| Viruses & attacks | Cyber security provides protection against cyberattacks & crimes, Malware, Phishing, pre-texting etc. |  It includes DOS, MITM, SQL injections, viruses and worms. |
| Type of protection | It deals with shielding the data resting on the system. | It secures the data transferring from one end to another across the network by terminals. |
| Security Measures |   Cyber security companies regularly upgrade stored content, secure sensitive data and provide end-to-end encryption. | Network security measures ensure double authentication and software and password updates occasionally. |
| Importance | Cyber security services are important to ensure that critical and sensitive information is safe from outer and internal threats. | It protects data from damage, attacks or misuse and hence protects the reputation of an organization. |
| Jobs name | Cyber security analyst, cyber security engineer, and expert in cyber security are essential job roles. | Network security engineers and architecture provide network security solutions to a company. |
| Conclusion | Cyber security is a subset of the information security and protects everything available digitally. | Network security comes under cyber security that protects a one part of it. |
The Bottom Line
Cyber security covers the entire online age from vulnerability shortcomings, and Network security is part of it that shelters an IT (Information Technology) infrastructure of a company.
Network and cyber security must remain vigilant and protective in this digital age. Understanding these two can bring better outcomes to protect crucial data over the web.
Secure your digital assets with the best cyber security company in the UK, experienced and accountable.
Pollysys is the leading firm with brilliant Cyber security qualifications and tirelessly provides network security management. Work with no fear of threats and attacks.
Contact the team and be fearless today. Ring us on 020-3003-4830.
Recent Posts
Contact with us for any advice