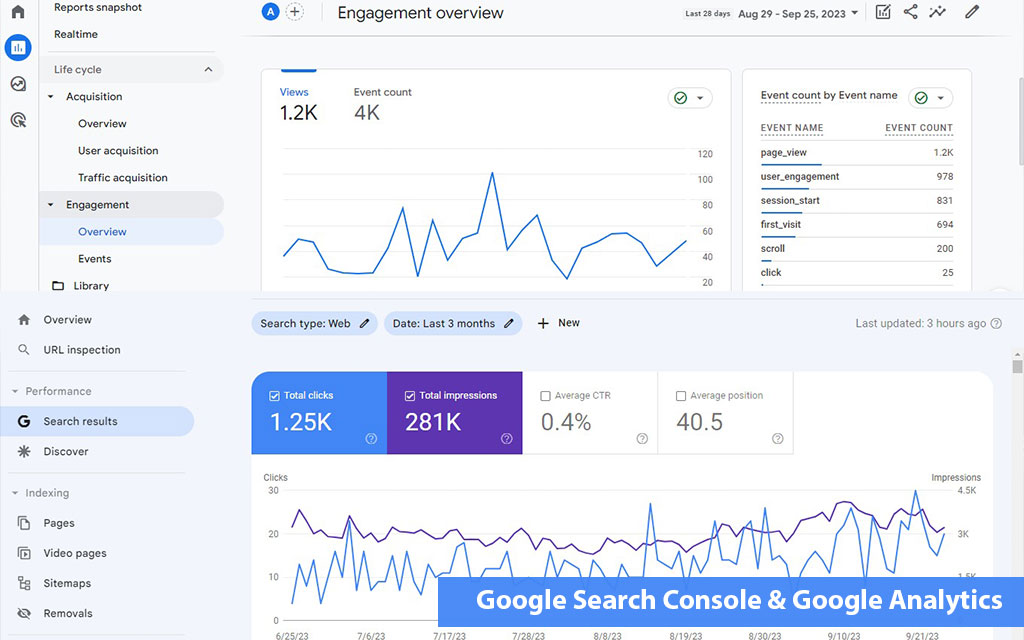 Google provides various marketing and business tools for the best possible insights into your digital data – Google Search Console and Google Analytics are popular amongst all – Let us know what they do and how they differ.
What is Google Search Console?
Google Search Console is the free Google tool best utilized by business owners and bloggers to see the ranking of their website on the Search Engine Page Results. It is very concerned with how the performance of a website over the Google search engine.
Goggle Search Console tracks:
Website visitors
Page ranking
The number of impressions
The people who see your site in the results
Which keywords made the website rank better
GSC or Google Search Console primarily focuses on SEO metric and gives highlights on the ways to improve it.
■ How does Google Search Console track website visibility on search engine?
The best thing about Google Search Console is that it gives suggestions on improving website domain and security for it to get a better rank. By understanding its output, you can modify it per the suggestions.
GSC tells about the health of your website through data shown in graphical forms.
It ensures your website gets all the attention it deserves and brings the fruits of the things you have worked on your site.
It expands information on the backlink profile, eCommerce conversion rates, and possible errors.
What is Google Analytics Tool?
Google Analytics is another Free tool offered by Google for checking on users' activity on your website. It is very concerned about the website interface, web designing, the depth and quality of the posted content, internal links and more.
Google Analytic Tool tracks:
How many users clicked and visited your site?
The duration people stayed on the site.
The conversion rate.
Bounce rate or the number of people leaving the site just after entering it.
Regular visitors or the fans.
GA or Google Analytics tracks every user, from where they came, who they are, and what they do on your site.
■ How does Google Analytics support website improvement??
Google Analytics is one of the greatest Google Tools providing detailed and in-depth details on your website traffic. It is the power of JavaScript snippets behind this most helpful Google tool for analyzing a site visitor.
It collects data and users' activity information and does data processing.
GA gives you specific metrics about when your site showed up on SERP (Search Engine Result Pages) and when people clicked on it. How many clicks did it earn?
All this data helps determine what people are looking for and whether you meet their demands.
How do Google Analytics and Google Search Console Tools help in a business growth?
Both GA and GSC are the doorway to a step forward for SUCCESS!
They are the best way to help you make smarter decisions to improve the website and connect with customers in the best feasible way.
Know how:
Learn about organic traffic and technical errors of a website.
You can learn more about your customers, their likes and dislikes with Google Analytic tool. While Google Search Console Strengths the website's technical side
GA and GSC keep a keen eye on every single activity.
They both are like a super spy that watches and learns about what people do on your website and when your website shows up.
Both Google marketing tools are best for regular updates.
Analytic tools monitor everything, like who visits your site, what they like, and what actions they take, such as buying something or signing up. It follows how well your ads, keywords, and paid marketing are doing.
You could track if an idea worked or failed with Console and Analytic Google tools.
Marketers can see from all their strategies what works best, what people enjoy, and how they use the website and content. SEO consultants get ideas for working on the back end with free tools like Google Search Console.
We suggest you get SEO experts who study the graphs and every output the tool shows. This will elevate your website performance in a shorter span.
Google Search Console v/s Google Analytics: Know the Difference at A Glance:
| | | |
| --- | --- | --- |
| Names | Google Search Console | Google Analytics |
| What does it tell | Number of Impressions and Page ranking/ performance on SERP. | The number of users clicked, visited the website and for how long they stayed. |
| Area of dealing | Related to the technical aspects of your website and content. | It deals with the visitor's activity while they stay on your website. |
| Data Presentation | Graphs and Charts | Graphs and Charts |
| Uses for Marketers and Businesspeople | Helps monitor the website URL, responsiveness, security issues, on-page SEO, Meta Tags etc. | Helps improve website inner page appearance, UX/ UI, content relativity etc. |
In Short, Google Search Console concentrates on website SEO, while Google Analytics focuses on the relationship between users and your website. For better outcomes, seek the best IT Support Services near you. They will help you gain the most out of the available resources.
The Final Note
The two, Google Analytics and Search Console Tool differ slightly. It would be best if you had both for collecting better information about your website and customers.
GSC allows you to explore your website capability over the general web and GA is wise enough to read the customers better than they probably know themselves.
Pollysys is the best digital marketing agency that can guarantee success by helping you monitor and work through all activities. We have a qualified and talented digital marketing team; find us nearby.
For more information, call us at 020-3003-4830. Drop your queries at support@pollysys.com.
Contact with us for any advice