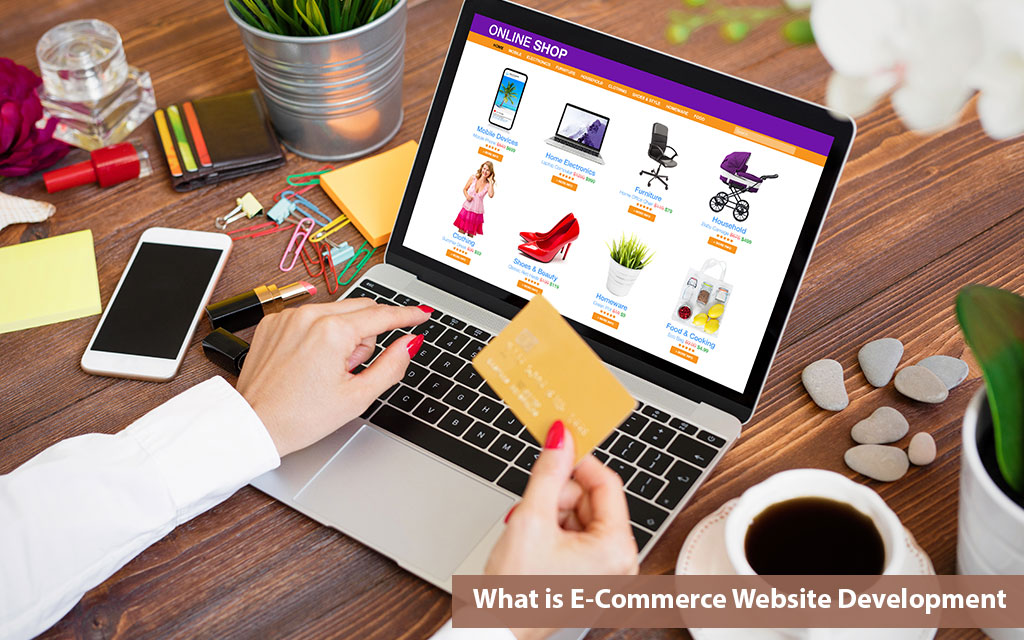 What is E-Commerce Website Development?
Ecommerce stands for digital commerce or, in other words, when you sell online.
Selling your products/services through an online store or a website helps you reach a wider audience, scale your business, make profits, and emerge out as a global BRAND!
So, e-commerce website development involves creating, designing, and developing an online store where customers can purchase services/products.
Let's dive in and understand what are the things that are involved in ecommerce website development, importance in 2023, how to build ecommerce website and some success stories.
Want to Go Online? Ecommerce Website Development let's you Flap In!
Amazon, eBay, ASOS… are some of the best examples of ecommerce websites that help you take your product reach Global markets.
These retail giants do give a lot of exposure to your products and offer visibility but may make you get lost in the sea of brands. Your individuality is vanished.
Until you are following some amazon SEO tips and guidelines die heartedly!
But, when it comes to authenticity, credibility, and loyalty building, having your own ecommerce website helps you make a difference with a BOOM.
Checkout these ecommerce Success stories UK
➤ The White Company: UK Based Home and Lifestyle Retailer
Renowned for luxury clothing, homeware and gifts, The White Company completely started out as a mail-order business in 1997.
The company transitioned to ecommerce in the early 2000s and has since become one of the most successful online retailers in the UK.
Platform Used: Shopify
➤ Dunelm: UK-based homewares retailer (Furniture, Bedding, and Home accessories)
Founded in 1979, Today Dunelm has over 170 stores in the UK. Its ecommerce sales has been growing significantly in recent years.
The Dunelm's website receives over 100 million visits per month and its mobile app has been downloaded over 10 million times.
Platform Used: Magento
What are the benefits of having your own Ecommerce Website in 2023?
Doesn't matter you have a physical store or not!
All you need is to have a high-quality product/service and leave everything to your ecommerce website.
Getting it done through best ecommerce website developers London enable to make the right pitch and gain a better edge in front of your competitors. They assist you in emerging as a brand in no time!
Let's understand the benefits of ecommerce website in 2023 with the help of an example.
Say, a new cosmetic company say "Kosmetica" want to introduce their range of cosmetics to people through ecommerce website.
Global Reach in just a Click
An ecommerce website allows your business to stay active 24/7 as compared to physical shops which have fixed opening hours.
The global cosmetic market is expected to hit $863.8 Billion mark by 2025.
This directly implies that a Kosmetica will get a huge global push and it will hit the ground running after the launch of the video.
Lower Costs help you save a Lot
With ecommerce, you don't need any physical store and pay hefty rent for it. No electricity Bill and no maintenance charges.
Just plug in and your store is active. You'll receive orders on the web, and you just need to ship them. People are not concerned how you look in real but are concerned only about your digital presence.
Kosmetica can establish its online identity first and then later on move to a physical store if required. The money saved can be utilized in marketing of the products.
More Features, Better Control
An ecommerce website gives you complete control of the products such as inventory management, product dispatch, payments, order tracking, stocks, sale, discounts etc.
Thereby making the overall shopping experience not only best but remarkable!
Kosmetica can offer better inaugural discounts, coupons, host festive season sale. Also, with the help of digital influencers can market the product amazingly.
Features such as Augmented Reality (AR) try-on for cosmetics, enables customers to virtually test makeup products before purchase.
Better Insights & Data Collection
Insights provided by the website help scale your business to newer heights. Getting a clear picture of demographics, audience's likes and dislikes help framing the marketing strategy in a better way.
Kosmetica can use the insights and analytics to understand what type of product is loved by people in which country. They can further improve their marketing campaigns based on this data.
Trending Ecommerce Development Platforms 2023
So, Let's have a look how can you take your business online i.e., by having your own online store in form of an ecommerce website.
Here's a list of best ecommerce development platforms till date and in which metric they excel.
Shopify: This Swift setup for the quick online store launch.
Square: Versatile platform for in-person and online sales.
Lightspeed: Free plan to begin and scale your business.
BigCommerce: Ideal for high-volume e-commerce operations.
WooCommerce: Seamlessly integrates a shopping cart into WordPress.
Magento (Adobe Commerce): Robust and scalable e-commerce platform for extensive customization and growth.
Wix: All-in-one solution for building comprehensive websites.
Indeed, with so many great options on the cards, choosing and finalizing the perfect ecommerce development platform for your website could be challenging.
Reach out to best ecommerce website developer near you to help understand which platform works best for you.
Or you may approach top ecommerce development company London that will make your ecommerce business journey smooth and hassle free.
Winding Up
Sticking to real world will limit your possibilities of business growth. Ecommerce websites serve as a golden step to ace the digital world.
Pollysys-the best ecommerce development company London helps you get on the front foot of digital expanse with best-in-class technologies for your business.
The team of web experts at SEO will make you people's favourite for sure!
Why wait? Just grab your smartphone and dial 02030034830 or drop an email to support@pollysys.com Today!
Contact with us for any advice