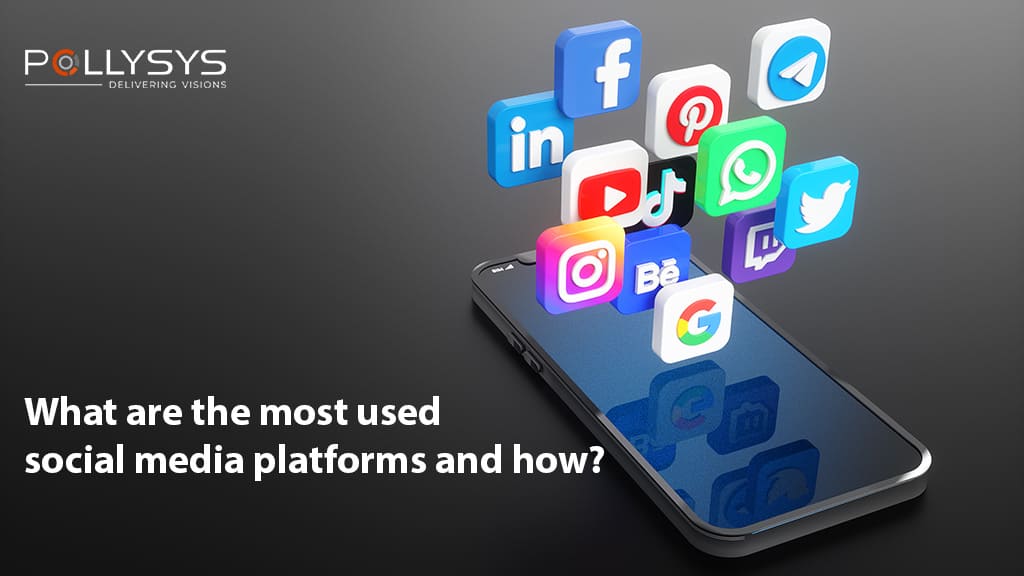 What are the most used social media platform and How?
Discover the most prominent social media platforms dominating the digital landscape in 2023.
Explore the top social media platforms and their applications, shedding light on how users engage, connect, and share content on these popular online networks.
10 Most used Social Media Platforms
Look at the world's most popular social media platforms based on Monthly Active Users (MAU). Here we go.
1. Facebook: Connect with Friends and Family
With around 3+ billion monthly active users (MAU), Facebook ranks as the world's most famous social media platform.
According to a reliable source (https://datareportal.com/ ), Facebook has a userbase of 37% of the netizens.
It serves as a platform for connecting with friends, family and sharing news, information, and acts as an effective medium for businesses to engage with their customers.
When to use Facebook:
Use Facebook when you want to connect with friends, share updates, and engage with a broader audience.
2. YouTube: Broadcast Yourself
YouTube, with over 2.2 billion monthly active users, is the second most popular social media platform.
Popularly known as the second largest search engine after Google, you can watch and share videos, including music videos, trailers, and other user-generated content.
When to use YouTube:
YouTube watch videos on a variety of topics, from entertainment to education, and share your own videos with the world.
3. WhatsApp: Simple. Secure. Reliable Messaging
WhatsApp is a messaging app with over 2.78 billion monthly active users (Source: https://www.statista.com/ ).
The original idea behind WhatsApp was to send and receive text messages, photos, videos, and voice messages.
But, later on with the coming of WhatsApp Business, it's helping millions of businesses to dela directly with their customers through this app.
When to use WhatsApp:
Stay in touch with friends and family, make voice and video calls, send files and documents, Send receive money, place orders WhatsApp Business.
4. Instagram: Capture the World
With over 2.5 billion monthly active users by the end of 2023, Instagram showcase your products, services and talent using photos and videos (reels).
You can follow your friends and celebrities and discover new content. Instagram is popular amongst the audience group 18-25 years.
When to use Instagram:
Share photos and videos from your life, connect with influencers, and promote your business to your target audience.
5. Twitter: What's Happening in the World Right Now
A microblogging platform with over 396 million monthly active users, Twitter is used to share short messages (tweets), and follow friends, celebrities, and businesses.
When to use Twitter:
Get the latest news, participate in conversations, and connect with people who share your interests.
6. TikTok: Make Your Day
TikTok is a short-form video sharing app with over 1 billion MAU (monthly active users) across the world.
With an amazing gallery of music, sound effects, filters, this social media platform allows you create engaging videos of 15-60 seconds.
When to use TikTok:
Watch short-form videos, participate in challenges, and be entertained.
7. LinkedIn: Connect, Collaborate, and Succeed
LinkedIn needs no Introduction. A resume stays incomplete without its profile link.
It's a professional networking platform with over 830 million monthly active users. You can connect with professionals, find jobs, collaborate, and learn about new industries.
When to use LinkedIn:
Connect with professionals in your industry, find a job, and share business-related content with your network.
8. Snapchat: Share Moments, Disappear Later
One of the most amazing messaging app with over 300 M+ monthly active users which allows send and receive photos and videos that get disappear after they are viewed.
Do you know more than 66% (Source: https://www.pewresearch.org/ )of the teenagers in US are on Snapchat. Amazing isn't it!
When to use Snapchat:
Share photos and videos that disappear after they're viewed, tell stories, and use creative filters to enhance your photos and videos.
9. Pinterest: The World's Catalogue of Ideas
Pinterest is your ultimate destination for discovering, saving inspiration, and saving ideas. With a user base of 450 million monthly active users (MAU), Pinterest is popular amongst the designers and artists.
This social media platform offers a very high conversion rate as the users are 7X times most likely to purchase/buy the product that they have pinned.
When to use Pinterest:
Discover new ideas, get inspiration for your projects, and share your own ideas with the world.
10. Reddit: The Front Page of the Internet
A social news aggregation and discussion website with over 52 million monthly active users. It is used to share news articles, links, and images, and discuss them with other users.
When to use Reddit:
Join communities, discuss topics, and share content with other users.
Which Social Media Platform is best for you?
Maintaining presence on all social media platforms is not necessary. The vital point is that you need to work on where your audience engages with the content more.
The below mentioned table (next section) gives you an idea of the audience types. Just go through it and pick the best social media platforms that suit your intent, audience type and objective.
Here's a is small infographic that'll help you understand the context easily. We have taken example of "coffee". Check how coffee related information can be used on various platforms.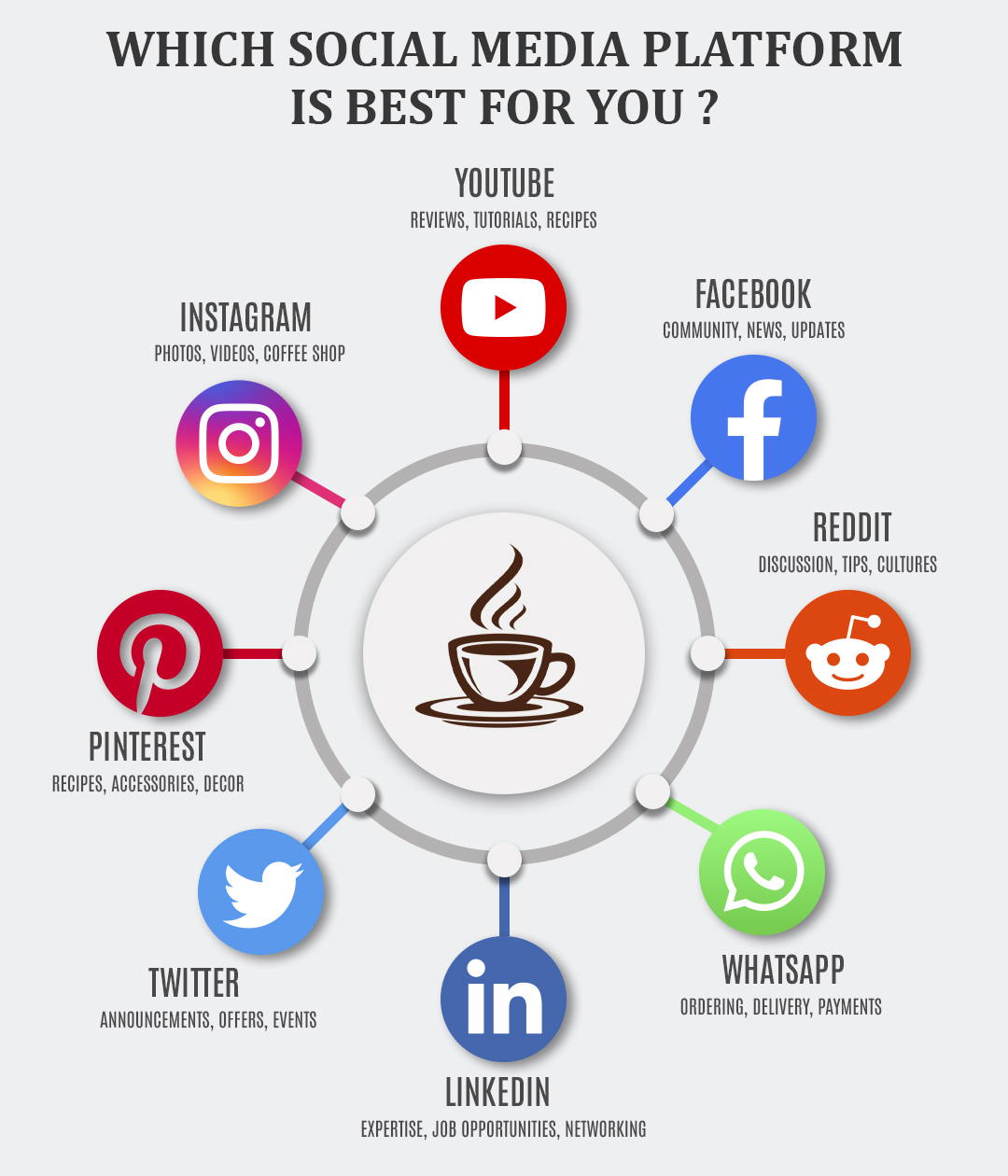 In a nutshell: The most used social media platforms till date.
| | | | |
| --- | --- | --- | --- |
| | Name | Usage | Audience Type |
| | Facebook | Connecting with friends & family, sharing updates, and business promotion | General audience, diverse demographics |
| | YouTube | Video sharing, entertainment, tutorials, vlogs, and educational content. | General audience, diverse demographics |
| | WhatsApp | Instant messaging, voice, and video calls for personal and business communication. | Personal communication, small groups, businesses |
| | Instagram | Visual content sharing, photos, videos, and influencer marketing. | Millennials, Gen Z, visual-centric users |
| | Twitter | Real-time updates, news, conversations, and engaging with a broad audience. | News enthusiasts, influencers, professionals |
| | LinkedIn | Professional networking, job searching, and business-related content sharing. | Professionals, B2B audience, job seekers |
| | Snapchat | Disappearing photo and video sharing, stories, and creative filters. | Gen Z, younger audience, creative users |
| | Pinterest | Visual discovery and inspiration, sharing ideas, recipes, and DIY projects. | DIY enthusiasts, creative users, visual learners |
| | TikTok | Short-form video content, challenges, and entertainment. | Gen Z, younger audience, trend-seekers |
| | Reddit | Discussion forums, sharing news, and memes | Diverse interests, specific topic enthusiasts |
Winding Up:
So, by now you know the top social media platforms.
Struggling to manage them and your profile not growing? Less Likes, Views, or followers?
Don't worry. Pollysys has the best Social Media Experts London that work magically on your social media profiles and take you to growth spree never imagined.
Why wait? Let's together rock the world with your social media presence. Call Now at 02030034830. Don't wish to call? You may DM us or email us support@pollysys.com.
Getting Noticed makes a difference!
Recent Posts
Contact with us for any advice