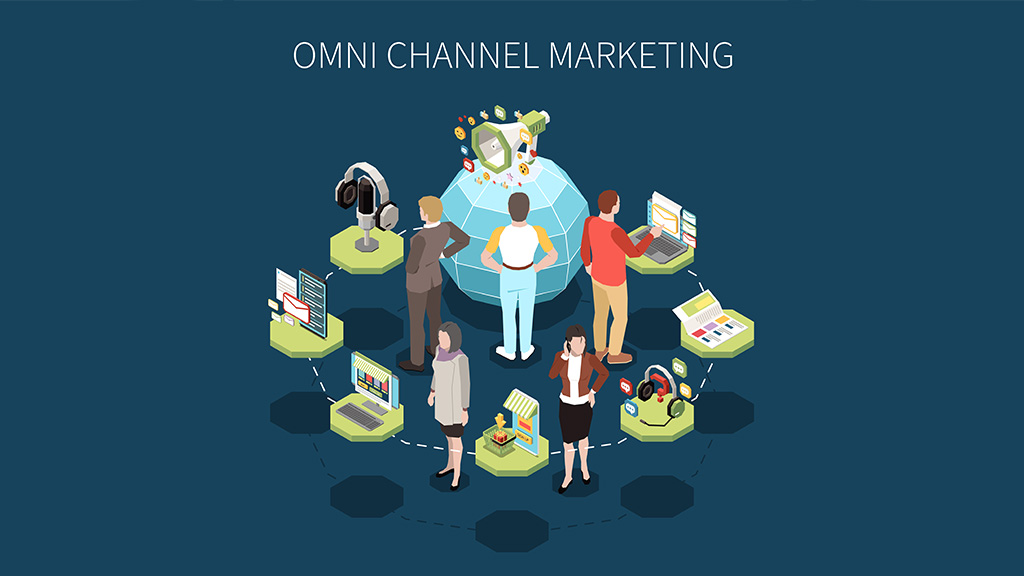 "Omnichannel marketing refers to the combined power of various social/ digital marketing channels."
Since the literate meaning of Omnipresent is available everywhere, the word "Omni-channel" indicates something channelized throughout the place.
When a business advertises, promotes, or markets its brand on various platforms, personalizing the user interest and likes, it is known as Omnichannel Marketing.
Omnichannel marketing strategy is a popular and effective marketing that mainly focuses on making cohesive and seamless customer experience.
It is implemented in all B2B and B2C businesses covering a number of channels, and touchpoints, including both offline and online to inspire customer loyalty and engagement.
Let us read more about it.
What is Omnichannel marketing strategy?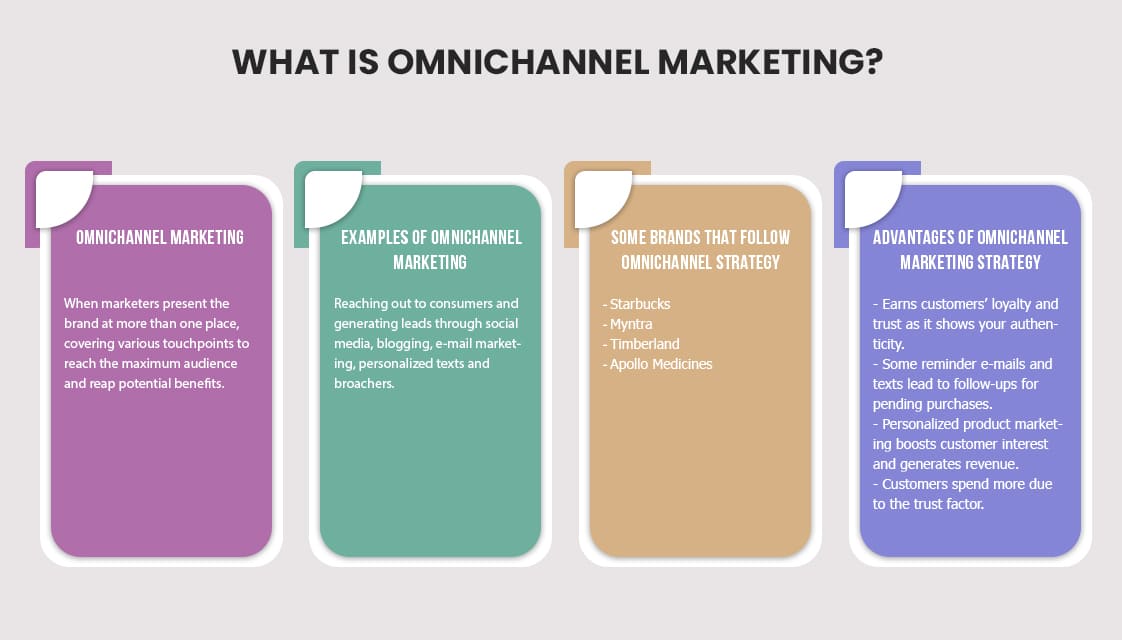 Omnichannel marketing is the type of strategic marketing that aims to create a better and consistent customer experience across multiple channels by reflecting its consistent and strong outlook in the industry.
In this, marketers reach target audience through platforms such as Emails, Websites, Facebook, Pinterest, Twitter, Instagram, and more.
What is the need for Omni channel marketing? Why is it so important and valuable for both consumers and developers? The answer is hidden in the name itself. As the most people prefer to engage with more than a single channel before finalizing their purchase, Omnichannel brings to the table for what people have been looking for.
Customers often check three or five social platforms of the same brand for authenticity, quality, check, and privacy & safety concerns. Therefore, marketers need to establish a stable business in more than three places so that if a customer does not find relevant data on one side, they could encounter it on the other and complete the purchase.
For instance, they might have visited an online shopping store, picked the product, and added it to the cart but did not continue purchasing due to lack of trust and transparency.
Therefore, the strategy behind Omnichannel marketing is only achieving business outcomes effectivity by maintaining brand reputation, customer trust, and royalty.
What are examples of Omnichannel marketing?
All of you surely have encountered Omni channel marketing style; these examples might remind you of the retargeting ads and incomplete purchases left inside carts.
Regular and occasional business emails regarding offers and discounts.
Personalization email regarding the product of your interest after they make a purchase.
Relevant advertisement near the scroll bar.
Customers receive texts about promotions and season clearance sales.
Successful Brands Who Follow Omni-channel Marketing
Today many and many companies are already following the strategies of Omnichannel marketing and therefore are achieving business goals in shorter terms. Here are some popular brands & business who rely on this smart approach.
Starbucks
Starbucks is a global coffee chain that has successfully implemented an Omnichannel marketing strategy to engage with its customers across various channels.
For example, Starbucks has a popular mobile app that allows customers to order and pay for their drinks in advance, earn rewards, and receive personalized promotions.
Also, with its strong social media presence and millions of followers, it promotes its products worldwide and runs various campaigns, contests, and promotions.
Myntra Online Shopping
Myntra, an online fashion and lifestyle retailer, has adopted an Omnichannel marketing strategy to provide customers with a seamless and personalized shopping experience.
Customers can order online and pick up their purchases at a nearby store or try out products in-store before making an online purchase. This integration also allows Myntra to offer additional services such as in-store alterations, exchanges, and returns.
Additionally, the Myntra app uses important customer data analytics to improve the customer experience and personalize the demands based on user browsing history and previous purchases.
Timberland
Timberland, a famous outdoor lifestyle brand, can use an Omnichannel strategy to enhance the customer experience and increase sales.
The brand uses customer data to personalize the shopping experience across all channels. This can include personalized recommendations on the website or mobile app and customized emails based on personalized promotions through social media.
Besides, the company operates data analytics to track customer behavior across all channels and gain insights into their preferences and buying patterns.
Apollo Medicines
Apollo is another popular medicine e-commerce store that follows an Omnichannel marketing approach successfully. The team not only personalizes the client's treatment but also offers to meet the doctor online.
If users order through the brand's app, they give exciting offers and huge discounts that attract multiple users and encourage them to install applications as well, for it is a win-win situation.
Advantages of Omnichannel Marketing Style
Omnichannel strategies offer higher purchase rates, boost growth and reputation as well as help consumers save money even on quality products by offering many schemes and coupons.
Here are some of the top reasons why shifting to an Omnichannel marketing approach is worth every effort and penny.
The Omnichannel marketing style builds strong customer trust and loyalty
When a business is present on multiple online platforms, has an offline store, google my business profile, apps, and websites, the customer connects with the brand easily as it shows transparency and authenticity. The approach of Omnichannel strategy profits both consumers and providers.
Brand recall continuation and follow-ups with Omnichannel strategy
Omnichannel strategy is a clever marketing method to build cross-channel brand recall that reminds customers about their pending purchases and stock. This advertisement and reminder technique eventually increases sales, brand recognition, brand value, and the likelihood of buying goods.
Product personalization with Omnichannel increases brand revenue
The Omnichannel method helps brands retain potential clients and also attract new ones with their multiple platform presence online. When marketing campaigns show the relevant products through different mediums, it acts as a game changer for them.
Customers spend more from an Omnichannel Campaign Market Style
According to recent statics and data, customers spend 13% more money on brands that are present over more than three platforms due to a strong trust rate. They also enjoy shopping from their stores without getting much concern about the price tags.
The Conclusion
Omnichannel provides customers validation and a seamless shopping experience and hence there is no doubt about if this technique of marketing will not succeed an industry if done correctly.
We studied the definition of Omnichannel marketing, the brands that are using it, and some of the benefits companies are getting by holding this publishing and marketing style.
You can also get the desired results by implementing the Omnichannel methods wisely with the right supports and tools. Do you want to maintain loyal customers?
Manage all your social media channels with professional choice. Pollysys IT Solutions is a leading company that matches results with your visions.
Start growing your business and brands faster with us. Call us now at 020-3003-4830 or Send a Hello at support@pollysys.com. Our team will get back to you.
Contact with us for any advice