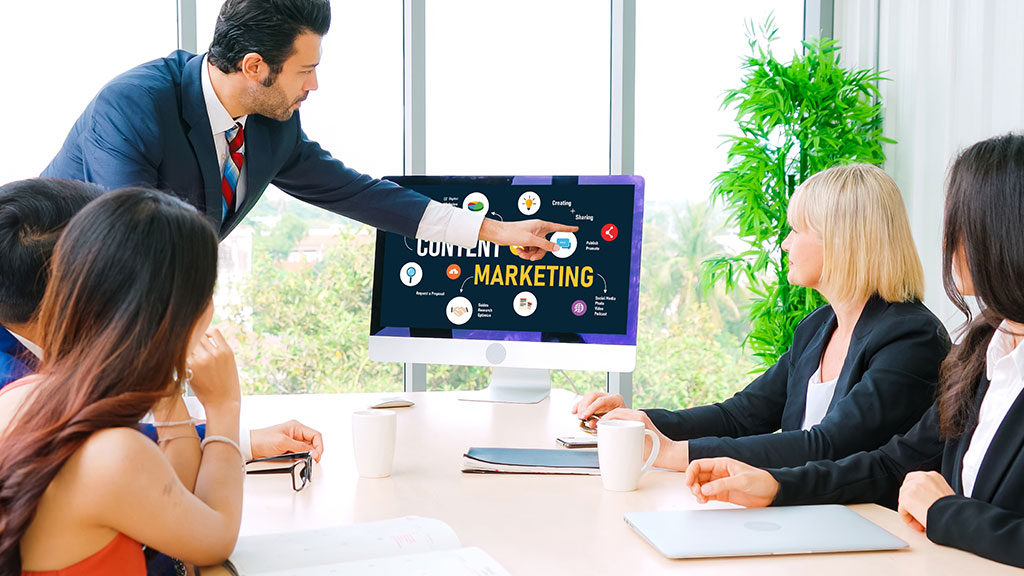 Purpose marketing is an opportunity for brands, communities, and industries to connect with consumers and the public on a deeper level, with the goal is to develop sustainable products having the purpose of serving society, saving the planet, and encouraging people.
According to many eminent studies, a brand with an active purpose gains trust, potential buyers, and surpluses profits.
Purpose-driven marketing means advertising a business that contributes towards a cause related to nature, its conservation, society & culture, etc.
People today are more likely to be drawn towards brands that go hand in hand with money and for a good cause. In this way, it automatically strengthens its credibility and recognition by reflecting its core values and objective through mission oriented campaigns.
What is Purpose Marketing?
The meaning of purpose marketing is to bridge the beliefs, values and the product between the users and the organization. The term directly speaks its meaning, 'The marketing with a purpose.'
Simply put, when a company also contributes to improving the planet, its people, and wellness through selling services, it is referred to as purpose-based marketing'.
Why are Brands with a Purpose So Attractive?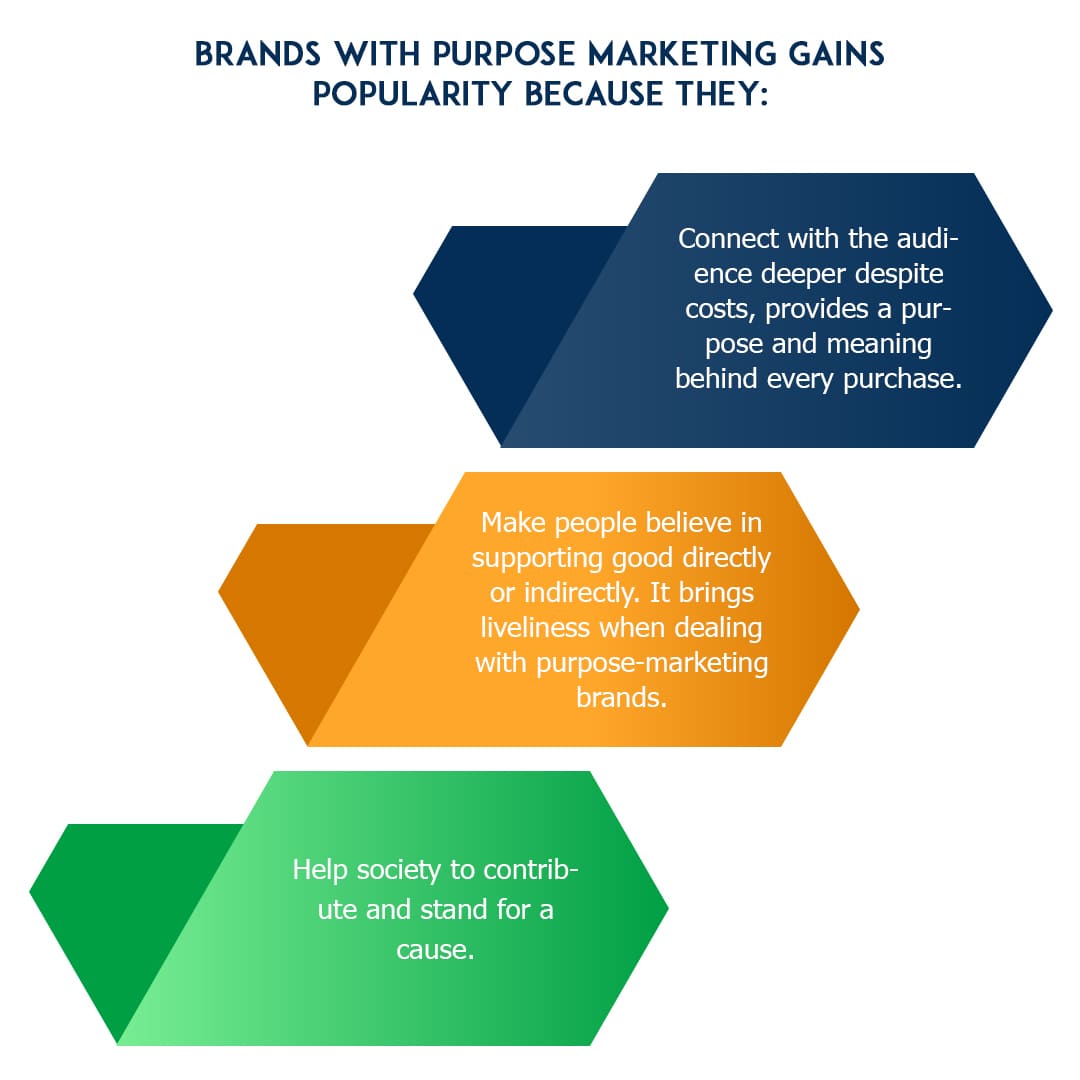 When a company promotes its services based on shared value and by the method of purpose advertisement, they instantly attract support. The possible reasons are as follows:
Builds an emotional connection: Customers are more connected to brands that resonate with their emotions; the purpose marketing strategies are influencing people greatly.
It Provides Indirect support: Many people want to support directly or indirectly in a conservation environment, to develop a lifestyle and uplift each other.
Reason to Stand for a Cause: No way is better than evolving with companies that follow purpose marketing to stand for a cause.
Besides, people want something to believe in, something more than just low prices, dazzling appearance, and trendy sets. Purpose-marketing brands help them to contribute.
Popular Brands Follow Purpose Marketing
Here are stand-out examples of some brands based on purpose-driven marketing styles. Let us know one by one.
1. IKEA:-  Saving planet, forests, and money with Sustainable goods.
IKEA is the leading furniture sale Swedish industry, famous around the globe with its ready-to-assemble goods. It has its headquarters in the Netherlands, but the vein is spread over 30 countries.
The well-designed, premium-quality products are shared with millions of retailers, and the reason behind their sky-high success is their marketing style and manufacturing ethics.
The company is highly dedicated to making safe, sustainable products that promote diversity and forest conservation.
Likewise, the goal here is to make efficient furniture elements rather than for the sake of harming trees, air, water, and health.
Therefore, creating more valuable goods using minimum natural resources has made the IKEA industry a salient brand among customers.
2. Tesla:-  Clean energy production purpose-driven marketing
Tesla is the acclaimed automobile industry dealing significantly in making clean energy electric vehicles, solar panels, solar roof tiles, and accessories.
Purchasing Tesla products also support less electricity consumption, and allow users to produce clean energy without breaking banks.
Additionally, SpaceX by Tesla differentiates itself with its mission to transform the world with its space traveling vehicles for saving humankind.
Thus, the plant-friendly services and the mission drive to take humanity to the next level are what make people connect to Elon Musk's' ideas eventually.
3. H&M:-  Connecting textiles and users with a valuable purpose marketing
H&M is a popular multinational clothing brand with its headquarters in Sweden and is intensely drawn towards Sustainable manufacturing.
Not to mention that the brand has discovered a Global change (non-profit foundation) award to encourage different fashion industries to design planet-positive clothes.
Similarly, H&M is investing around 3 billion to support decarbonization, meaning to reduce carbon emissions caused by production mills, to diminish emissions by 56% by 2030.
Isn't it worth supporting? Its biodiversity-friendly textile material is already saving several species.
Recently, the industry has signed a joint agreement to raise health and safety standards between global brands and trade industries.
Subsequently, being the fashion industry, H&M is highlighted worldwide and is one of the favourite stops for women.
4. Patagonia:-  Environment-restoring, planet-saving marketing
Patagonia has been a well-known clothing brand since 1973 and is committed to environmental conservation and preservation.
In addition to it, they also changed their mission tagline related to 'making the best product' to 'inspire and implement solutions for the environmental cause'.
Now, 1% of all their sales goes to restoring the cycle of the planet.
Consumers who are connected to natural resources more and value serious commitment to mother earth are potentially supporting the brand.
5. Adidas:-  Step up with purpose-based marketing of Fashion Industry
Adidas is a German-based company dealing with various sports collections for men, women, and kids. By choosing Adidas, customers decide to eliminate plastic and carbon-emitting elements.
The brand sees an excellent opportunity in production for recycling and reusing the used products and gives users offer to return for the next management.
They collect plastic waste from oceans and turn them into valuable goods.
With this ultimate innovation, Adidas is promising to give 9 out of 10 products with 100% by 2025 in sustainability and by recycling virgin polyester.
So, the industry is exponentially gaining attention and affection with this purpose marketing strategy and the dedication to making the earth a better place to live.
6. Dove:-  Changing beauty standards with purpose marketing ideas
Dove is a personal care product-based brand with its roots in the US and is widely known for its mission to educate people about beauty beyond definition.
The brand believes considerably that beauty does not lie in being tall, thin, and having skin color.
However, before 2004, the brand falsely promoted itself by narrating that its soaps would make them beautiful. After that, they changed the entire marketing style and gained double profits.
With the missions like #speakbeautiful and with Self Esteem Projects, Dove is educating people about comfort and feeling beautiful in their skin to help young ones. The next generation accepts themselves just the way they are.
The Dove projects are helping elders, adults, and women around the world develop illuminant self-esteem without even mentioning its soap and body washes.
The Conclusion
Purpose-driven brands are action-takers and result-producers. They transform society and help improve the planet's conditions, people's mindsets, and culture.
The more vital the cause, the more revenue and genuine connections companies will generate.
Are you looking to create a meaningful awareness idea for marketing? Do you want to support these brands and humankind? We have something for you!
Pollysys, IT Solutions, is a leading industry with experience of more than a decade and can unlock the undiscovered insights for your brand with its efficacious marketing ideas.
Contact us now at 020-3003-4830 or Leave a message on support@pollysys.com
Recent Posts
Contact with us for any advice