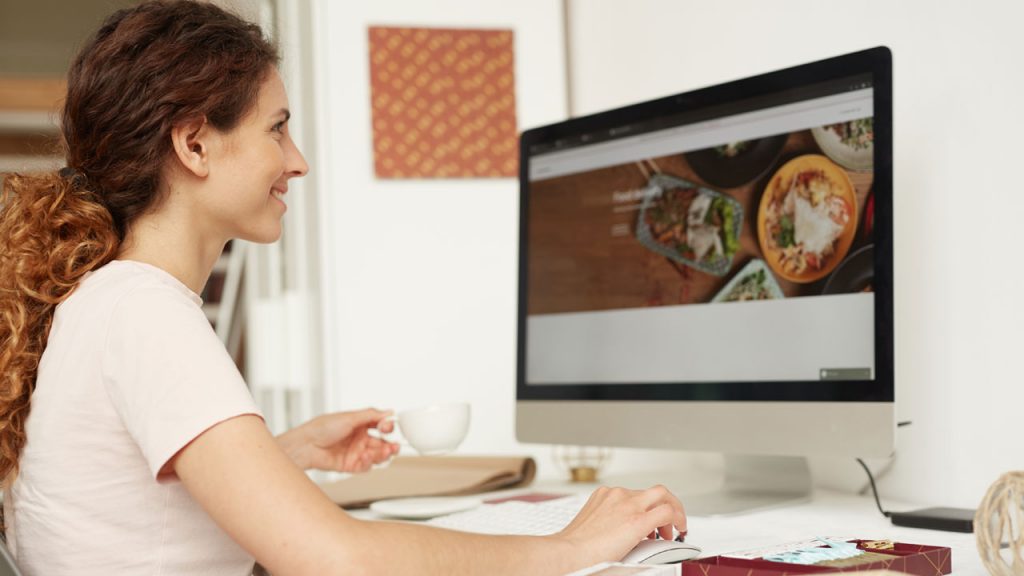 With the advent of the internet, the world has become way smaller than ever thought.
Any sort of information is available at your fingertips within a fraction of seconds.
Obviously, this indicates the importance of having a fully functional website to mark the presence in this digital world!
Let us dig into the essentiality of having a website for your business.
Consider a scenario first!
You have a well-flourished business offline, but somehow, the online market has impacted the overall productivity of your business!
Would you continue to bear the same loss or think of enhancing the business strategies to get more ROI?
Obviously, you will try to improve it, right?
A website is one such improvement strategy that may help you get the expected outcome.
You might have been using social media to show your presence online and do not have much attention over Google or websites.
Do you think that alone will work to take you towards your goal?
Well, I doubt it!
Social media alone cannot do wonders, but when websites and social media handles are used appropriately, you will undoubtedly witness the wonders happening.
Need to have a website for your business!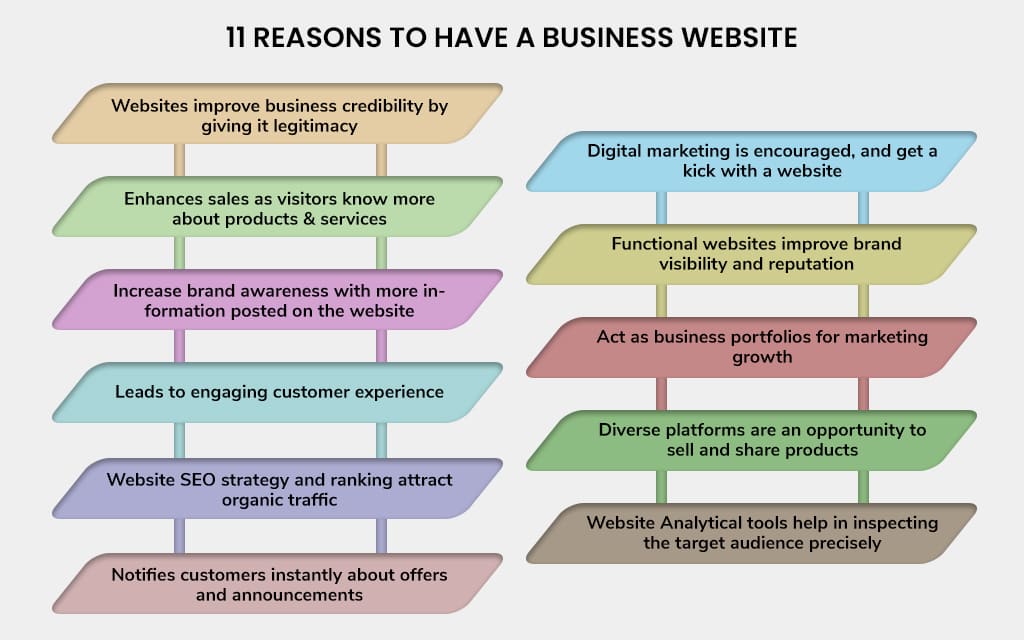 It improves credibility
One of the primary reasons for having a website for your business is that it enhances the company's credibility.
Having a professional yet attractive website for your business is an excellent way to stand out from the competition.
And not only this but you know what!
Not having a website in today's digital world may also raise a question of the business's legitimacy.
And obviously, one never wanna compromise on it.
Enhancing sales by generating leads
This is indeed one of the fascinating reasons to have a website for your business.
Whenever people search online and find your business online, they try to collect much information about the products your offer and even about the company as a whole
A website is an excellent way for users to have complete information about your business.
Brand awareness
An appealing website facilitates creating brand awareness and showcasing your business prospect to the audience.
It greatly helps establish the brand's image by letting people know who exactly you are and what you want to represent.
Enhances customer experience
Businesses often get calls from existing or new customers to enquire about simple queries.
However, answering the phone calls is not really an impactful way of getting businesses.
Indeed ample work is done through the calling facts.
But may affect your entire workspace mood with such out of concern queries.
However, having a website eliminates such a scenario.
It reduces the number of phone calls while enhancing overall productivity.
With an attractive and functional website, one can find useful information online without even calling the customer.
And this ease of access can actually augment the customer experience. 
Attracts organic traffic
Suppose you have planned and developed your website with an eye-appealing appearance and effective search engine optimization techniques.
In that case, we must say you will have a higher chance of getting your website ranked higher in the Google Search results.
Easy updates and announcements
One of the foremost benefits of having a functional website is that you are accessible 24 X 7.
You can easily post the announcements and updates concerning your business and associated offers that can be notified by the customers easily. 
An excellent base for Digital Marketing
If you are working to implement a digital marketing plan to grow your business, you will surely require a functional website.
With an effective digital marketing plan, one can attain their digital marketing goals while leveraging the historic relevant traffic to the website. 
Visibility
One of the most essential aspects of having a functional website is that the website can become your online store while providing visibility to your audience.
And it would be surprising for you, but when it comes to a business with some online presence, the reach or visibility has no bound.
And only the sky is the limit. 
Opportunity to grow!
A website can actually act as a business's portfolio.
This can be beneficial for the businesses as a website can be acted as a reference for the potential users or investors who can plan to acquire the services.
So, with your website, they will have a chance to study, verify and invest accordingly. 
It cuts costs
Instead of just displaying the information, one can also use their websites to sell and share the services directly to the customers.
Eradicating the overheads allows you to lower the prices while giving the businesses a real competitive edge. 
Consumer Insights
Analytic tools enable you to identify who exactly is your real audience.
How exactly do they find you!
What do they like?
Gathering this information will help you maximise the purchases from your website.
The diversified data range can facilitate well understanding of how your social media handles affect the dinero of your brand and can also highlight the opportunities to modify the offline aspects.
Advertising
Ample tools like advertising on Facebook and Google AdWords provide you with the power to reach your target audience and potential customers with more accuracy and reliability.
So, as compared to the traditional advertising methods, the websites and having an online presence can actually help attain the heights in the business world.
From competitors viewpoint
Well, if you do not have a website doesn't mean your competitor also does not have one.
And if you do not have and they already have an online presence, there are possible chances that you are missing out on catching the attention of the new customers.
And in today's competitive world, it is crucial to miss out on any opportunities.
It can really cost a lot! 
How can you get the desired online presence of your business?
One of the most essential factors in enhancing online engagement with the audience is having a website specific to the business industry domain.
Yes!
You heard that right!
Even the websites are developed in such a manner that it gives a touch of the specific industry-related business.
Yea, but how you can get it is still a question.
Well, no worries, as POLLYSYS is here to answer all your doubts concerning having a website specific to your business indicating a touch of the associated industry.
Why look further when you can get it all with the help of proficient experts who are not only into the website designing and development that is completely customised to your business but also brings a dull website to life. 
ESSENTIAL TAKEAWAY FROM EXPERTS!
If a business is on social media handles, it should have a presence over Google also as it will increase the chances of providing higher online visibility.
And if the business is not on the online platforms, it should be done that way as well to show the online presence. 
Bottom Line!
Getting hold of the websites is pretty easy.
But getting the one that can actually flourish the business is what makes the real effort.
And Pollysys IT Solution never lacks behind in this race.
Being a foremost service provider, Pollysys has built the trust of many businesses and enhanced its reach with advanced technology-driven strategies.
Get in touch now to give digital life to your business with us!
Call us @ 02030034830 Or write to us @ support@pollysys.com​
Contact with us for any advice