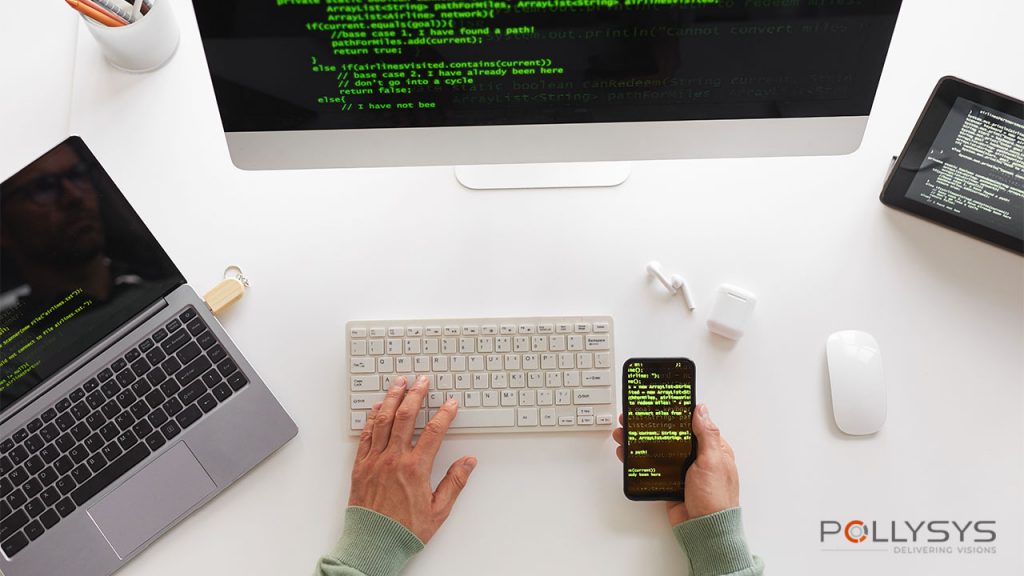 "A design is not about the looks, it's more about the feeling, functionality and experience it imparts to the user."
Are your Conversions rates still dropping despite adding phenomenal content and stunning imagery?
High Bounce rate, poor leads and lesser engagement stressing you?
It's the end user experience that's making this difference.
Steve Jobs has once said that," Design is not just what it looks like and feels like. Design is how it works. And to get to the crux of how something works, you need to consider the user."
Be it winning the loyalty of the customers or adding a long term value to the business, User experience turns out to be the trump card.
Keep reading to know the need and importance of a positive user experience, latest trends, how it is different from UI and its role in a B2B digital strategy.
What is User experience?
Coined by Apple's Cognitive Scientist, Don Norman, UX or user experience is an approach that to ensure maximum user satisfaction while the user is exploring the website or app.
It's all about boosting the overall experience by making the entire navigation process (website or app) seamless and delivering exactly what the user needs.
User experience is not a new term but has slowly made it has made its way to the mainstream and today, it's the only way to survival in this digital world.
Why User Experience matters for your website and application?
The IT Industry is growing leaps & bounds and continues to go immersive and innovative as well.
With success stories such as those of MailChimp, AirBnB and Uber, user experience has proven its flagship that irrespective of the brand size, UX has the capability to deliver million dollar turnover to your product.
Looking for at why is user experience important? Here we go
1. High user engagement
Irrespective of the platform, mobile or desktop, you just have few seconds to grab the attention of the user.
Responsive and fast loading websites score pretty high on user retention.
Moreover, the websites and apps offering clear navigation instructions boost the customer retention and helps building an impressive first impression.
2. Get loyal customers
Websites and Apps that are engaging and captivating have a huge user base as well.
Even a minimalistic yet personalized interface would help you grab the attention as it delivers what exactly the users want with zero hassles.
This positive user satisfaction adds to customer loyalty and keeps them motivated to return and stay connected with the platform.
3. Improved ROI
Easy navigation, catchy content and stunning designs are three vital components that are critical to keep the customers satisfied with your business.
A loyal customer will not only stay connected with your brand but will also recommend your services to people in its vicinity for sure.
This ultimately pushes your customer base with zero effort. Thereby, allowing the ROI to make great strides.
4. Feature in the app store
A great user experience will automatically inspire your satisfied customers to leave great feedback, ratings and reviews.
This, in turn, will promote more downloads and will take the app to top charts on the app store.
Being featured on top will turn up more users organically.
5. Boost your Credibility
A website or app with great UX is not only loved by users but garners more visibility and brand awareness.
A great relationship between brands and customers will surely amplify the plausibility and credibility of your business and adds a great brand value.
Why do you need a good User Experience strategy?
A great user experience:
Boosts customer retention ratio
Triggers customer recommendations
Go for repeat customers
Improved conversion rates
Amps up brand value and credibility
Apart from that, a great UX lowers down the overall cost and improves the brands bottom line too!
Have a look at some stats that throw light on importance of good UX strategy:
33% of the users shared that they'll not visit the website again after a bad user experience.
70% of the shoppers learnt about the brand through blogs and not ads.
75% of the consumers check for the credibility of the website before shopping.
Success stories of some Big Names
Walmart's ecommerce website experienced a whopping increase of 200% in their customer base post they improved their UI/UX design.
AirBnB studied their failures and customer behavior about the usage of their services.
They refined their strategy and their ROI jumped to millions soon. It turned them from zero to hero!
Bank of America planned to redesign their registration process after witnessing a drop in their traffic.
The newly designed and user-friendly registration page was able to capture 45% more leads than before.
What is difference between UI and UX?
UI & UX are interrelated but two different terms that are often mixed up by the professionals.
UI means User Interface and is all about the aesthetics and appearance!
It covers the web or app design aspects such as buttons, screens, pages, animations, images and other visual components that enable the user to interact.
While UX is all about how a user feels about that design. It's the experience that matters.
It involves proper prototyping and wire-framing the structure to ensure a proper user that is seamless, relevant and easy to use.
UX keeps the user first while designing while UI deals in feature-first approach.
In a nut shell, if User experience is the journey then UI is the final destination of that journey.
A perfect blend of both UI and UX is quintessential to take the brand up a notch.
What are the top trends of UX design for web and app?
The UX design is taking a new and dynamic shape. The new UX is designed to cater primarily two major goals.
Delivering the best ever experience to the users when they interact with web or app.
Ensuring that the brands/businesses have the right tools and technology that helps them stay in the market and satisfy customers to maximum extent.
Here are 5 popular and upcoming trends to watch out for.
1. Personalization
The next level of increased personalization can be witnessed with enhanced and improved user experience design services.
New UX equips the modern user to have a control over their own experience such as from notifications to dashboards to checkout options.
2. AR & VR
Augmented Reality and Virtual Reality have taken the world by storm.
For example: By using this technology, ecommerce websites enable the customers to try the products before purchasing.
This boosts customer engagement and offers a convenient customer experience that helps them retain the business for years to come.
3. Data Visualization
Data visualization has been edifying and making strides from a couple of years.
Blending data visualization strategies with UX boosts engagement as well as help in validating the user's interests.
Data is presented in the form of infographics and other visual formats make the entire user journey seamless and easily understandable.
4. Micro interaction
To make the large impact, small visual elements play a crucial role.
Micro-interactions are setting new standards for User Experience designs and have become quintessential for the new projects.
5. Responsive Design
New screens are born almost every year. Responsive designs ensure that websites remain perfect irrespective of screen size.
Fluidly of the interface and its ability to fit in every screen or browser space remains intact.
This ensures consistency and remarkable user experience.
Why UX is important for success of your business (B2B)?
What does UX means for business?
Is it worth investing in user experience?
Is it really important?  
Yes! It is. Have a look how.
1. Drastic reduction in cost
Making changes post production or release are not only difficult and complicated but incur additional financial burden.
Going for UX design ensures that all stages are properly planned, developed executed and tested.
2. Boosts leads and conversions
An easy to use and explore website help your business stand out from the crowd.
The more simple and minimalistic the design is, positive is the experience.
Using meaningful CTAs and lesser steps would further give a boost to you brand resulting in better lead generation and conversions.
3. Improved SEO
Google has been continuously improving their algorithms based on user intent and experience.
Google actively promotes the websites that offer great user experience and answers their questions aptly.
4. Leverages Brand Loyalty
A good combination of user experience elements boosts the brand loyalty as it helps in customer retention and keeps them hooked to your brand.
Great visual designs and iteration eases out the customer journey and drive better engagement.
5. Impressive Word of mouth recommendations
In today's digital realm, word of mouth marketing is not only limited to our daily interactions but proves to be vital on social media platforms as well.
This new way of user experience platform aims at bridging the gaps between the brands and the customers, thereby bringing them more closer.
How to avoid UX failure?
Let's throw some lights on common UX traps to avoid and how to make your UX a great success.
1. Proper budget allocation
An unclear value of user experience would result in additional cost and rework in development.
Proper time should be devoted along work some good brainstorming to work on the UX.
2. Professional team
Giving your project to an experienced UI/UX designing team ensures that property prototyping and wire framing is done.
The designs are scalable and as per latest trends /updates that reflect positive user experience.
3. New Designs
No research and no documentation would result in an ongoing rework at the same time adding zero value to the existing product.
Better prototyping and innovative designs ensure better product development while staying in the budget.
Getting Expert Help
A user experience can actually make or break your brand!
Best User experience design services enable your brand to maximize its potential and adding a holistic value to it.
The world of UX is complex and vast. You need right professional assistance that can edify your presence both on web as well as app.
The smart designers at Pollysys completely understand your concerns and deliver your exceptional UI/UX development fronts.
Get in touch with us at 02030034830 or drop a line at support@pollysys.com.
Contact with us for any advice