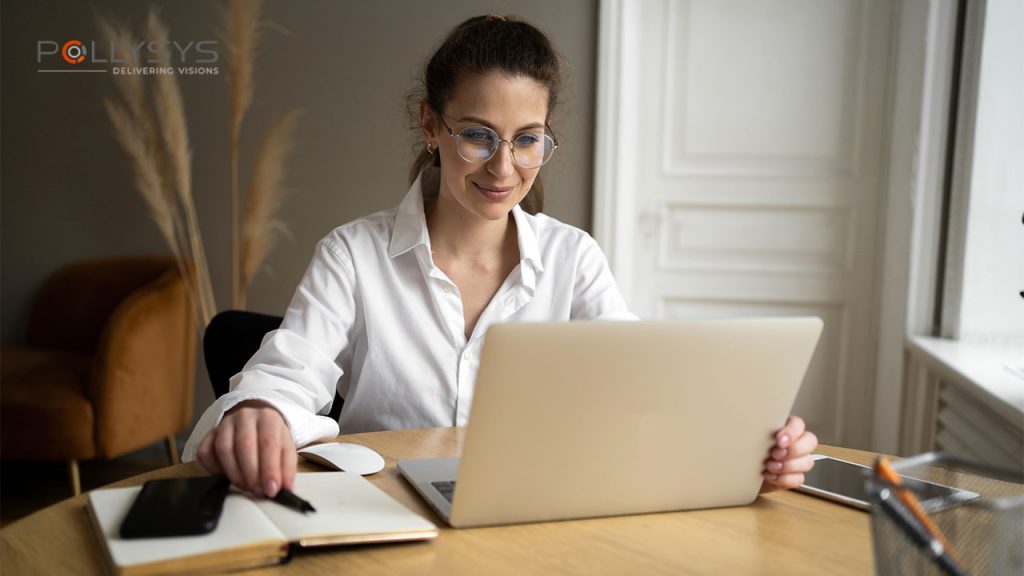 Do you also find it challenging to develop new ideas and ways of imparting information about your business?
Well, indeed, it is challenging!
But do you know what is more complicated?
It is understanding the importance of content's relevancy to a business and how to generate relevant posts for the target audience.
Only experimenting with different content styles won't help.
Relevant content has a lot more to do with your business and its target audience.
Let us dive into understanding the importance of relevant content and how it can do the wonders in making your business shine. 
Importance of relevant content in a business!
"Analyzing the Value of content strategy."
Content strategy is high-level planning, strategizing, structuring, targeting, and executing the several media assets that are collaboratively aimed at attaining a particular business goal.
And when it is about growing business, "EVERYTHING BEGINS WITH CONTENT."
Without perfect planning and strategy, it is impossible to reach the goals.
And the appropriate planning not only includes the content generation only but also
The clarity of goals
And pre-specified steps to reach the goals.
Confused?
Instead of getting confused about the content strategy and not realising the importance of the same, understand it with the help of an example.
Just try to think about the content strategy in terms of the human body.
Begin with considering
Content strategy as your brain
And content as your hand.
You know you have strong hands but without brain orders can your hands perform something?
Well, not really!
Even though you have strong and powerful hands but without your brain, you won't know which object to grab and how much force is required to grab it, right?
The same applies to the content thing.
No matter how strong your content generation ability is, if you do not have an appropriate strategy to follow, you won't be able to generate the relevant content.
That is why the primary focus was on "RELEVANCY." 
You may be capable of generating the content, but since the one size fits all rule doesn't apply here!
Every content type and business require a different strategy to follow.
Steps included in implementing an excellent content strategy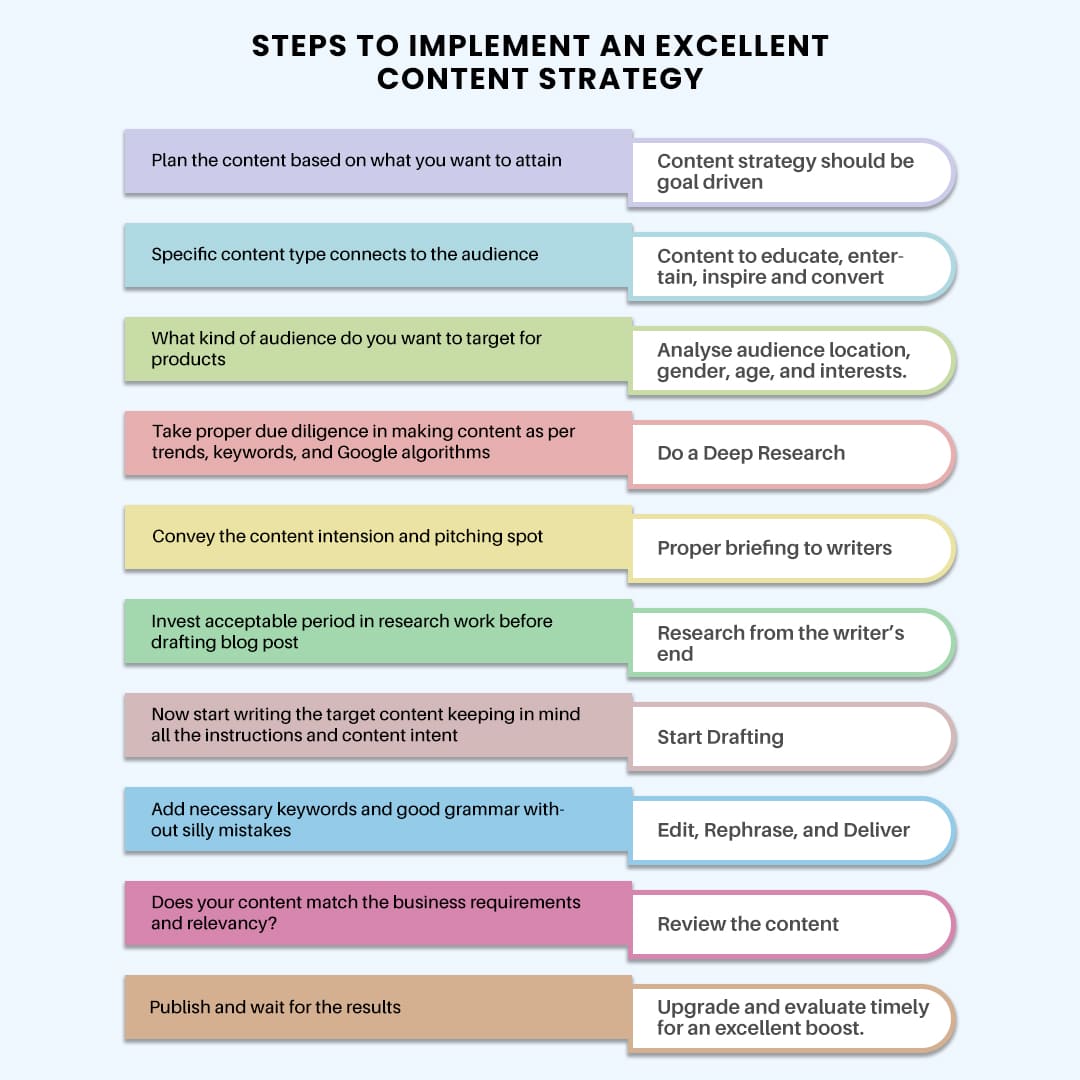 1. Planning the content
Strategizing and planning the content also requires relevant expertise.
And the surprising fact is that even research has indicated that 69% of content marketers are focusing more on content. However, only 27% had a strategy.
You might be thinking why we are focusing this much on the term "relevant".
Because that is the real need of the hour.
The importance of creating content requires being more goal-driven.
It should be driven by what you desire to attain.
Putting some irrelevant content on various platforms and then expecting results will be nothing less than a time waste.
With the subsequent steps, you will get familiar with some considerations that must be focused on!
2. Type of Content
Content to entertain
"Content that is created to entertain might not be directly associated with the services or products but is always appealing to the target audience."
Since content strategies are more focused on helpfulness and education, that is completely acceptable.
But probably a type that is often missed out here is pitching the content that gives the opportunity to interact and connect with the readers.
And the surprising fact is that the content which entertains the audience is frequently shared and often facilitates transforming a company into a group.
Content to inspire
Inspiration doesn't really need to be in a picture with quotes only!
It can be in the content as well.
The best inspiration frequently comes from customer testimonials, failure stories, and case studies.
Content to educate
Content to educate is often generated with the same goals as the content to entertain.
But yes, this is often considered as a next step to show the potential users and readers why it's worth it for them to stick around.
Since content to entertain appeals to the reader's emotions, the content to educate appeals to their rationality.
Content to convert
Content to convert is the one that is specifically generated for conversion purposes.
It is more about nudging a reader towards some action.
Wondering what it can be?
It may include signing for a newsletter, buying a product, or taking a free e-course.
3. Audience Type
Along with content planning with the help of choosing the right content type, the targeting audience can also be a crucial step while creating a relevant post.
Analyse whether the audience to be pitched is global or restricted to a geographical area only.
Do you have an in-depth profile and a clear picture of your target audience?
Taking deep research in analysing the audience type and targeting the same with appropriate strategies is what makes crucial yet challenging step attained in the entire process.
4. Research
Research is the base of any strategy.
And when it is about getting it done for the business, it becomes essential to focus on it way more than it is generally done.
You need to paint a real picture that actually takes due diligence in researching the various aspects, including keywords search volume, topic, and many more.
And if you think that research at this step is done by the writer only, then probably that is not the case.
At this planning stage, the research is done to analyse the new trends, essentials specific to the business, and other pitching planning.
Based on the expert's experience and research, the topic is finalised to begin with the drafting phase.
5. Detailed Briefing
Oh, wait!! You thought we were starting with a content drafting strategy, right?
But not yet!
How can one even expect the ideally expected content without a detailed briefing?
It is common to assign the tasks to the writers and expect the content as per their strategy!
But what about yours?
Is it something that you can get what you have expected only?
Well, sometimes it might get a bullseye, but what if not?
It probably leads to rework and investing more time in the same topic.
But this can easily be refined!
If given a complete piece of instructions on the purpose of the topic and what is expected from the same, you can probably do wonders in getting the desired results.
6. Research on content writers' end
Now is the time to turn your vision into words.
Your write ups just include what comes to your mind, or you are actually centering your insights around the assigned topic and keywords that your customers or prospects are typing into Google?
Well, indeed, writing around what your target audience is searching for on Google is essential.
And researching around the keywords from a writer's perspective is also crucial.
7. Drafting
It is the time to start with the content generation.
Take all the strategic elements from the outputs generated from the above steps and create the content that aligns according to it.
Beginning from the top and continuously writing also play a major role in it.
However, while drafting the content, two things are crucial.
"Length matters"
"Emphasise on quality."

8. Content delivery
Is content drafting done at your end?
Have you targeted the necessary keywords as per the business requirement?
Along with this, content delivery with appropriate representation is essential.
And that perfectly sums up the content delivery. 
9. Review
Post-delivery, the review of the delivered content is also crucial.
A phase that includes the
Evaluation of content
Relevancy of it as per the business requirements
Cross-checking the apt keywords pitching
And did the content match the expectations
Everything is well evaluated to bring in a perfect informational piece. 
10. Additions and modifications
Nothing is perfect, as suggestions and modifications are always a part of making excellent content.
Even the last-minute changes can make a content piece perfect.
And that is what this phase of the entire process sums up. 
Learn More:- on Why is it important to update website content and How to achieve this with smart content strategy?
11. Content Posting
Once the evaluation is done, it's time to publish the content with the hope to get better outcomes.
12. Evaluation of the content
It's time to begin the wait!
The content strategy, generation, and publishing will contribute to making the business excel in Digi-world.
Evaluate whether these efforts led to the expected outcome or still require some improvement.
If yes, then on which end is the improvement required?
And everything! 
Advantages of posting relevant content to the business
Who does not wanna implement the relevant content posting when it can provide ample advantages that you might have never thought of!
Here are a few advantages of posting relevant content to the business.
It helps drive traffic to the website.
It helps convert viewers' traffic into potential leads.
It drives long-term outcomes.
Contenting and blogging facilitate link building
It helps enhance the marketing strategy.
It helps develop better customer relationships
It provides enhanced brand identity.
It enhances the brand visibility online.
It improves consistency
Bottom Line!
Content is the foundation of online marketing and facilitates getting the desired outcomes.
However, if you populate your website and other handles with relevant content, you will get enhanced website traffic, improve relationships with customers, create social media content, have a noticeable brand image, and provide long-term results.
When content alone can provide this much, imagine what the relevant content with an appropriate strategy can do!
Contact with us for any advice