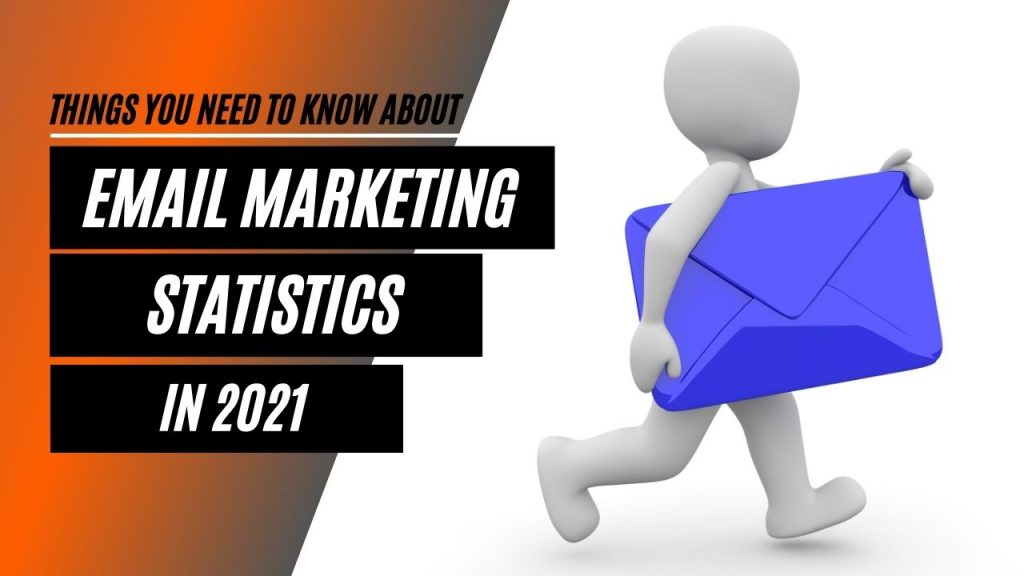 "Email has an ability many channels don't: creating valuable, personal touches — at scale." 
Email marketing is an incredible medium for marketers to advertise the product, grow the reach & leads of a business when done with accurate and precise methods. A marketer can connect to a vast audience if he is having a list of email addresses related to his audience. 
Regardless of continuously stepping in the brand new technologies and surprising tricks to nourish the market values of the business – email is still working at a peak level with equal credibility and great outcomes.  
B2B and B2C marketers are captivating new users by email marketing using new approaches every day which are seen to be effective and impacting. By tracking the performance and stats by email – a person can work on his ways to target the desired network.  
If you are one of those people who underestimate the true power of email marketing, then this blog is specially made for you. If a business owner invests time and money in email marketing by following the right ways, will surely have mind-blowing results and growth of a business. 
What is Email Marketing?  
Email marketing is an important concept of Digital Marketing which means to promote services while making meaningful relations to the users that further converts into loyal and potential customers. In this technique, electronic mail is sent directly to the email address of a user for informing him about each detail of the present scenario of the company.  
The process of sending emails to the users that have signed up for your services and subscribed to your mails – to stay in touch for regular updates regarding products and services.  
It informs users about the fresh changes in services, sales, deals, and schedules for a specific meeting.  
Email marketing helps in building online communities which are a vital part for any marketing business to stay in touch with people, know their demands, and providing value to their feedback.  
To develop a better understanding of users' interests, demands, and requirements – developers collect details and personal information of a customer to display only the personalized emails. 
Importance of Email Marketing in 2021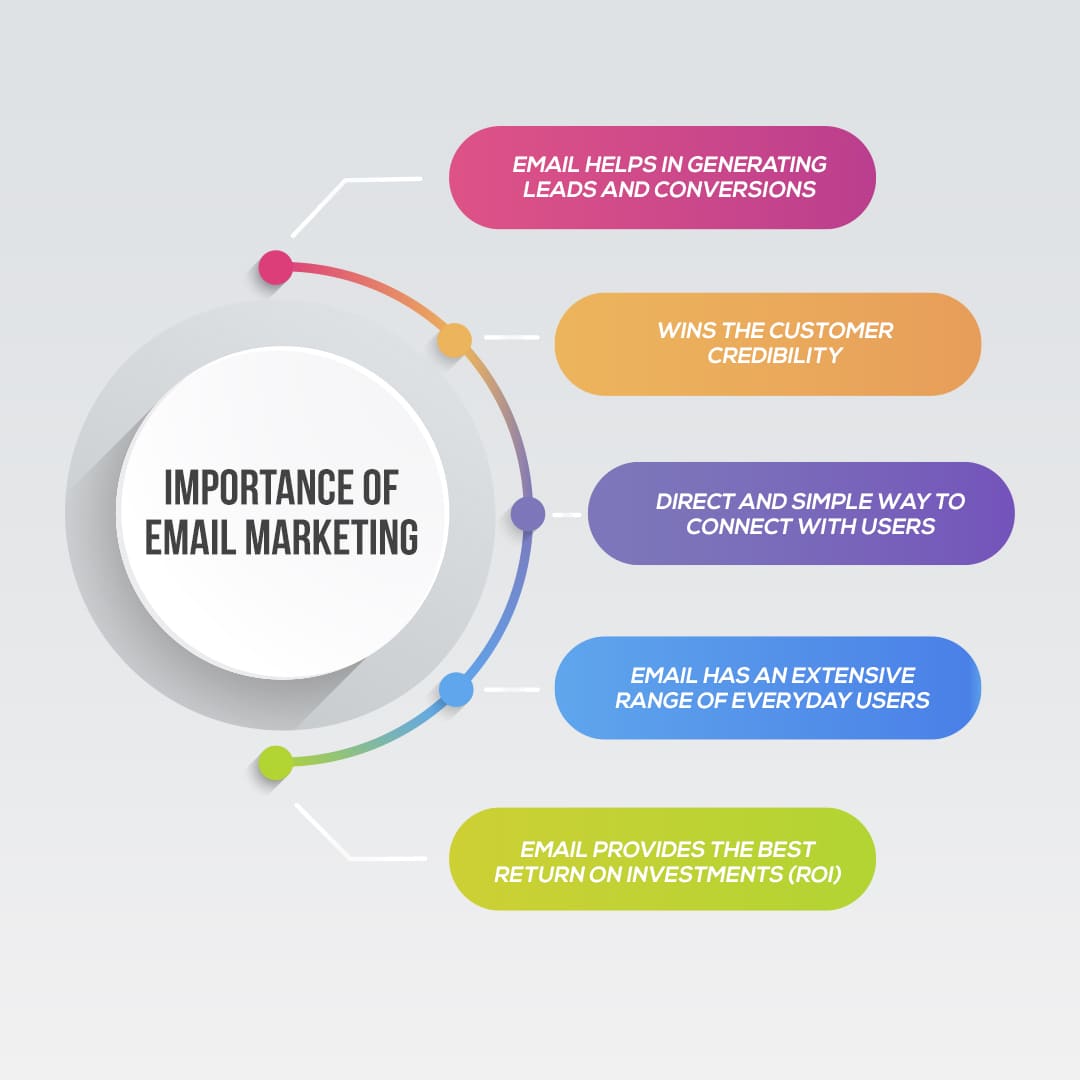 "Personalization—it is not about the name. It's about relevant content." – Dan Jak 
 Marketing by email has been serving small and big star up companies for the years – the times when they started from scratch. Even today, after so many years of stepping to the market it keeps on reflecting the users' engagement with pivot pace.  
Today, after almost 50 years of email inauguration – a wide range of connecting users can be seen each day.   
According to global email statics, it is seen that email users have raised to 4 billion in 2020 only that are set to become 4.6 billion just by 2025 
Approximately 300 billion emails sent and receive every day all around the globe. 
As per American research, around 80% population checks email daily many times a day in the USA and UK. 
After reading these surprising statics, your mind probably got shocked and surprised – but it is unseen powerful reality.  
Without any doubt, several advanced and direct ways are available for marketing online and when a lot of methods are here to reach an audience for their interaction and feedback then why do we go for email marketing? How can email marketing affect your business?  
Let us jump to the next paragraph to discuss the top 5 benefits of email marketing in 2021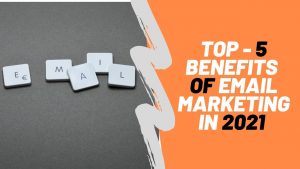 1. EMAIL HELPS IN GENERATING LEADS AND CONVERSIONS  
 Wherever you go on the web, most of the websites, platforms, and bloggers will ask you for providing an email. Half of the users accept the conditions and connect themselves to the websites through an email unintentionally. It is where the marketing strategy takes a step forward.  
They track the user's activity and unleash his interests for better engagement and services.  
Provides them offer, birthday treat, seasonal sales for attracting with ease.  
Gradually, gains the attention and trust of a user that further converts into a potential customer.
2. WINS THE CUSTOMER CREDIBILITY  
Emails are a genuine platform to win the trust and loyalty of a customer – you can provide users with a Free Step-by-Step Guide to reach goals and Secrets to strong communication as a PDF or a video form. This practice is a proven way to help people who often look for FREE valuable and quality content over the web. 
First, complete the demands and needs of a user effortlessly with a video or audio message.  
Listen to your subscriber, Nurture, send regular follow-up emails, and watch them how they become your trusted customer. 
3. DIRECT AND SIMPLE WAY TO CONNECT WITH USERS  
The most convenient way that ever existed to find, connect and communicate with internet users is none other than –AN EMAIL.  
It is inexpensive for making business deals and emails.  
A quick way to get users' attention and leads.  
More personalized emails make the users feel special and existed. 
 4. EMAIL HAS AN EXTENSIVE RANGE OF EVERYDAY USERS 
Every day more than 300 billion people open their inboxes and sent/ receive emails over the internet. Most corporate companies utilize email as a medium of day-to-day conversations and conveying important meeting schedules. In 2021, email has started to give people the benefit of making video sessions.  
With a large number of users, business promotion and growth can reach to next levels only if utilized precisely.  
Over 50% of the world's population uses the platform of electronic mails.  
5. EMAIL PROVIDES THE BEST RETURN ON INVESTMENTS (ROI) 
 With every $1 you spend in investing for business marketing emails, you are expected to get $45 on each dollar. Is not it surprising? Emails can make you the best out of your investments by accelerating your business at the same time. 
Read Also –  How To Grow Your Business Organically Through SEO?
STATICS YOU MUST KNOW ABOUT EMAIL MARKETING FOR GROWING YOUR BUSINESS IN 2021 
These were the basic statics about the rise of email marketing with each passing day. I am sure, you are now clear about the concept of Email Marketing, the procedure of gaining customers, and its importance in the business world.  
People use email to connect with superior industries, brands, private companies, and government authorities because they love the idea of getting quick information and updates through emails.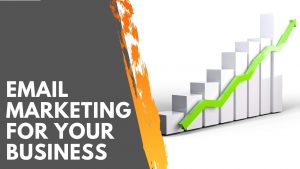 #1 EMAIL IS PREFERRED OVER SOCIAL MEDIA  
Among the enormous users of email worldwide;  
59% of them an open email before any platform of Social Media 
63% of users read regular emails for brand offers, discounts, and brand new updates.  
Over 55% of email subscribers check their inboxes before going to bed.  
Even during the holiday season, about 70% of people open their mailbox once a day. 
#2 EMAILS IS POPULARLY USED BY TEENS  
Our new generation is a digital breed of humans that stays under the influence of computer networks and technology for 24 hours and 7 days a week. Teenagers are exclusively using emails for professional and formal transactions and communications.  
Over 40% of youngsters use email regularly from their mobile phones. 
From which 23% extra interested teens reopen the mail from a different device.  
 #3 BEST FOR OPTIMIZING B2B AND B2C BUSINESS  
Besides the commonly used emails by teens and people – popular B2B and B2C business marketers utilizes this opportunity for expanding their work over the oceans.  
Sending an email is a matter of writing good content and creating valuable data which causes a very low cost. This will eventually lift the business from the ground to the higher level if used consistently. 
77% of Business business companies use this platform for sharing posters, pamphlets, banners, and infographics with their subscribers.  
80% of B2C companies are successfully converting users and window shoppers into potential and loyal customers. 
 #4 VISUAL CREATION ENHANCES USER EXPERIENCE  
 Human is lazier by default thus he likes to operate the things that include fewer efforts – visualization covers all the concepts regarding an announcement, a study or information. People are more likely to access visuals as compared to any other type of medium. 
More than 50 percent of users open the email after reading attractive titles that use emojis and clipart visuals.  
Adding a video and short film to email results in an increase of ROI to 40 percent.  
#5 SUPERLATIVE STATICS FROM PERSONALIZED EMAILS 
Every individual wants to feel special about himself no matter in which position he or she is working, it is a part of our nature. Similarly, business people effectively utilize this trick to trigger the audience.  
Mentioning the name of the recipient in the subject line increases the chance of opening an email to 28%.  
77% of email marketers send emails based on the user data by knowing their interest and high rated topics.  
64% of daily users decide to open a mail according to the subject line of an email.  
In case, users find an email irrelevant – they will through it into the bin or are likely to report it as spam. 
GENERAL EMAIL MARKETING STATICS  
Globally email users operate Gmail and other mail platforms from their mobile phones rather than personal computers or tablets. It is having approximately 52 percent out of the total users. 
43 percent of email users directly delete the email on reading an error or not showing accurately on their mobile phones and other devices.  
Email marketing campaigns are way ahead of Twitter and Facebook campaigns which collectively form 6 times higher conversion rates than ever.  
85 percent of formal discussions are held over emails every day rather than using any other medium.  
With business, email marketing – bloggers, developers, entrepreneurs, speakers, and various self employees are gaining about 76 percent of Organic traffic only by sending quality content over the emails. 
To ensure leads, customers, audience, users, and followers – a huge digital market secures about 18 percent of audience support only by generating reasonable newsletters and announcements.  
A more than 70 percent business owner uses email to interact with their teams and customers.  
82 percent of millennials feel refreshed and on track with the generation by reading regular emails.  
6 out of 10 email users open their mailbox from mobile phones – it is essential to keep in mind making every newsletter, offer mails, opening letters, Infographics, and announcements mobile friendly. 
The open rate of each mail is likely to fall between 17 to 22 percent which means 1 out of 5 users will open and go through the mail.  
Read Also – Understand the Importance of Digital Marketing for Business
WHAT IS THE BEST TIME OF THE DAY TO WRITE AND SEND AN EMAIL? 
 "There is no formula for the perfect email — authentic and honest messaging works" 
People often search for the supreme timing that can suit perfectly for sending emails to grab attention to increase opening rates. There is no certain day and fixed timing that can fit all the people or business culture smoothly.   
It completely depends on the type of networking, industry, and company. You must have insights about the most active and engagement hours of your audience to decide the ideal period for sending emails.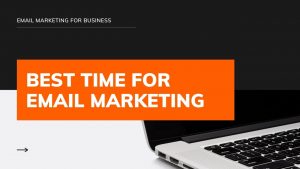 The following guide is made especially for you to have a basic understanding of the timing of business emails –  
Know the LOCAL TIME ZONE of your audience   
Send emails to your users according to their local time zones during working hours.  
The best results came from sending emails between 10 am- 11 am – it is well known as peak hours for business trades. 
Send emails on TUESDAY  
Never send emails on Weekends Tuesday has higher Click-through rates than Monday or Saturday. People hesitate to open and read emails on Monday and during weekends. 
Expect Black Friday and Cyber Monday Marketing – avoid sending email on Friday and Monday 
THURSDAY for sharing great deals 
People are most likely to shop on the fourth day of the week – Thursday.  
If you deal in online shopping carefully send hot deals on Thursday and a little amount on Saturdays for more sales.  
NO EMAILS on Sunday  
Do not make the mistake of sending business and corporate emails on Sunday as they can go to the vein.  
Wait for Tuesday and if not – do your task a day before it – Saturday.
Meanwhile, invest a good time in knowing your subscribers and audience so deeply and clearly – more than they know themselves.  
You can use digital online tools to find out habits and activity timelines on the internet. The well you know your customers, the higher the conversion rates will go and you will make a powerful community by email marketing. 
BOTTOM LINE  
Email marketing provides endless ways to boost growth and expand the business to each city, state, and country of the world only if an individual has the right knowledge and skillset to utilize it properly. 
Internet traffic keeps on increasing at a good pace which indicates a sure rise in several daily users and with the number 1 communication medium such as email one can fulfill the need of the audience. 
By reading this wonderful article we have seen how a consistent email can turn tables for any business or marketer. You can win the game if you have a great managing team to look after infographics, content, links, forms, templates, and someone to dig the required data set.  
Read Also – What does Internet Safety Mean and Why It is Important?
Contact with us for any advice