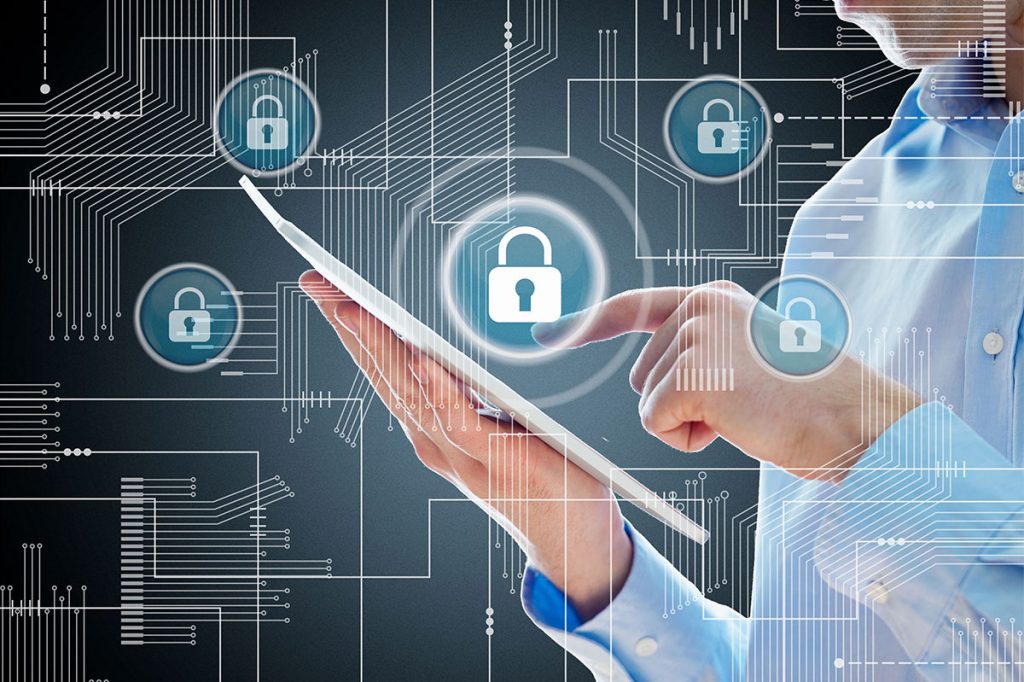 Today we are living in the age of electronic world where all individuals and data science are interconnected. Internet has become the integrated part of our lives and the society is completely seen sheltered with the strong influence of World Wide Web. The cyberspace has taken over the huge portions of economical and cooperative network by offering vulnerable and powerful resources.
The internet is has become the new greed for humanity because it provides almost everything FREE of cost to an individual and this also leads in increasing the addiction for using smart devices.
As long as we are connected to web, keeping our electronic data, personal information and passwords safe is an important concern.
WHAT IS INTERNET SAFETY?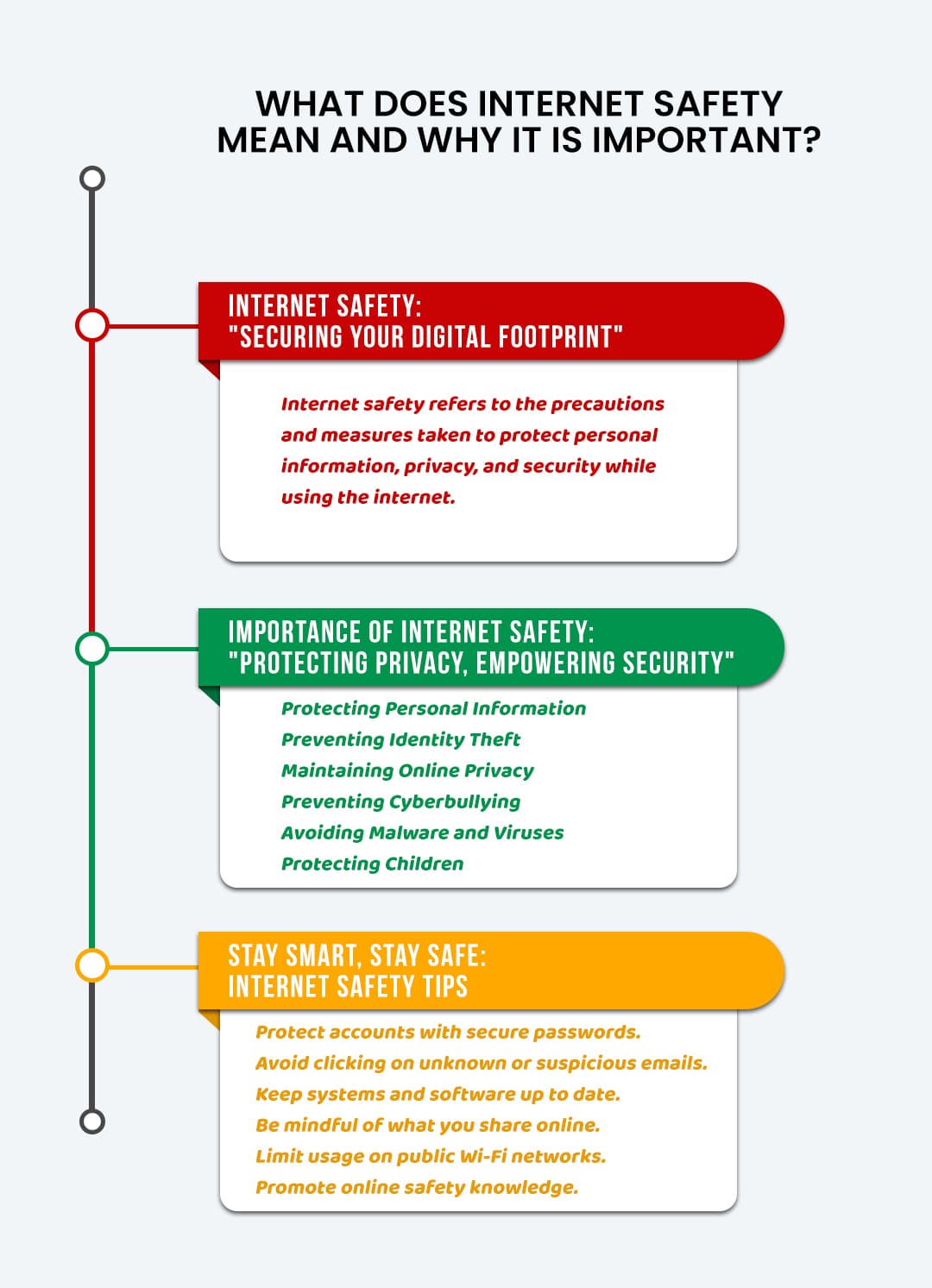 In Simple words, internet safety or cyber security refers to following some rules, tricks and methods to Stay Safe Online.
It is the knowledge to secure the personal data and privacy of a user while using the web resources.
Many Industries and MNC's keep their confidential data by using best internet security and authentication to ensure a superficial E- security.
Attackers and Hackers mainly target the people using online banking services or upload identification proof documents.
Encrypting the data that have been uploaded online and provide security to the daily web surfers is network security which is a subset of Internet or Cyber Protection against online threats.
WHY INTERNET SECURITY IS IMPORTANT?
The internet is insecure by default and generation have extremely dwelled into the idea of making web a part of their daily life. Security over the web can be categorized in many types such as it can be related to financial security, personal details, online sexual assault and harassment, mocking an individual and stealing identity.
By adapting accurate practices to have more e-security, a user can keep him defended from all types of attacks over the internet. To ensure the safety in digital World, cyber security is discovered. The specialists working in Network Security of Computer Science and Technology are working on advanced and innovative ways to protect computer networks against threats.
Learn More:- Difference Between Cyber Security and Network Security?
10 DIFFERENT TYPES OF CYBER SECURTY THREATS
Hackers and attackers
Predators
Black Hats
Computer Viruses
Spyware
Phishing
Malware
Man in the middle
Denial of Service
Password Attacks
Cyber Security is important to defend our sensitive data from dangerous and illegal attacks. Most of the times, we are not even aware about the fact that we have been hacked!
If you are one of those people who think that they are alone, safe, secure, or underground because they do not interact with people, do not gossip to friends, do not make video calls at Skype! Sorry to say but you have been FOOLED!
As long as use a mobile phone, you can never be hundred percent alone!
If users update smart devices, they cannot ensure if their data is secure and private!
As long as an individual have a subscriber identification module card in his device, he can be tracked!
If someone is alone but connected to the INTERNET even with strong security software, a witty attacker can find a way to reach you!
WE ARE NOT HERE TO SCARE YOU; WE WANT YOU TO KNOW THE REALITY SO YOU CAN GET RELIABLE INFORMATION TO HAVE POSSIBLE SECURITY.
Let us discuss about the main reasons why we need internet security? Why people are becoming so much aware about cyber attacks? We want to help you by delivering the importance of internet security in easy and simple words.
#1 IMPORTANCE OF SECURITY FOR SECURITY OF CHILDREN
Especially for kids and teens, internet performs a captivating role in their lives because they spend most of the time on screens – use social networks, watch web series, search deep knowledge, play online games and do many activities. Now, the school system has also shifted to the web which accelerates the internet usage timing by the children to higher rates.
When children use mobile phones they are most likely to get under the influence of cyber attacks, bullying and property loss.
#2 NETWORK SECURITY IS IMPORTANT TO KEEP PRIVACY OVER WEB
Attackers and malwares always try to get into the privacy of important information stored on people over the web. Mainly, the individuals having least knowledge of internet are triggered by the hackers. They click on the malicious content link which allows the attacker to get into their private data.
Without a security wall your messages, content, documents and confidential information can be seen and stolen by the illegitimate web surfers.
#3 CYBER SECURITY IS VITAL FOR BANKING AND GOVERNMENT AUTHORTIES
Even big industries, banking authorities, government websites can be seen under the dark affect of hackers. The black hat hackers target the users making online transaction and communication. Cyber attackers put SQL injections to the URL of websites and get access to the inputs of a user.
You must have read and heard the news about bank fraud or stealing personal data for illegal usages. Eventually, we can see that the cyber attacks are increasing day by day.
HOW DO YOU KEEP YOURSELF SAFE AND SECURE ONLINE?
The internet has been influencing our lives since the age it began and with the passage of every minute more and more users keep on adding to the internet. To use the internet with consciousness and full security is important for every individual as attackers are continuously working on to find the different ways of interfering private properties and data.
The solution for providing a proven protection is important for people to defeat the attackers. Today, our lives are less ours and more owned by the technology which means it is hard to leave technology behind.
We cannot give up on using internet as everything nowadays has gone digital. Even schools and education and there is no way we can escape the deep web of computer networks.
In general, internet cannot harm you unless and until you allow it to do so because many of you already know some websites keep sending you notifications to allow unnecessary access.
An individual with a good knowledge of security will never fall under the trap of attacker. However, leisure man with not sufficient information can become the victim.
Make Sure you never allow access and permissions to unwanted websites and also avoid accepting cookies request from unauthorized and doubtful sources over the web.
Read below the 7 most relevant and easy ways that will keep you secure on the internet.
KEEP YOUR PRIVACY TURNED ON OVER THE SOCIAL SITES
Social Sites are the main source where people are more likely to attack their details and information. Teenagers often submit complaints to cybersecurity offices about leaking their photographs, private conversations, bullying and physical harassment.
This happens because teenagers are more eager to catch social attention thus forgets to keep the required privacy.
Make sure the social platform you use for interacting worldwide is trusted and authentic and always turn on privacy settings in mobile phones as well as on social sites.
BEST END TO END ENCRYPTED SOCIAL PLATFORMS IN 2021 
WhatsApp
Telegram
Instagram
Twitter
Vibe
Signal
CoverMe
Silence
Wickr
Threema
ARE YOU USING A SECURE BROWSER AND APPLICATION?
Which browser do you use for surfing on the internet? Do you believe it follows all guidelines required to have for a trusted and legal browser? If YES! You can continue using it else you can switch to a safer browser.
TOP 10 MOST SECURE BROWSERS USED IN 2021
Google Chrome
Mozilla Firefox
Brave
Apple Safari
Chromium
Microsoft Edge
Opera
Tor Browser
FreeNet
Epic
CREATE STRONG PASSWORDS (USE SPECIAL CHARACTERS AND NUMERIC VALUES)
I don't understand why people fail to create a strong password. I often see people perform in a hurry when choosing an ideal security password. Creating complex passwords is an amazing way to tackle internet security where hackers target weak passwords.
If you use online payment methods then a critical password is the backbone for your financial safety because a small detail can reveal thousand of passwords used by numerous users over the internet.
LIST OF RULES FOR CREATING A STRONG PASSWORD IN 2021
An ideal user will never compromise in creating a strong password using certain special characters, numeric values, upper and lower cases.
Always make longer passwords at least 6 characters long and even longer to assure advanced security.
You should avoid the words that are related to your details such as your name, place, birth date and interests.
Do not be a half-wit! NEVER use common passwords everywhere – attackers will get access to your all accounts by knowing just one password.
USE A SECURE NETWORK AND CLICK SMARTLY
Many people use their data for connecting to the internet when at home and some of them try to capture the opportunity of accessing the FREE WIFI available in the public areas. This can be a golden chance for hackers to get into your device and steal private data.
Also, some websites attract the user by POP-UPS of rewards and WINNER tags! These are the tricks and traps planned by the hackers for Phishing.
SIMPLE AND EASY INTERNET SECURITY TIPS YOU MUST KNOW IN 2021
We recommend you invest in an authentic and quality Virtual Private Network, which provides you extra security while connecting over the internet.
You can use Firewalls and Anti-Viruses to shield your device from outer spam services.
Never Share Security Codes and One Time Passwords with anyone.
Neglect the 'Too good to be true' offers over the internet.
STAY UPDATED ABOUT THE NEW SECURITY TRENDS
A device that lacks regular updates can be easily targeted by attackers due to older versions. To secure your device and data over the cloud – keep updating software, anti-virus, browsers and application installed on a smart device. I promise this helps to a greater extent! Keeping a regular update will give peace to your mind.
HOW TO STAY UP TO DATE WITH TECHNOLOGY
Regular check for the modifications and updates regarding personal computers, mobile phones, security software and applications.
Read current affairs related to Science and Technology more often.
Discuss the ideas and trends with a tech-savvy person to share more knowledge about the latest trends.
You can take help from the Information Technology, Computer Science and tech magazines for advance study regarding internet and security over computer networks.

ONLY USE SECURE PAYMENT PLATFORMS FOR TRANSACTION
In the past few years, the graph of the online transaction has rapidly increased by gaining online users that do digital business such as network marketing, affiliate marketing, and online banking. The risk of stealing bank details over the internet for such users always remains at the peak. You can ensure a safe transaction by making use of the most trusted platforms.
6 BEST PLATFORMS TO PAY ONLINE IN 2021
PayPal
Authorize.net
 Google Pay
Amazon Pay
Braintree
Paytm
GUARANTEE YOUR ONLINE SHOPPING WITH GENUINE WEBSITES
People love to sit at home, look at incredible outfits and choose the perfect fit from countless websites available online for instant shopping. This is where the attackers sit with patience for the user to put their credit details or debit card information so that they can take the advantage of the situation on the spot.
Being a responsible customer – know the privacy policies and security level of the websites you are using. You can verify the address if it starts from HTTPS or HTTP.
LIST OF MOST SECURE E-COMMERCE WEBSITES IN 2021
Amazon
Myntra
Ajio
Snapdeal
Alibaba
Walmart
Flipkart
Allegro
Target
BigBasket
BOTTOM LINE
The Internet is not evil, but it is indeed for a person that uses the network and cloud services blindly with zero awareness. The Web world has so much to offer and we can perform miracles seated in our place. The Internet is a vast, limitless ocean – the more we navigate, the more we can study incredible truths.
Parents should give particular attention to their children who use smart devices and advise them not to put personal data on the Internet. I am sure some of the adults reading my post would be surprised to know the least age of children using the Internet. Children of such a small age who use web services blindly may cause tremendous harm.
Understand the importance of safety and take appropriate measures now. Download most trusted antivirus and activate security firewalls – this will work as a good shield against spyware, malware, hackers and tracking apps. Never submit passwords to unauthorized websites and avoid clicking on unnecessary website links and popups.
Contact with us for any advice