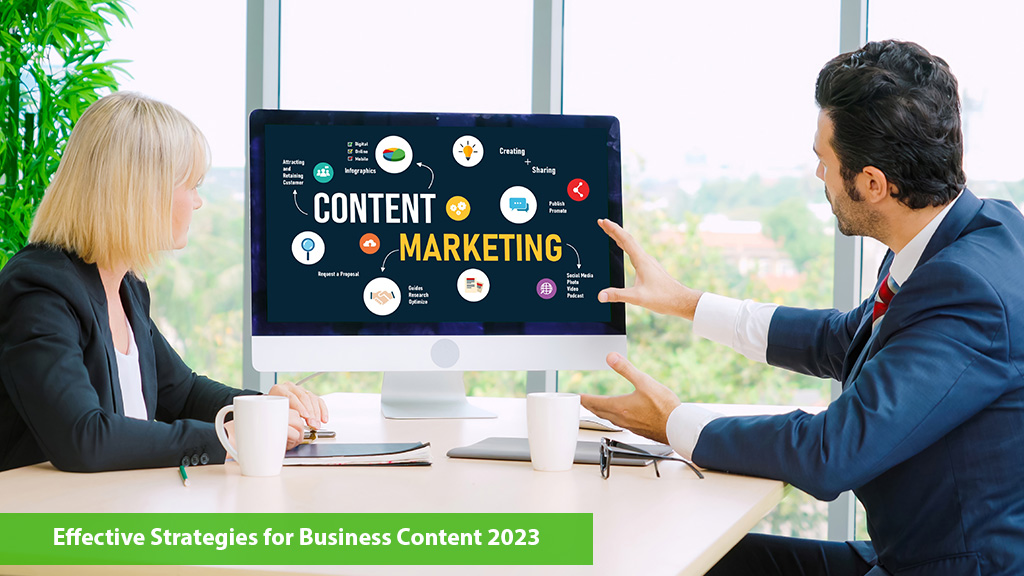 Expectations from customers are rising. Normal blogs and videos are not enough!
AI tools have completely disrupted the markets.
The continuously changing algorithms on Google are making things more complicated and complex for businesses to sustain and thrive in digital ecosystem.
Now, what's next.  It's time to play the master keystrokes and right strategy. Read On to learn those effective strategies to make your business content rock and make your brand trustworthy 2023.
What is Business Content?
Business content refers to the information and media owned by businesses to promote their products, services, and brand.
The purpose of business content is to market and promote offerings, build brand reputation, educate, and engage audiences, generate leads, and support customer needs.
This not only includes formats such as articles, blog posts, videos, social media posts, email, newsletters etc and it's much more and diverse than that.
Effective Strategies for establishing trustworthy Business Content 2023
By implementing effective strategies, businesses can create trustworthy brand content that resonates with their target audience. Have a look at key strategies with real-life examples to inspire your content marketing efforts in 2023.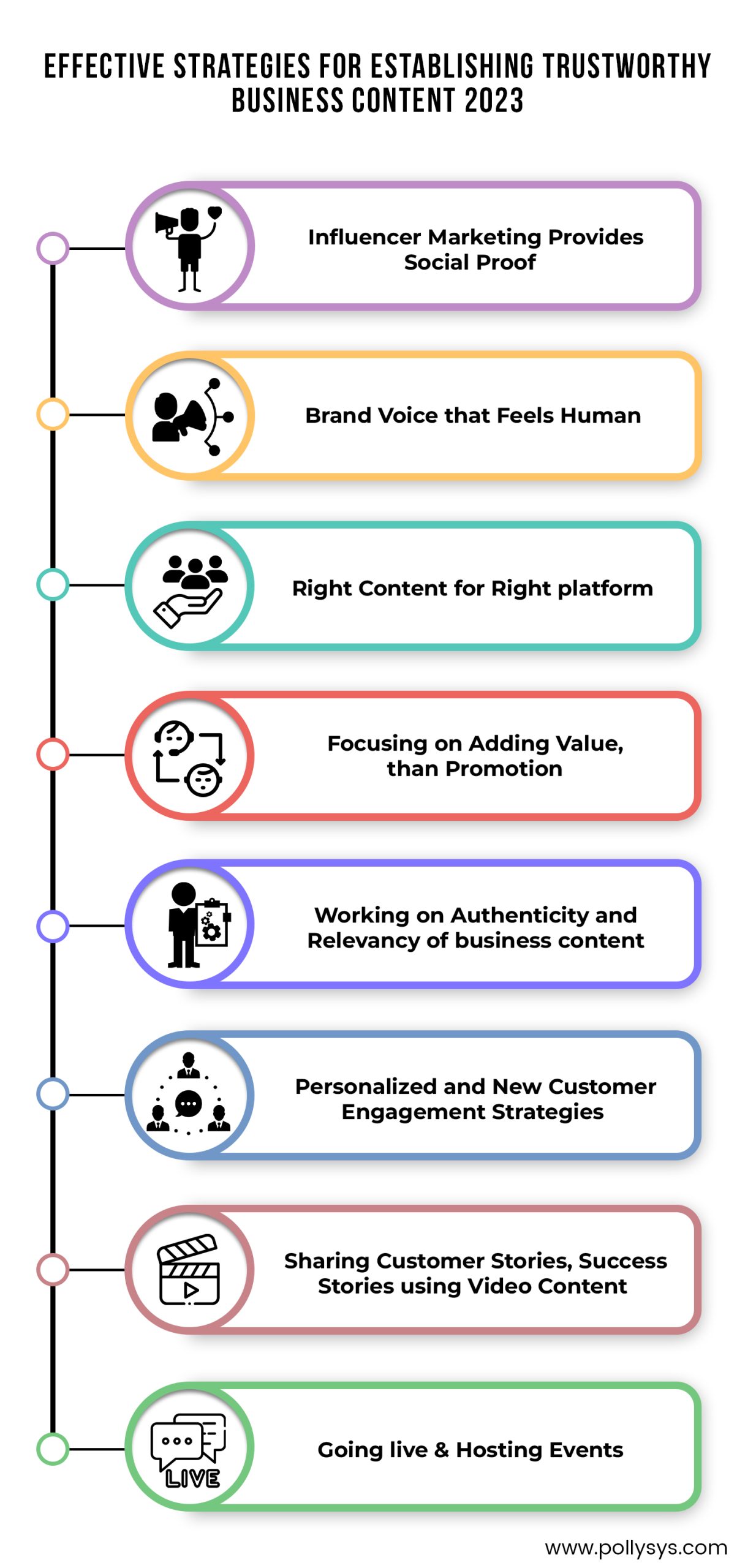 1. Influencer Marketing provides Social Proof
Influencer marketing is no longer a celebrity holding a picture of the product and showcasing it on their profiles. it's more than that.
Influencers are considered as a trustworthy source for the information.
The modern-day influencer marketing gives you:
Brand awareness growth
Content strategy enrichment
Quality lead generation
Cost-effectiveness
New strategies and approaches to do it.
👉 Social Media Takeover: Let the social influencer takeover your page for a day
Example: Same what Miele (a kitchen appliance manufacturer) did by inviting renowned chefs Helena Rizzo, Kyle Connaughton, Paco Roncero and Gaggan Anand and requested them to hold a series of online cooking events.
👉 Affiliate marketing: Just Pay for what you convert.
One of the most amazing examples comes from Amazon when you join their affiliate program. You are rewarded when someone makes a purchase by the link posted by you.
👉 Sponsored Content: Insta, FB on your go!
Lookout for influencers having your audience or dealing in your niche. Collaborate with them innovatively to promote your product in a unique way.
Go for unboxing videos, showroom tour, shopping videos etc.
2. Brand Voice that Feels Human
In 2023, brands must showcase their human side to establish authority and trust. Taking a stance on important social issues resonates with consumers and emphasizes care and impact.
Whether in B2C or B2B, appealing to individuals, collaborating with influencers, and implementing personalized social strategies are crucial for building trust with decision-makers.
Lovely Drinks, a UK-based beverage brand, exemplifies a human-centric approach by engaging with their audience through charming and personable social media interactions.
They take a stand on sustainable sourcing and proudly share their commitment to using natural ingredients, earning the trust of environmentally conscious consumers.
With their warm and authentic brand personality, Lovely Drinks has established themselves as a trusted and socially responsible choice in the UK beverage market.
3. Right Content for Right platform: Audience Identification
The same content that works on one platform may not work on the other!
You gotta be creative and should have a great understanding of platforms and your audience.
Work on your audience where your user base is? What are the demographics? Conduct a survey.
What type of content is loved by your audience?
What strategies are your competitors following?
Answering these questions will help you draft a perfect piece of content that will resonate with your audience and infuses trust innately.
Whether it's blogposts or video or social media, every type of content will work till it's relevant, informational and is meaningful to the customers.
Nike excels in this strategy by producing engaging videos for YouTube, inspiring Instagram visuals, and informative blog posts, ensuring their content resonates with diverse audiences across different platforms.
4. Focusing on Adding Value, than Promotion: Addressing customer pain
Customers are looking for solutions, something that addresses their pain points.
Sharing content which looks good to you and does not resonate with audience intent, would be like hitting the brick wall bareheaded.
Designing the business content in a way that adds value, stays relevant and answers the user query is indeed the recipe for success.
For example:
Let's talk about the web content. The "About Us" page is an opportunity to build trust. It should not be focussed on how the business was started and what they have gained over the years.
Rather, it should be curated to stress on how the business products/services have helped people and addressed their solution across the years.
Additionally, what is the company's roadmap in future, long term plans, foundation objective, mission, vision, and team.
Warby Parker, an eyewear brand, goes beyond self-promotion by sharing their mission to provide affordable eyewear and their social impact initiatives.
This approach highlights their values and commitment, building trust with their audience.
5. Working on Authenticity and Relevancy of business content
The content should justify all the four EEAT guidelines of the search engines to stay in the race and emerge as a winner.
Whatever mode of content strategy you're following, it certainly should reflect your:
Expertise
Experience
Authority
Trustworthiness
Work over all these points and you'll get a phenomenal piece of content that'll go viral and build trust.
WebMD, a reputable health website, demonstrates authenticity and relevancy by providing accurate, medically reviewed articles that address specific health concerns, gaining trust from their audience.
6. Personalized and New Customer Engagement Strategies
Businesses should look beyond TV, print media and radios to gain more trust and attention span. People may or may not have the access to traditional media platforms, but they certainly are addicted to newer ones.
Talk about smart phones, apps, podcasts, videos etc, people are just hooked to these. So, the trust building opportunities lies by developing engaging content for these channels.
Here's how you can do it:
Using Voice driven AI chatbots that improve customer Experience.
Hyper personalized campaigns will make every message look 1-on-1 for customers.
Focussing on short and crisp video Content which is engaging.
Addressing negative comments/feedback with care and ensuring full customer satisfaction.
Netflix has been at the forefront of new customer engagement strategies, such as interactive content.
Shows like "Black Mirror: Bandersnatch" allow viewers to make choices that impact the storyline, providing a personalized and immersive viewing experience.
These personalized and innovative engagement strategies have contributed to Netflix's success in attracting and retaining a large and loyal customer base. 
7. Sharing Customer Stories, Success Stories using Video Content
Utilizing video content to share customer stories and success stories is a powerful way to build trust and credibility.
By featuring real customers and their experiences, brands can create authentic connections and demonstrate the value of their products or services.
Through engaging visuals and narratives, video content captures the emotions and testimonials of satisfied customers, leaving a lasting impact on viewers.
Sharing these stories not only strengthens brand reputation but also inspires potential customers to engage and trust in the brand's offerings.
Airbnb fosters a sense of community by featuring user-generated content and encouraging guests to share their experiences.
By showcasing real stories and interactions in video format, Airbnb establishes trust and credibility among potential travellers.
8. Going live & Hosting Events
When a brand goes live or hosts events, it allows for real-time interaction and engagement with the audience.
This creates a sense of transparency and authenticity as viewers can witness the brand's expertise, knowledge, and personality first-hand.
HubSpot, a marketing software company, organizes HubSpot Academy webinars where experts share industry insights and best practices.
This interactive format allows participants to engage directly, fostering trust and credibility. 
Why is it required to establish a trustworthy brand content strategy in 2023?
Trust is crucial for revenue growth and serves as a reliable indicator of business development.
Amid the upheaval caused by Covid-19 pandemic, new opportunities are rising to cultivate trust with customers.
According to the 2021 Edelman Trust Barometer, businesses are now more trusted than other institutions. This presents a unique chance for companies to strengthen customer relationships.
Leveraging the right brand content strategies is key to achieving this goal.
Additionally, the emergence of new AI tools further poses a need to enhance trust-building efforts by enabling personalized experiences and going for predictive analytics.
Bottom Line
In today's rapidly evolving digital landscape, business content continues to face heightened expectations regarding their presence and conduct.
A strong brand content strategy is crucial in cultivating trust with customers, serving as tangible evidence that your brand is a reliable and valuable partner.
For more brand building ideas, stay tuned with Pollysys or reach out to us at 020-3003-4830 or dop an email at support@pollysys.com.
Recent Posts
Contact with us for any advice