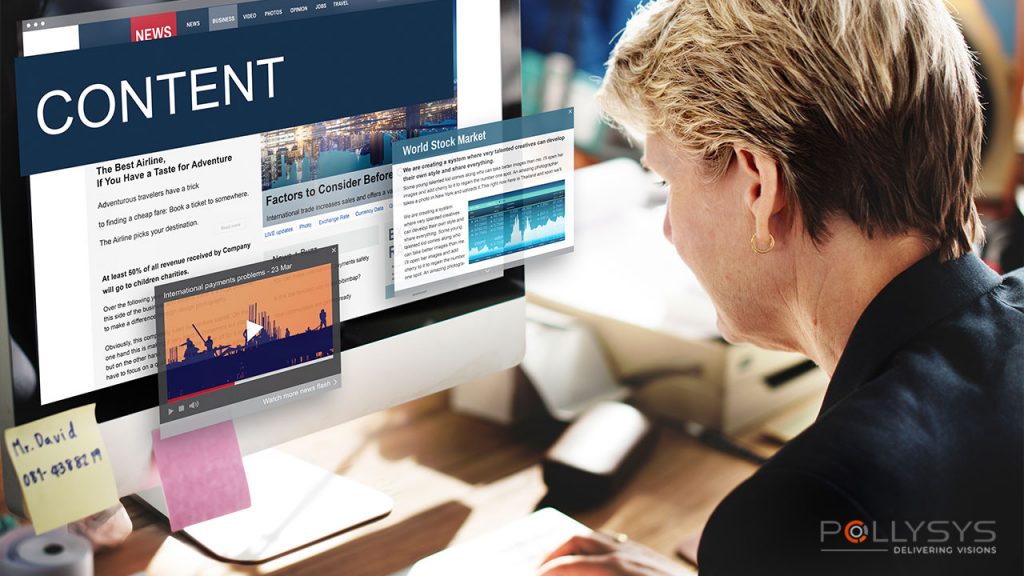 "Content update is essential to maintain the credibility of your brand and be loved by search Engines and users. Learn how to do that."
Not updating content at the right time could harm the credibility of your website.
It could even damage your website's overall authority.
It's time to think again and revisit the existing data to get back into the game!
Struggling with how to start with content revision?
Whether to update or rewrite the old content?
How to decide whether to scrap off or update the content?
What to do after updating the content to make it more impactful and noticeable?
Keep reading to unveil perfect answers to all your content update apprehensions. Don't miss out on the complete checklist to ensure faster and more consistent content update.
Why do you need content update?
Be it Google or human, everyone loves fresh content!
Google has been updating its algorithms over and over again to ensure relevancy, accuracy and purely focusing on user intent along with relevancy.
Evergreen content scores high and stays on the SEO charts for longer period of time. Let's understand Why.
Boost User Experience
Users are always looking for latest and up-to-date information.
If your content lacks accuracy and relevancy, user experience receives a massive setback.
For a website to grow, maintaining a positive user experience is imperative.
URL Authority
Everytime a new content or page is created, it starts with zero authority.
The already existing content has better authority from the links it has acquired and by just being aged.
Maintaining that authority by updating existing content is critical.
Change in searcher's intent
Search intent plays a vital role in making a content rank well on SERPs.
But, the user intent changes over time. The same thing might not serve the purpose that it did a couple of years ago.
So, it's important to update or revise the content based on recent trends or turn it evergreen by making suitable changes.
Staying competitive
Even if you have published the content and turned off your system, your competitors are still working.
It's not only the search engine that you need to out past, but you need to continually innovate new ways to deliver impressive and value-added content to beat the competition.
Retain the SEO freshness
Search engines tend to give priority to websites that update their content frequently.
Even a few updates on the exiting pages would help the websites to demonstrate their freshness to the search engines.
How often to update your existing content?
It depends on the nature of the website, industry and the content published.
There are no strict or hard & fast rules for the same.
For example: If you have just started your website, then you may not need to revisit the web content for 8-9 months.
But, things change when you have a blog. Six months is a good time frame to review the existing content and check with latest updates, relevancy and accuracy.
Belonging to an industry which is often in flux, you may need to update it more often to stay trendy and current.
Apart from that, clinching high on user base may also require you to keep revising your old posts to serve the intent of every visitor coming to your website.
How to decide between revising content and writing fresh content?
There may be content on your website that is old and doesn't rank?
The main question that lurks over your updation process is, "whether to rewrite it from scratch, revise it or scrap it completely?".
Creating fresh content over the existing one will lose your rankings in case the existing content was designing to rank for some specific keywords.
This doesn't means that you have to keep all the irrelevant and useless things.
Try revising as much as possible.
Following a smart content strategy for updating would help you ace up your game.
If the content demands rewriting the sentences, more impactful subheadings and reworking on internal linking, then you must do it.
But, make sure to do all this under the same URL.
The reason is to retain the authority and backlinks that are acquired by that URL over time.
In case you want to completely rewrite the content but also wanna keep the existing content as well, you can move the stuff to a new URL on that domain.
Now, let's understand Best practices for updating website content.
Step by Step approach to be followed for content Update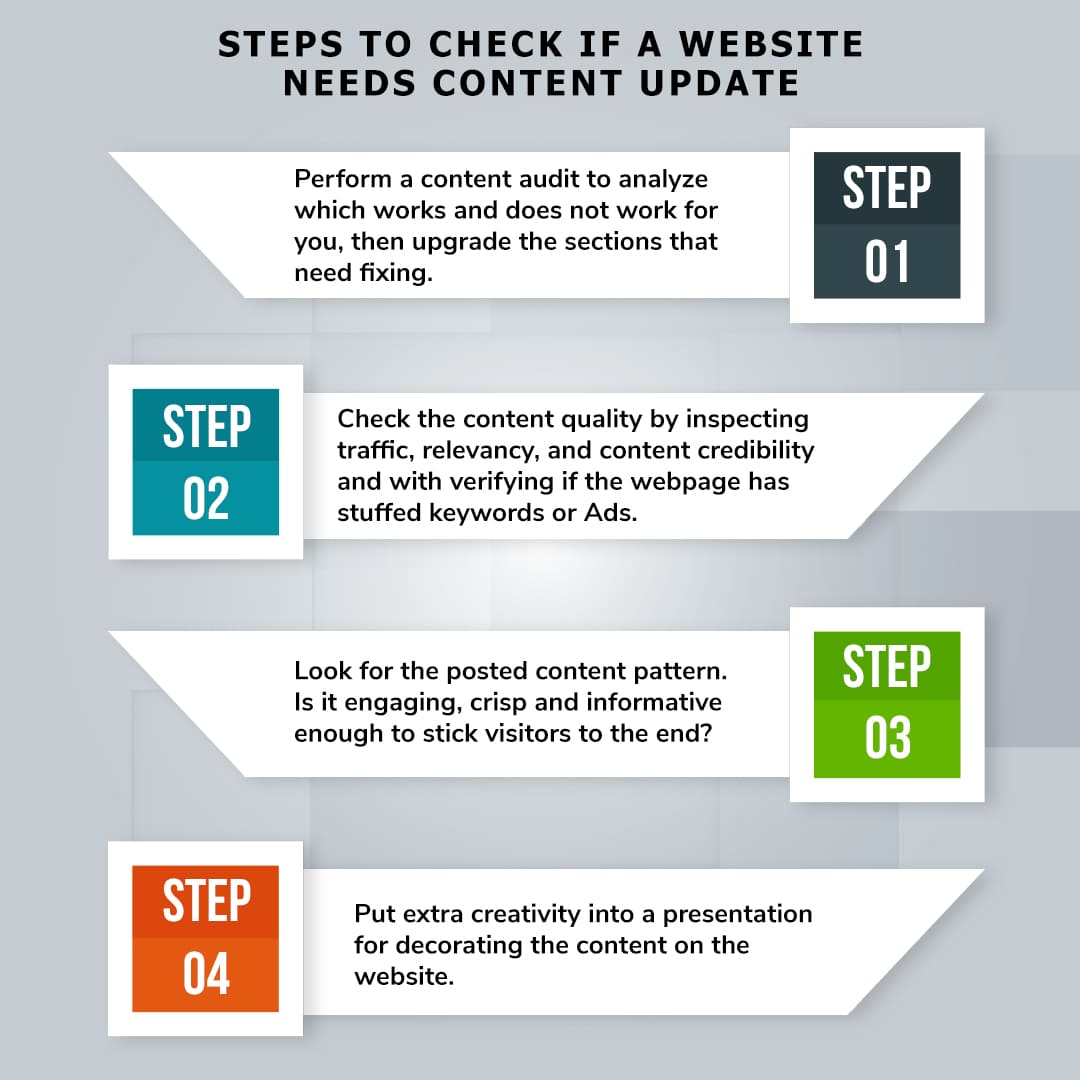 So, we are clear about importance of updating website content.
Now, how to decide which content is to be updated?
Have a look at step by step approach to be followed for the content update.
Step1: Deeper Content Audit
Start the process by evaluating your content by auditing it on a deeper scale.
You need to analyze the content that:
Works for you
Does nothing
Harming you
Start with:
Content engagement (Top-down approach)
Just read through the entire page in one go and check for engagement.
If you feel disconnected, just stop.
It's time to rewrite.
Competitive Analysis
Cross check with your competitors for the similar content, their rankings and how their content is adding value.
Check for the keywords and other trending keywords that you can optimize for.
Update your content by giving more high-quality value addition.
Relevancy and Intent
Just read the content whether it is actually relevant to the title and justifying the searcher's intent.
The title should be optimized and should include a reader benefit.
Step 2: Check for quality
After getting the brief overview, if step 1 satisfies everything, now check for deeper value i.e. content quality.
Checking the quality means you need to check for
Accuracy
Readability
Mobile friendly
Informative and answers user's query
Entertaining and shareable
A content that has no target audience, no goals and lacks optimization is low-quality and seeks immediate attention.
For search Engines such as Google, high quality content is something:
That satisfies E-A-T factors (expertise, authority and trust)
Builds credibility and is engaging
Satisfies the user intent with the main content
Doesn't has Ads or other distractions
Verifying facts and figures
As per Google's Gary Illyes, rather than removing the content, adding some high-quality content would generate better responses.
Step 3: Check for Patterns
It's time to check the content as per the latest algorithm trends, user intent and relevancy.
Introduction should be short, crisp and should bind the reader to read the blog till the end.
Proper subheadings
The keywords should be optimised and not stuffed.
The entire content should comply the same tone – informational, promotional or conversational
Usage of questions and their apt answers
The content should not be over stretched
Step 4: Check for presentation
Presentation is the key to attract readers.
No matter how good you've written the content, the result will be null and void if the content lacks presentation.
Make sure that the areas that are creating impact are able to hit user's attention.
Else, you'll end up in a high bounce rate.
Working towards a smart content strategy
Now you've worked on the evaluation and content auditing.
You know the flaws.
You need a smart content strategy that helps you decide whether to rewrite, update (refresh) or delete (de-index) the content.
Check here the some tried and tested steps to be included in implementing an excellent content strategy.
What to do after doing content update?
Content has been updated. What to do next?
How to make your audience and users know that you have refreshed the content?
How to add a second life to the updated content and give it the desired attention?
Have a look at three ways to add spotlight to your updated content.
1. Set them as Featured Content
Going for featured content helps you to display anything on top that you want.
Whether small or massive change, featured content helps to catch the attention of the users and encourage them to read.
2. Shout out on Social media
Share your content on your social media handles. It will give an immense boost to your updated post.
Use proper hashtags for more visibility and reach.
3. Link to other posts
To get more eyeballs rolled to your content, it's better to connect them with your newer posts for healthy SEO building.
Internally linking them with newer posts (or even older posts) would enable you visitors to grab the opportunity of reading your updated content.
You can also shoot quick emails to your subscribers to make them read your updated stuff.
Bottom Line
Maintaining the relevancy and user intent is the key requirement to make the website successful and impactful.
All your content endevours directly influence your SEO efforts and organic rankings.
After all, Google just cares about relevance!
Before Google punishes your old and outdated content by dropping your rankings, it's better to update your content to stay in the game.
Recent Posts
Contact with us for any advice