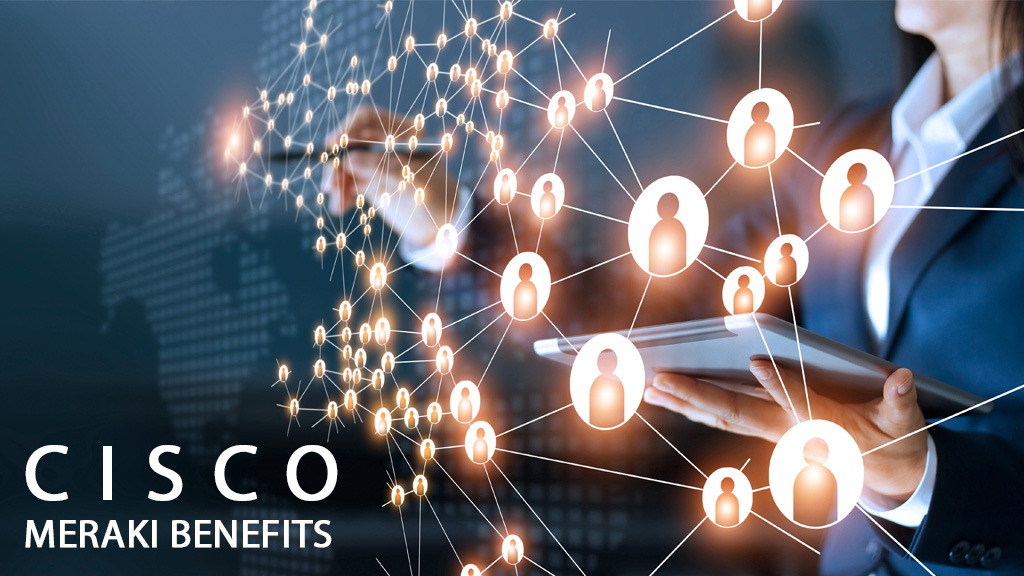 A rising need for Cloud Network Management Tool
Businesses today are marching incessantly towards cloud networking for all their growing IT needs such as building continuity with hybrid working mode, providing top-notch customer experience, and staying 24/7 connected.
This undoubtedly made life easier but gave rise to ever growing network complexities that are difficult to manage and monitor using traditional platforms and consumed a lot of time and finances.
Apart from providing a holistic networking environment (on and off-premises), the challenge was to make sure that the network stays protected, always available and meet the ever-growing network needs faster.
All thanks to Cisco Meraki – A one-stop cloud network management solution.
Keep reading to know what is Cisco Meraki and how it addresses the pain points of the businesses with examples/real life scenarios.
What is Cisco Meraki?
POV: Your network is the backbone of your business, and Cisco Meraki ensures it stays strong, secure, flexible, and always available.
Cisco Meraki is a powerful cloud-based network management solution and platform that help business-administrators to manage their organization's network from anywhere across the globe.
This powerful solution allows the global enterprises to capitalize on the market trends, leap from legacy networks and to address the growing industry needs such as:
Managing higher bandwidth demands,
Dealing with increasing number of devices,
Security threats
Shifting focus from CapEx (capital expenditure) to OpEx (operational expenditure)
Growing competition
Save time, money, and boost revenue
Cisco Meraki Dashboard – The Real Game Changer
Cisco Meraki Dashboard is an intuitive and feature-rich cloud-based dashboard that allows you to handle switches, Meraki firewall, access points, smart cameras, SD-WAN, VPN and much more from just one centralized interface.
No separate licencing needed. Just one Cisco Meraki License for all Cisco and Meraki products that you install/configure in the network. Completely cost effective!
It's all about its incredible features that turn the game in your favour. Have a look
Enterprise level security
High-performing and always connected network
Intelligent and proactive scalability
State-of-the-art analytics
Up to 90% reduction in operational costs
360-degree full network business solutions
Meraki is indeed a perfect choice for businesses looking to future-proof their investments and grow manifolds in this hyper competitive world.
How Cisco Meraki helps addressing Business Pain points?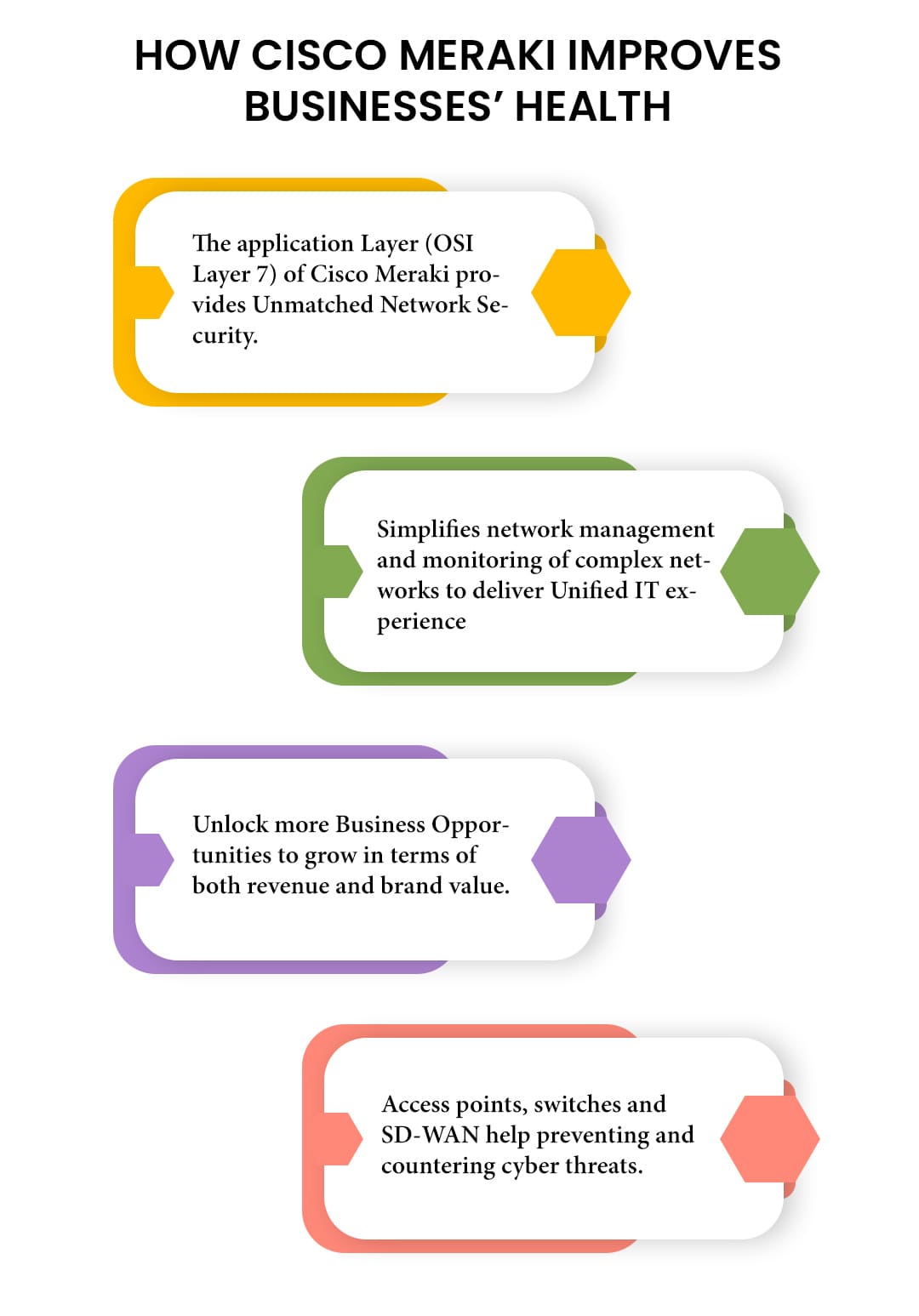 Now Let's get real and understand how Cisco Meraki helps business stand unprecedented amidst fuming competition in the market and grow rapidly.
1. Cisco Meraki provides Unmatched Network Security (Nex-gen Firewall and Layer 7 Security)
Problem
With the advent of new sophisticated applications, modern devices and mixed-use of networks, traditional security methods (port and host based) no longer stay effective and safe.
Solution offered by Meraki
Cisco Meraki's incredible power to offer Application Layer (OSI Layer 7) based security gives administrators complete control on content, users along with applications on the network.
This amazing Cisco Meraki Firewall creates a simple and secure digital workplace and in included in every security appliance and wireless Access Point.
So be it geo-blocking or application blocking, Meraki's next generation firewall controls even peer-to-peer and encrypted applications such as Skype and BitTorrent.
By using an advanced security algorithm, protocols, threat management and intrusion prevention systems, Meraki ensures ironclad network security.
Real Life scenario: Cisco Meraki transforming Education in Schools/Colleges/Universities
To meet the future needs, say, ABC University opened the gateways to e-learning, but the challenge was not easy.
Multiple VLANS, limited Wi-Fi connectivity, complex configurations and zero control over applications, did nothing but resulted in a complete mess leaving the network compromised.
POV: Network Upgrade with Cisco Meraki serves as a key that addresses this modern approach to learning.
How Let's check.
Meraki offers a campus-wide seamless wireless experience.
Categorization of network flow and enforcing network policies such as prioritizing the online class and blocking Netflix garner better learning outcomes.
Content-filtering to ensure relevant and authentic searches accompanied by monitoring by admins.
Complete network flexibility as it allows the admins to easily scale up or down for a new network or different user group.
Teachers can broadcast the lectures over the set SD-WAN across the globe and boost the University's educational excellence.
More private and spontaneous conversations between parents, teachers, and students.
VLANs help secure University's data by isolating the remote network (student's home network) from the University's network.
In a nutshell, Now ABC University can offer global learning experiences that are beyond just the traditional classroom walls with Cisco Meraki.
2. Simplified network management and monitoring of complex networks to deliver Unified IT experience
Problem
What does a user wants? Exceptional, predictable, and reliable user experience.
Experiences depend on connections and these connections in-turn depend on IT.
With the growth in experiences and user base, connections evolve and multiply. This results in network fragmentation and poses security risks for IT.
Further, turning the things unpredictable and making IT incapable of delivering unified user experiences.
Solution offered by Cisco Meraki
Meraki solutions simplify the IT and empowers it optimise, manage, and secure the user experiences more seamlessly. Also, making it capable to adapt easily to new disruptions, transitions, or changes.
Cloud Solutions turn the businesses agile, scalable, and extensible.
Easy Convergence makes quick integrations and configurations.
Analytics and automation enable more proactive and predictive operations.
POV:  Meraki helps to bridge the gap between different locations, organisations, technologies, people, teams and bring the best experiences to your customers, partners, and employees.
Real Life scenario: Simplifying operations and easy monitoring by Cisco Meraki
Say, the retail chain is a Supermarket having multiple locations across the state.
Have a look how implementing Meraki cloud network management solution help Supermarket reduce costs, streamline business, and boost customer experience.
Remote management of network devices eliminate the need for on-site troubleshooting, thereby reducing the time to fix and restore network and devices
High-end Meraki Products offer best-in-class Wi-Fi experience to customers and other retail associates
One dashboard for managing networks across all locations of the Supermarket. This simplified IT improves performance and aid in better operational efficiencies.
Installing Meraki smart cameras enable 360-degree immersive view of the Supermarket store that can be accessed worldwide.
New online point-of-sale system that makes the Supermarket accept payments from customers irrespective of where they are in the store.
3. Unlock more Business Opportunities
Problem:
A business needs to grow in terms of both revenue and brand value.
Focusing on other things such as troubleshooting IT, limited bandwidth offered by network devices and complexity of IT infrastructure consumes most of the time and resources.
Less time and financial constraints are a taboo in exploring new ways to discover more opportunities.
Solution offered by Meraki
The advance features and one Meraki Dashboard for all network management makes the businesses discover new opportunities to boost revenue.
Integrating high-performing products such as Cisco Meraki firewall, access points and switches enable you to create a more secure VPN or SD-WAN that makes you expand your business beyond the physical walls.
Real Life scenario: Cisco Meraki creating more revenue opportunities
Now, the Supermarket store wants to introduce a new feature of Kerbside pickup for its customers and boost a new revenue stream.
This will certainly improve the sales as customers can pick their product outside the store at a time that suits them best. No need to enter the store premises.
The challenge is to have a super secure Wi-Fi outside the Supermarket that will stay connected with the store's point-of-sale devices on the network and record the sales too. Plus, a good ROI (Return on investment) is always on the list.
Have a look how Cisco Meraki solution help Supermarket in achieving the same?
MR Wireless AP (Access Point) create a secure Wi-Fi Network outside for the kerb-pickup. It's just plug and play!
The sales can be recoded and the increase in revenue can be reported from the geo-specific analytics.
The kerbside staff can be scaled up and down by monitoring the dwell time and traffic at multiple locations.
4. Threat Detection and Preventing Cyber Attacks
Problem:
Cyber Security always remain at the forefront of every IT solution.
Poor online connectivity and insecure connections result in security breach leaving network vulnerable to cyber-attacks.
This can lead to serious repercussions and could be devastating for your business.
Solution by Cisco Meraki
Unified threat management through advanced security devices by Meraki such as access points, switches and SD-WAN help preventing and countering cyber threats.
As they are connected and controlled directly by cloud, they're automatically updated for new signatures and other mechanism to ensure end-to-end network protection.
 Real Life scenario: Cisco Meraki Preventing from malicious threats
Let's again consider the Supermarket Store.
It's inevitable that the security devices shall be updated to ensure that the network of the store stands protected from viruses, malicious attacks, and other threats.
Meraki Wireless devices offer enterprise grade security backed with intelligent threat management systems and the database gets refreshed every 24 hours.
Secure VPN makes the Supermarket connect with all its locations in blink of an eye as compared to tradition configurations which were tedious and time consuming.
Bottom Line
Whether you own a Supermarket store or a University, Cisco Meraki cloud network management solution equips you to emerge as a winner.
Centralized network management through Meraki Dashboard ensures that your business stands resilient, agile, and secure from the root level.
Connect to a reliable and top-rated Cisco Meraki Partner London and future-proof your business today.
Recent Posts
Contact with us for any advice