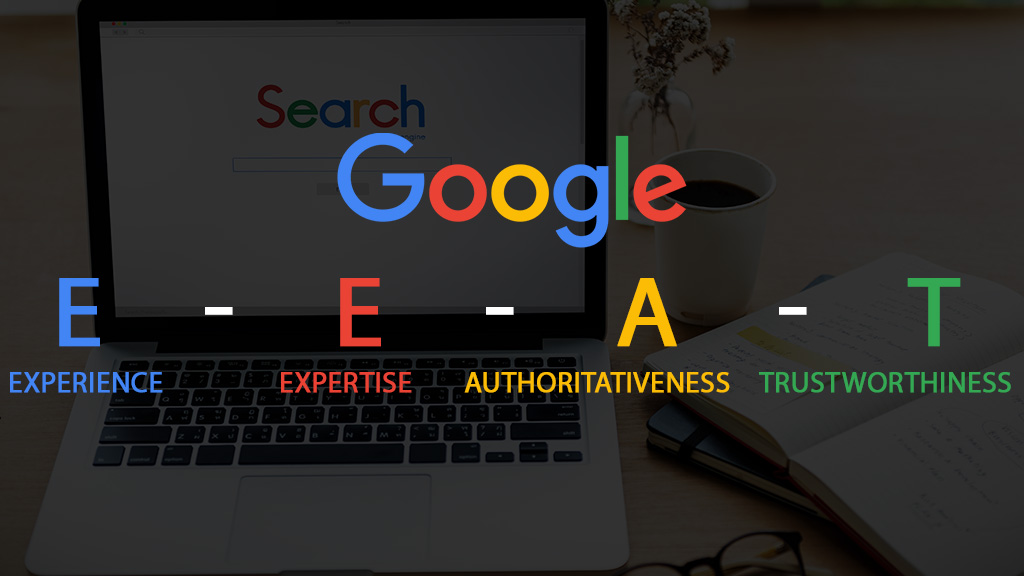 EEAT SEO checklist is Google's way of determining the value a web content holds based on three main elements: Experience, Expertise, Authoritativeness, and Trustworthiness.
Let's find out more about Google E-E-A-T and its inevitable algorithms.
What is E-E-A-T SEO?
The EAT concept in SEO itself first appeared in 2014, essentially taken on a serious note after the Google Medic Update of August 2018, and describes the elements that make richly crafted content qualified for Google SERP.
Additionally, It's not a brand-new concept. However, the second E was introduced earlier in December 2022 acronym to 'Experience' that determines the expert-level information about the services posted on a website.
Every alphabet has a unique purpose and is essentially considered to be followed mainly for sensitive articles that come under YMYL (Your Money, Your Life)– meaning statistics related to finances, health, and wellness.
Reach out to the next section to briefly understand the meaning of EEAT.
Understanding New EEAT Google Guidelines 2023
A well-versed content following EEAT supports healthy contributions to reach the target audience as it gains search engine optimizations and click-through rates.
It earns attention over other social media platforms through sharing and word of mouth. Let us expand more on it:
Experience
Initially, EAT SEO checklist doesn't have this 'E', however, now marketers are gradually upgrading content to it.
It points towards the person's experience with the product & services published on platforms as it makes the data more credible.
For instance, do you ever have a personal encounter with the disease related to which you delivered symptoms and remedies? Have you ever been to the Maldives that made you suggest it for your next summer destination place? If YES, then the audience will ultimately gravitate to you.
Expertise
The next E stands for 'Expertise,' referring to a creator's vast knowledge concerning the topic he presented on Google.
A person with a dedicated background, a professional degree, and certifications can draft better quality than someone just delivering the information stored in his head.
For example, an MBBS qualified can talk more comprehensively about human body science than someone who grabbed basics from a high school book. Subsequently, a video editor expert better understands the best editing software and can make helpful Content.
Authoritativeness
The EAT concept focuses on website authority, which comes from its recognition and reputation among native users and audiences globally.
You can improve eat SEO through references, backlinks, page mentions, tagging, and promotion. Search engines will consider a website genuine, authentic, and reliable.
For example, Vogue Fashion has the latest updates and clothing trends published on the website; it is highly recognized and has worldwide authority. In the same manner, TELKitchens delivers the finest information related to bespoke kitchens and is a well-known company in the UK that people trust.
Trustworthiness
The next final yet important factor is 'Trust.' Ensure your website is entirely safe and protects user's personal data.
The host must give all-inclusive server security, domain protection, and a shield against fraud. Up-to-date, quickly loaded, reviewed by users, and accurate Content is considered honored and trustworthy.
Such as, a payment transaction portal admitting a secure and encrypted gateway is likely to gain users' confidence. Also, highlighting customers' testimonies, industry location, visual comments, awards & certifications automatically wins visitors' and search engines' trust. 
Hopefully, we got you covered with the new term EEAT. Now, let's move further together to know why e-a-t SEO google plays a vital role for content creators and how they can boost its quality and performance.  
Why is EEAT important for google SEO?
Google stored the EEAT concept in SEO and programmed it into its algorithms; henceforth, wherever quality check takes place, the website and Content following every element primarily get visibility and ranking on top pages.
Couple with it, Google filters the websites after evaluating content relevancy and safety for deciding if it meets the user's needs.
Best Ways: How to Improve EEAT SEO
The primary purpose of this concept is to provide maximum efficiency, accuracy, and factual information about the searched query. Read the given ways that can improve your content quality based on EEAT.
Link some reliable sources
Add rich linking websites!
To generate better product authenticity and brand reputation over the web, you can link more trusted sources in the description, at the bottom, or between the Content. It is constructive if the information is about health and finance; in this case, it is best to utilize backlinks from well-recognized platforms.
Add an About me Page.
An extra About Me section of your website will never hurt anyone!
mark this as a critical webpage element for e-e-a-t SEO google. Add personal information such as name, qualification, background, expertise, certifications & honored awards, address, and link to social media profiles. This boost the reliability that helps search engine claim a website is honest and accountable.
Have a solid social media presence
Are you active and connected with your audience on social media?
People are more likely to trust you if you have original social media accounts with real followers and an audience. Nowadays, platforms like Instagram, Facebook, Twitter, and Pinterest are taking over influencers and designer companies to the sky-heights. Absolute providers are posting their services online through these applications and are earning the client's interest.
Borrow authority from the expertise
Seeking help from experts in the same niche!
If you are new to the field, asking existing and popular foundations to refer you is an idea you will thank us for. For this, write some guest posts for existing websites or can have real guidance from experienced people under a common niche. This would give a great hike to trustworthiness as well as supremacy of the web content.
Upgrading the existing Content
Published once, and work done!
Do you come under this category who forgets the work once it is posted on the internet? It harms the content quality and can lead to misleading data. Daily new inventions take place, which also must encourage content creators to upgrade published data timely. It maintains trust among users and keeps them up-to-the-date.
Proofread Content before finalizing
Access your Content more often, and remove silly mistakes!
Google guidelines of EEAT significantly rely on content accuracy, grammatically error-free, reluctance, and lack of sentence formations. It is important to read the articles after you finish writing them.
Important Google Algorithms Updates for Content Developers
Google guidelines and algorithms keep changing to ensure the best content delivery by eliminating duplicate and low-quality information from websites. Here are important updates you need to follow to hack google AI:
Google Panda
Panda update was introduced in February 2011 with the motive of delivering the overall highest content quality.
According to it, Google will not consider poorly written and shallow Content that lacks deep research and is copied from other sources. Webpages with keyword stuffing and thin and incomplete information are targeted and considered low-quality. EEAT SEO Google demands Content drafted by an enthusiastic creator who knows well about the topic and has the authenticity and credibility to rank well on SERP.
Move away from repeating the same heading, metadata, and titles and neglect stuffing keywords. If used wisely, even the less keyword addition can be miraculous. Make a habit of deep research and memorizing data to deliver it in the finest quality.
Google Penguin
This update of April 2012 is about spam links and unusual and fake backlinking.
Many websites buy links from specific platforms that are easily caught up by Google rollups. Additionally, it encourages adding only essential and engaging linking sources than stuffing a single page with links and anchor tags.
Avoid using link attachments with the least priority and sources with little informational Content. Using AI tools is a good idea, many websites help you recognize unsafe, malicious, corrupted links to safeguard web content from penalty.
Google Hummingbird
This google update of August 2013 is about relevancy.
It seeks content that can meet the purpose of focusing not only on what is searched exactly but also on users' intent. As per this update, the search engine will show the important articles relating closely to the other synonyms and meaning than only showing the exact keyword researched.
Adjust the Content according to the Hummingbird update of google by finding the most searched terms related to your article, understanding the natural intention of humans behind words, and delivering the same without redundancy.
Google Rackbrain
The google algorithm of October 2015 is the hummingbird extension and is the most important ranking factor ever added.
It is based on prioritizing pages that match searched queries by extending what the user exactly searched with the help of humanized verses and phrases. The ranking factor here is evaluated on the content richness and the presence of search-related solutions.
To develop a ranking factor with Rackbrain, designers and developers can use tools for digging the related terms and sentences people use for searching, this increases the chance of getting a particular blog post found by a user.
Google Core Update
Google Core updates are about all the principles, guidelines, and algorithms –used to measure the value of Content and can contain several minor updates that are not always transparent. The fundamental target of core updates is to develop EEAT concept and SEO-friendly platforms concerning original and people-first Content.
To implement and recover from this critical EAT google guideline, marketers need to review articles timely to create successful and high-performing Content.
The Conclusion
Google guidelines are frequently changing and significantly affecting content creators' strategies, which encourages them to deliver the highest value content by evolving original brainstorming.
We have briefly covered EEAT SEO concepts and how they can impact a page. Subsequently, the important google updates that need to be carefully followed for productive blogging.
Make sure to experiment and get regularly updated published information, remove bugs, and fix broken links to achieve ranking on search engine pages.
Industry experts are emphasizing delivering EEAT-friendly content because they know; the more balanced the EEAT combination is, the stronger the on-page SEO will be.
Recent Posts
Contact with us for any advice