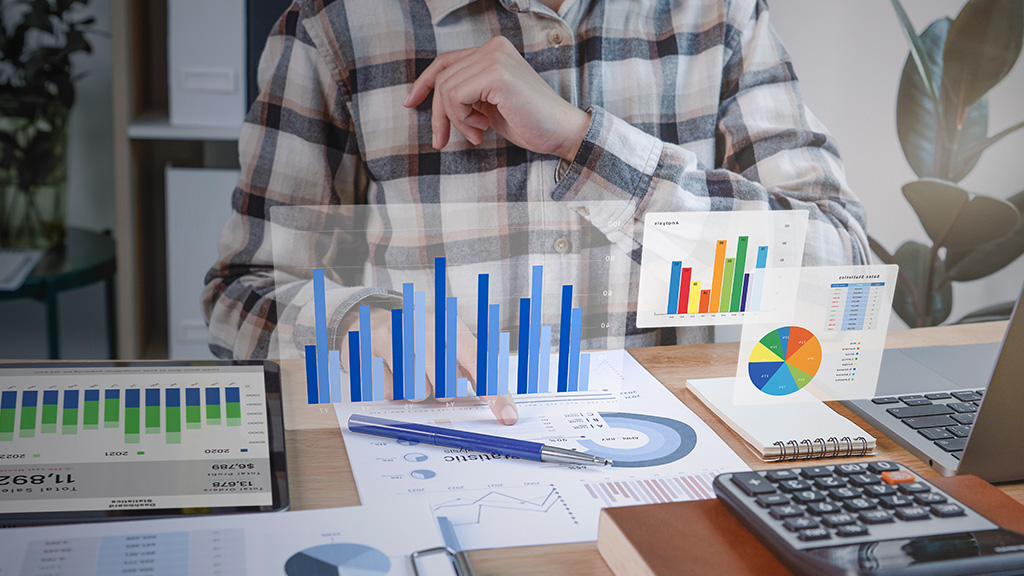 What do you expect from any digital marketing campaign?
Recognition, better reach, visibility, growth, traffic, ..……….  In short, we all expect RESULTS!!
But, at times it may happen the campaign does not work, or yields results in longer than expected time. And, paying for something that offers zero ROI is a financial BURDEN!
How cool it would be if we could pay only for the campaigns that performed or a strategy that worked?
Performance Marketing is the Answer.
Keep reading to know why performance marketing holds a strategic importance in 2023, the process followed, and top skills needed to become performance marketing manager.
What is Performance Marketing?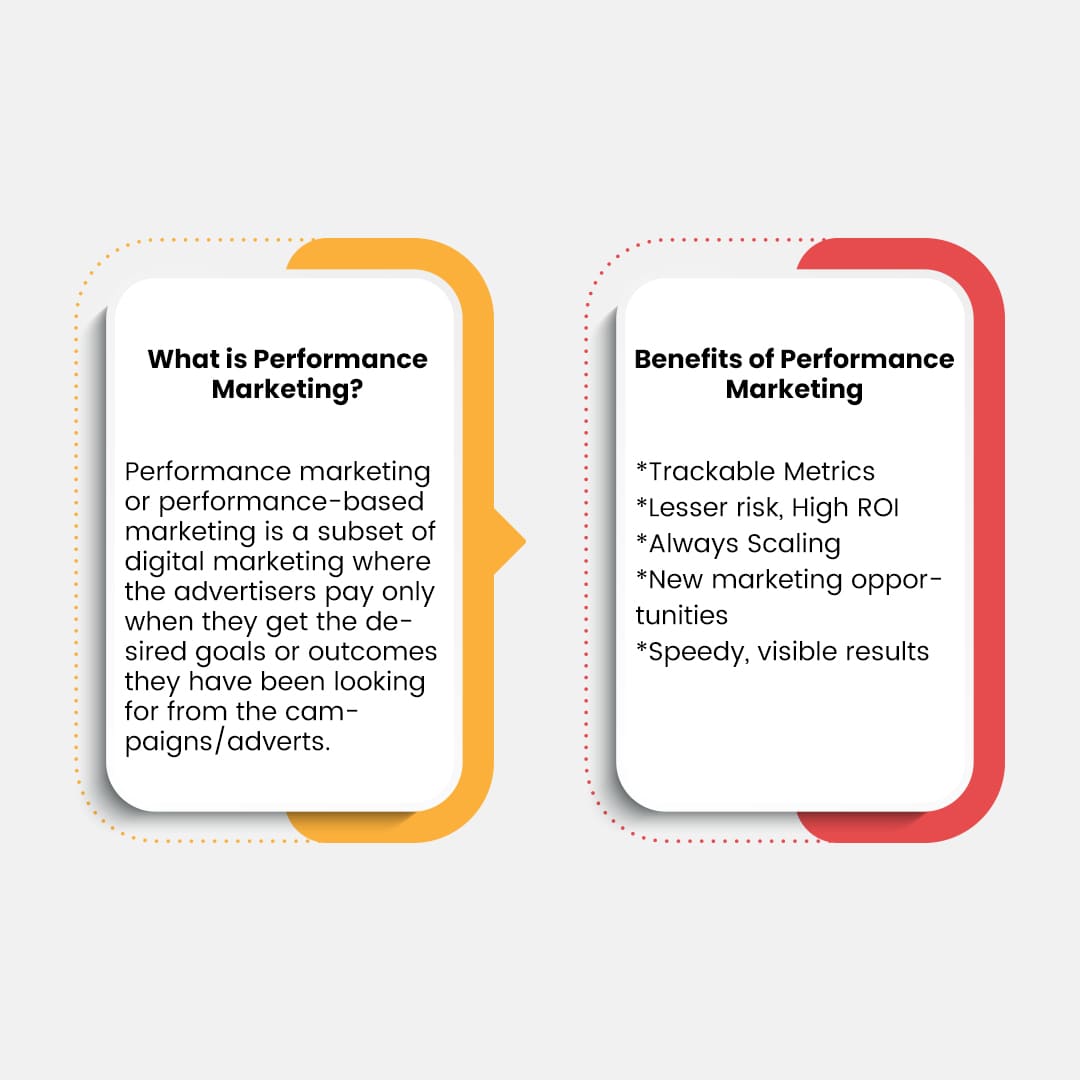 Performance marketing or performance-based marketing is a subset of digital marketing where the advertisers pay only when they get the desired goals or outcomes they have been looking for from the campaigns/adverts.
What do you mean by goals? Goals are the key performing areas (KPIs) or any measurable metric an advertiser/business wants to achieve primarily in short period of time. These include:
Signups, Downloads or Installs
Maximizing ROAS (Return on Ad Spends)
Lead generation & Conversion
Sales/purchase of product/services
Improved CTR (Click through Rate)
And, much more
Based on these results, new strategies or decisions are made and the process continues to optimise the performance and drive the business growth.
What are the benefits of performance marketing? Why do you need it in 2023?
Businesses need to grab the digital wheels fast to stay relevant, competitive, and discoverable in 2023.
POV: Performance marketing not only drives better results but also offers a calculated control over the ROI and budget.
The benefits include:
Trackable Metrics: The set metrics or goals such as impressions, sale, clicks can easily be tracked using monitoring software and strategy can be optimised based on the data received.
Lesser risk, High ROI: As compared to other marketing models, performance marketing poses lesser risk as it supports data transparency and pay-outs are only made if set targets are met.
Always Scaling: Performance marketing is ROI-focused, so continuous efforts are made to improve the performance. Thereby, boosting all the metrics and brand power.
New marketing opportunities: Understanding audience and their interests becomes easy which therefore serves as a gateway towards new marketing opportunities.
Speedy, visible results: Performance marketing delivers faster, speedier and visible results in short time as compared to organic techniques.
How to build a Performance Marketing Strategy? – Process Explained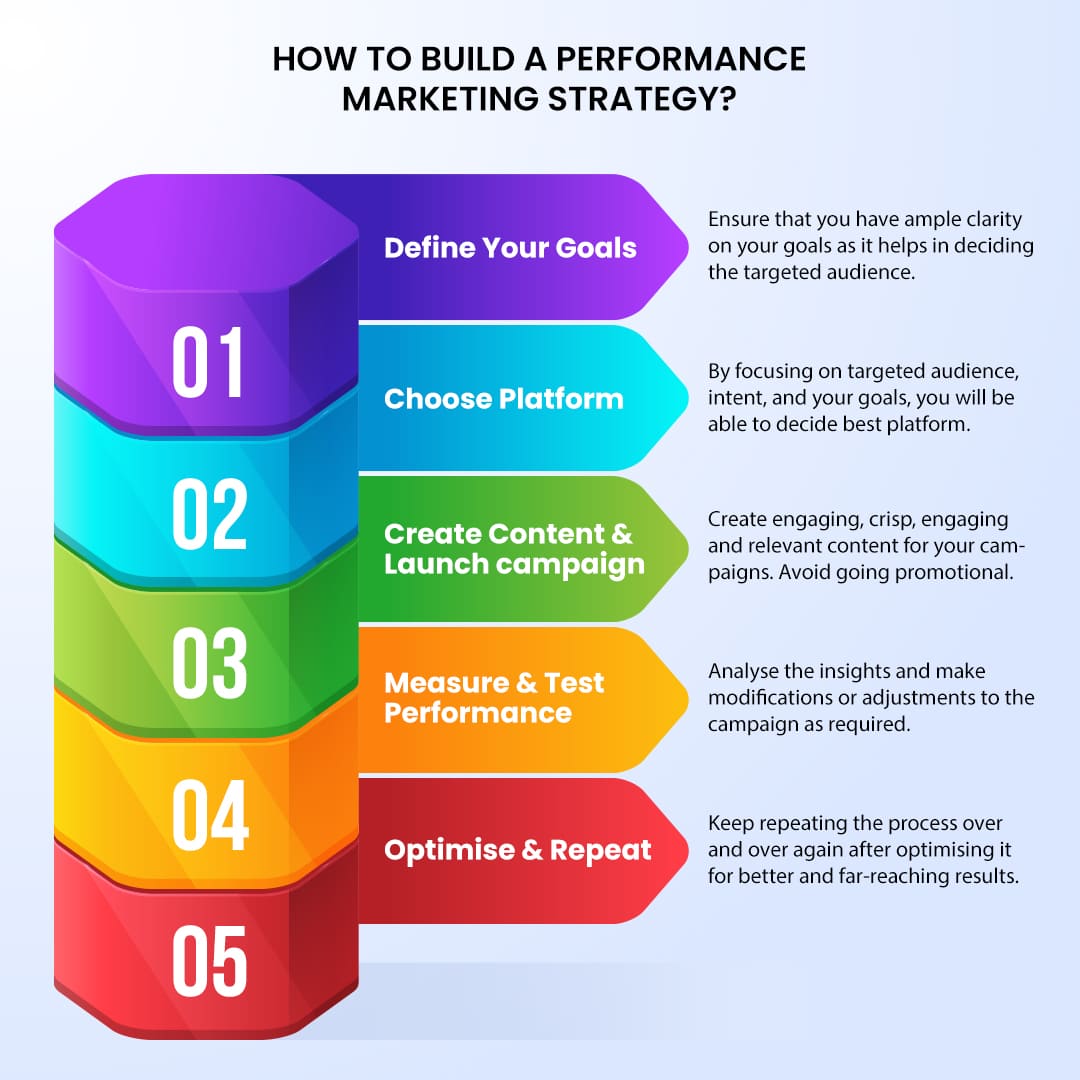 Well, as there are so many channels and platforms, one strategy cannot fit them all. You need to be flexible to adjust as per your platform or goal requirement.
But yes, there are some vital steps while working on framing a performance marketing strategy that are common to all.
Check out the complete process that'll guide you to frame a result-driven strategy surely leading to success.
Step 1: Define Your Goals
The success of any performance marketing depends on the goals set for the campaign.
While defining the goals or your marketing metrics, make sure that they:
Make sense
Add value to the business
Are measurable
Most of the ad platforms require you to ensure that you have ample clarity on your goals as it helps in deciding the targeted audience to whom the ad will be shown.
Before creating content for the campaign, share your goals with your digital marketing consultant who will create content based on your goal inputs which can be:
Generating leads
Clicks or impressions
Generating traffic
Sales
Brand awareness
Retargeting or remarketing
Step 2: Choose Platform/Channel
Every platform or channel has a different audience or we can say intent of audience is unique for every platform.
For example: If you want to target tech segment then LinkedIn would be a great option, Meta (Instagram & Facebook) for next-gen trends and so on.
By focusing on targeted audience, intent, and your goals, you will be able to decide best platform for your campaign.
Some common choices are:
Websites/blogs relevant to your niche (Banner Ads, embedded content, native ads etc)
Social media platforms (LinkedIn Ads, Meta Ads, Twitter Ads)
Search Engines (Paid Search Ads)
Affiliate marketing websites
After working on the platforms, it's time to work on how to measure the KPIs or the trackable metrics. In fact, most of the platforms provide dashboards to track the performance of the campaign.
Step 3: Create Content & Launch campaign
Now it's time to work over creating content. For that you need to brainstorm and understand what exactly a user wants.
Every campaign, ad or landing page should have the following:
Keyword optimised content
Concise content
Clear and compelling CTA
Focus on the problems/issues of the audience and benefits of your services/product
Try to avoid going promotional
Should be customer-centric
Launch your campaign and now begins the real challenge i.e. tracking and testing it for performance.
Step 4: Measure & Test Performance
The campaigns will start generating data the moment they are up and running.
Test and evaluate the campaign's performance based on the tracking indicators over a period of time.
If things are not working after repeated efforts, try running the same on some other platform to understand the audience and diversify your client base.
Analyse the data received and make modifications or adjustments to campaign as required.
Step 5: Optimise & Repeat
Tracking the analytics and the performance metrics will help identify which traffic sources are performing best.
Ad funds can be allocated in a better way which will optimise ROAS (Return on Ad Spend).
Keep repeating the process over and over again after optimising it for better and far-reaching results.
POV: Performance marketing enable you to identify your best audiences, channels and campaign goals that deliver high ROI (Return on investment).
Digital marketing Vs Performance Marketing
The term Digital marketing and performance marketing are not the same, though both are related.
Have a look at the table below to understand the key differences between the two marketing strategies.
| | | |
| --- | --- | --- |
| Metric | Performance Marketing | Digital Marketing |
| Type | Performance Marketing is a part of Digital Marketing where the advertisers pay only when the desired outcomes are achieved, such as leads, impressions, traffic, etc. | Digital Marketing is a broader concept that involves using online channels to boost the reach, visibility, and brand awareness of the business. |
| Duration | It is generally short-term | It involves both short-term (Paid) and long-term strategies (Organic). |
| Payment model | After achieving desired goals | It depends on the strategies opted |
| Best suited for (Results) | Speedy, faster, immediate results | Consistent, over-the-period, longer time to results |
| Data transparency | As the performance metrics are tracked, it offers complete data transparency | Less than performance marketing |
| Risk | Lesser risk involved as you pay only if the campaign performs | Higher risk as you may or may not have access to data insights. |
| ROAS | High ROAS. Complete tracking of every single penny spent. | Average ROAS as tracking is optional |
| Strategy (process) involved | The strategy has one goal. The process is repeated (optimised) over and over again to improve that goal. | Completely Flexible. You can switch between different other Digital marketing strategies. |
| Longevity | Temporary, Short-lived results | Depends on the strategy chosen |
| Brand Awareness | Strong yet limited reach | More consistent and broader reach |
Skills Need for Being a Performance Marketing Manager
A performance marketing manager is the key person responsible to plan, manage and monitor ad campaign's performance as per the client's budget, needs and goals.
An ideal performance marketer should have high-level decision making, technical and analytical abilities to craft best strategies for the client.
He should be a continuous learner and agile enough to learn and incorporate changes even on daily basis.
So, here are essential skills need to become a performance marketing manager.
1. Continuous Learner
An ideal performance marketing manager should be proactive as well as self-learner.
Should be updated well with the latest marketing regulations and trends.
Should analyse campaign's insights and perform a test & learn strategy to improve the results.
Follow a data-driven approach to identify and test new campaigns, channels and trends that builds credibility and makes the business stay competitive.
2. Agile & Responsible
Proactively plan and optimise the ongoing performance marketing strategies.
Mapping out different ad formats that meet be advertising objectives.
Stay responsible to follow correct guidelines, instructions, and trends of marketing.
Plan, execute, track, and optimise various performance ad campaigns running across multiple platforms.
Create highly engaging, informative, and eye-catching campaign content and continuously test them for performance.
3. Collaborative skills
Should collaborate with various marketing teams and other online resources to identify, discover and test new data-driven approaches that optimise performance.
Brief, communicate and collaborate with content and creative teams to generate channel specific ad campaign designs and assets.
Lead and work closely with all external and internal teams and update the stakeholders periodically.
4. Decision making Skills
Should be confident and well-motivated to drive performance marketing campaigns independently irrespective of the size of the campaign
Identify the non-performing areas and other performance indicators that are not driving result as per expectations and take necessary actions
Take decisions to maximise return on investment (ROI) for performance marketing campaigns
5. Analytical & Technical Skills
Good practical exposure and experience on different ad platforms
Better understanding of cost estimation and budget allocation
Should stay updated with emerging technologies happening in the digital marketing industry
Bottom Line
Performance Marketing equips the businesses/advertisers to track down to a single click, to conversion and even impression and ensures that the money (Advertisement fund) is utilized wisely.
Start building your performance strategy right away by following the steps mentioned above and drive value to your businesses with performance marketing.
Give it a try and build your brand, improve customer base, and generate revenue at affordable cost.
Recent Posts
Contact with us for any advice