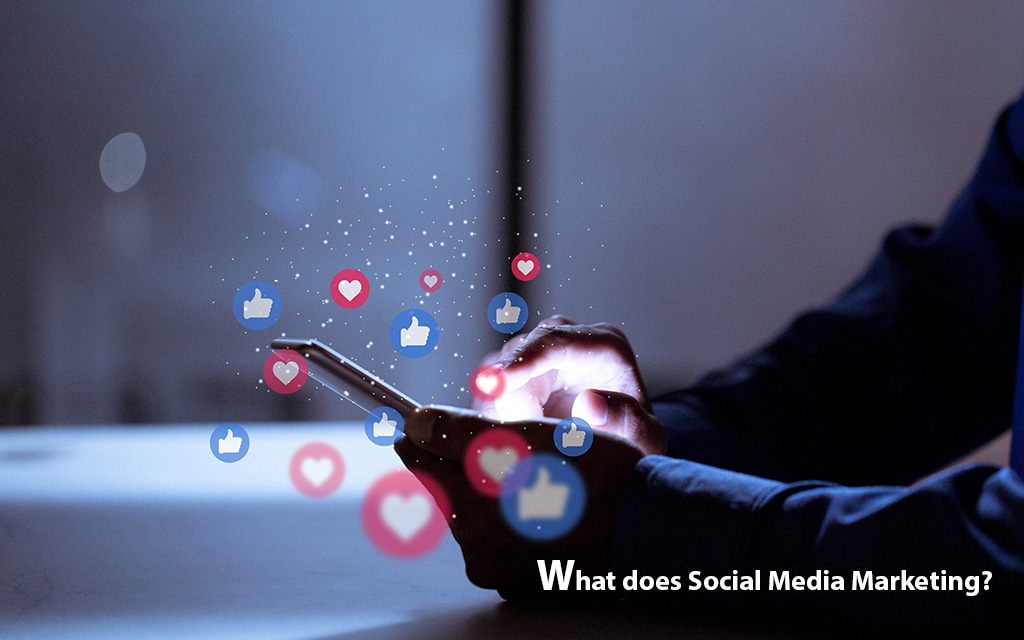 Social Media Marketing is the method of advertising and promoting business products & services through e-marketing. Promoters use social networks to share information about their brand engage customers to buy their services and also help increase website traffic.
What is the purpose of SMM?
Simply put, Social media marketing campaigns are intended towards creating content for different social media handles to inform the public what they have to offer. They target to build a community and a virtual family on the internet who directly or indirectly support their businesses.
How does Social Media Marketing Help in Business Growth?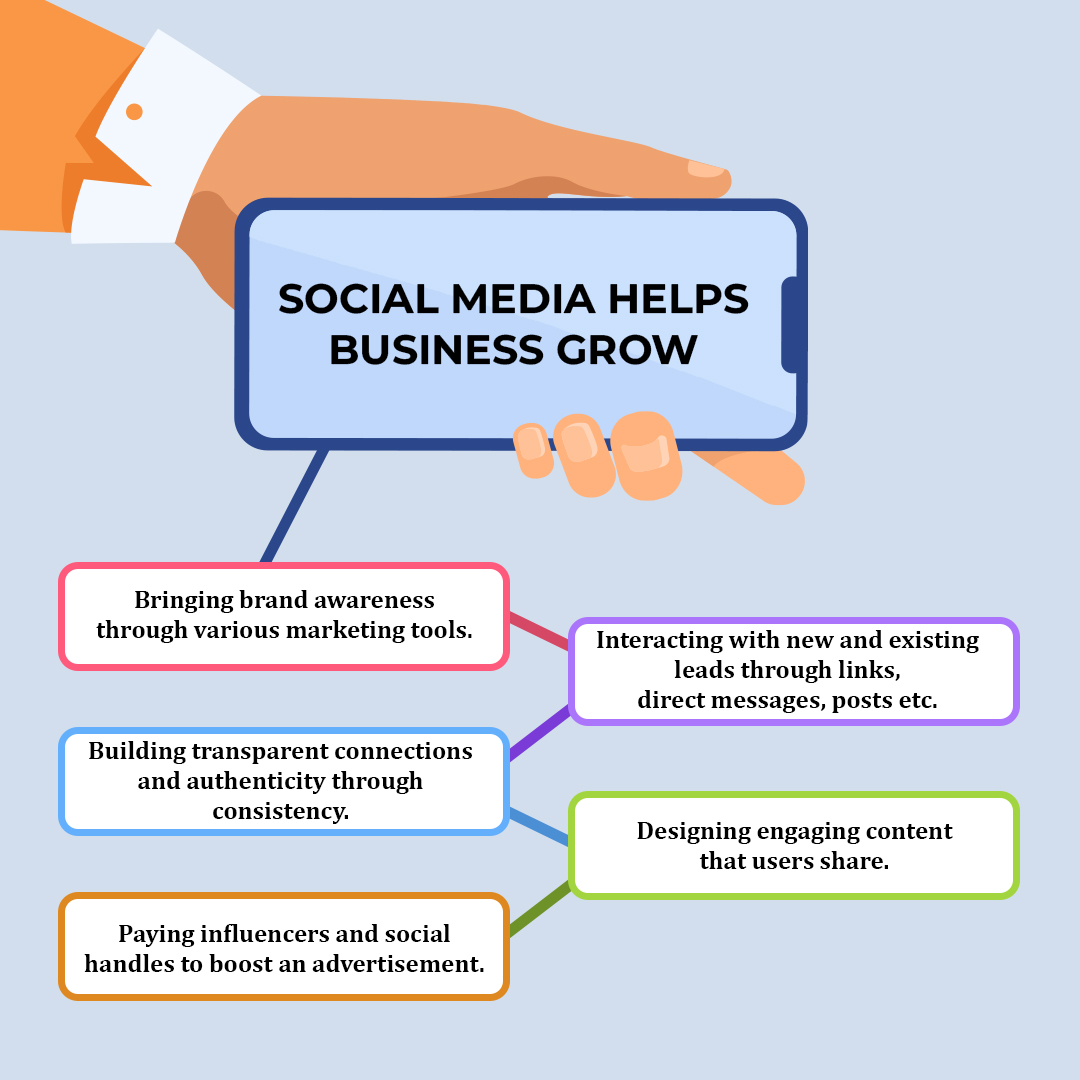 Brand awareness and recognition: brand awareness eventually increases by sharing and spreading a brand message through different mediums. It can be done with paid promotions, unpaid ads, word of mouth etc. which is a major influencing factor that generates sales.
Interaction with new and existing clients: Since the world is more active than ever nowadays and therefore stakeholders can find new prospects and can keep the existing ones engaged with their services through regular updates.
SMM builds authenticity and connection: Many platforms such as YouTube, Snapchat, Twitter, Facebook etc. share social media roofs. These multiple ways of connecting with the audience give the benefit of earning authenticity.
Shared content brings vast change: Sharable content drives big growth in social media marketing. When users relate a product, post, or a marketing campaign they re-post it or directly send it to other users.
Paid media and advertisements generate leads: Users when see their favorite influencer using or talking about a certain brand, business or service; they are more likely to try such products which is another factor for improving growth with social media marketing.
How Social Media Marketing Works?
Social media holds immense potential, especially in spreading a message. A single video can go viral within minutes, it gets leveraged in hours only if the content is relatable and special.
Similarly, it is a whole incredible way to growth if social media marketing experts follow precise and best marketing strategies. It should resonate with your customers' type that covers various aspects such as:
Age group & Gender
Interest, Qualification, Jobs, Career path
The time they spend on social media
Favourite personalities, books etc.
In the next section, know how different users gain access to new launched products, and brands with the help of social media marketing platforms.
Social Media Marketing (SMM) Platforms
By now, you must have thought of every possible social media platform you ever used and have claimed how your favourite influencers were promoting brands. Read about various social media marketing services attract users by updates through different platforms.
Instagram
Instagram is the popular social media platform used for entertainment and marketing at the largest scale with around 1.3 billion users. It is a place to make your brand go viral by applying the right strategies. With advanced marketing tools, business owners can grow advanced through Instagram. Here, the algorithms are smartly deployed to boost the unique content through reach and customized ads.
YouTube
With an active daily audience of 315 million, YouTube is the most engaging and favourite social media platform for every age group. Being the 2nd most visited application in the world, it spreads the news and helps in brand marketing to a great extent. Creators make content regarding the advertising product and add links in the description to generate leads with YouTube.
Facebook
Facebook is the most used social media platform and has approx. 3.03 billion active users as of 2023. It is highly used for B2B and B2C businesses by taking advantage of this huge audience, and advertising tools. Marketing here is widely done by ads, videos, text messages and customized engaging posts.
Snapchat
Snapchat is the new generation new-norm to make quick connections and advertise their services. With 397 million active users, various influencers, celebrities, and brand ambassadors take pride in advertising paid services. Snapchat marketing is done through stories that may or may not disappear after 24 hours.
Pinterest
The one-stop destination of Gen-Z, and Gen-X, Pinterest always wins hearts with descriptive, unique and visual content. With some active users of 444 million, it spreads messages and does business marketing from home décor to fashion and more. It could be a great step if you learn how to monetize your business using Pinterest SMM.
Advantages and Disadvantages of Social Media Marketing
Every good thing does have a bad side, and so the social media. You must have realized the potential of social media platforms. Here we have mentioned briefly some benefits and failures of SMM.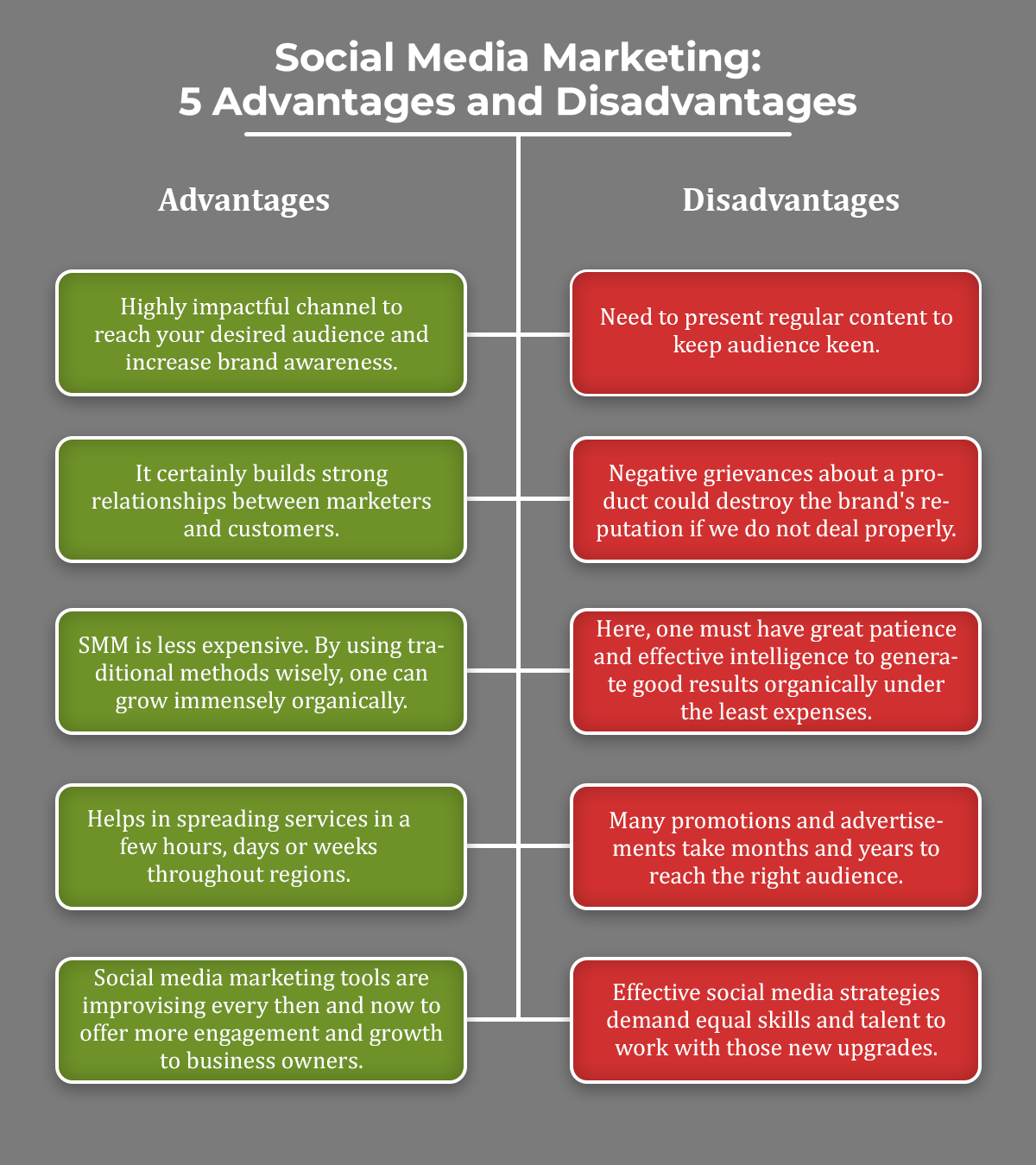 Claim your growth with the best Social Media Marketing Services
Generating leads and promoting your brand over social media demands the best social media marketing strategies, loads of patience and robust content. A business can boost conversions simply through people who are already following their account.
Many advertising methods are used by digital marketing companies to bring results and growth forward. An expert and well-qualified team surely help foster your relationships with the customers. They review social accounts and learn about your customers in different ways.
Pollysys provides the best digital marketing services that claim your business growth by improving your brand awareness, and social media marketing.
Get ready to promote your unique services with a team with a vast vision.
Set your objective and achieve your desired goals.
We are the best marketing company to plan, schedule and implement social media marketing techniques.
Avoid feeling overwhelmed and stressed about social media growth. We have helped thousands of brands with our effective methods and resources to increase followers and brush up on connections.
Visit our website today to know more. Contact the team for further information.
The Conclusion
Social Media Marketing keeps on growing throughout every country and continent. It gives us open doors for spreading awareness and promoting business services wherever we want to. Follow other influencers and brand ambassadors to learn about their tactics for marketing personal brands.
With the best Social media marketing team in the UK, you can also shine and do well in your business. Pollysys lets you work together via various digital marketing tools and services.
Create personalized experience and build a strong foundation online with social media marketing.
Speak to our experts on 020 3003 4830. Send your queries to support@pollysys.com.
Contact with us for any advice