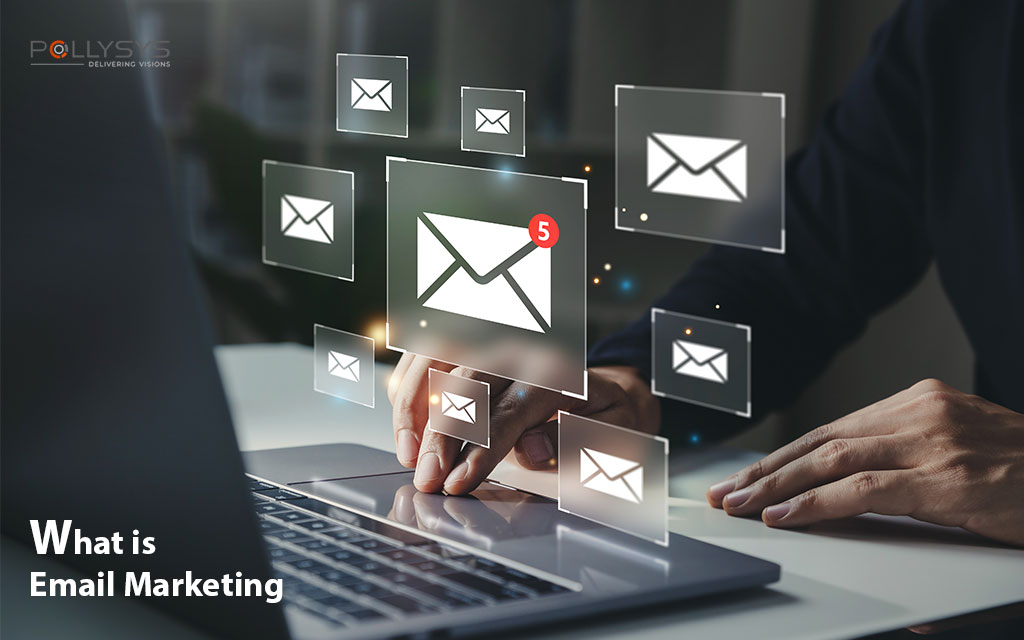 Email marketing means promoting a brand among customers and subscribers through interactive emails. These could be announcements, newly launched products, offers & sales, feedback, Q&A etc.
According to the email marketing statics, it has been a proven way for marketers to generate potential business. It educates people about your brand value and services more and can include external links, magazines and everything in between to market certain products.
Definition: Email Marketing
Email marketing is one of the best direct marketing methods to access your audience for product advertising. In this, websites may ask users for some data/ information directly or indirectly to reach you.
When marketers get user details they start to follow up through different means and email marketing strategiess. Email is a type of digital marketing and is the most popular and influential way of maintaining long-term connections as long as you are not spamming their inboxes.
Advantages: Why is Email Marketing So Popular?
Email marketing remains a popular digital strategy due to its cost-effectiveness, precise targeting, and measurable impact. It allows businesses to engage a wide audience with personalized, mobile-friendly content and delivers a high return on investment.
Email marketing trends cover a wide reach:
It allows businesses to reach a large audience instantly, irrespective of geographical location. Likewise, it is suitable for businesses targeting international markets.
Email provides measurable results:
With detailed metrics, such as open rates and click-through rates, it helps marketers track campaign effectiveness. Thus can test different elements of emails to optimize campaign performance.
Email marketing automation brings excellence to businesses:
Automation tools enable businesses to send timely and relevant messages without manual intervention. Besides, most email marketing platforms are user-friendly, making them accessible to businesses of all sizes.
Email advertisements bring customized communication:
Personalized subject lines and content increase open rates and engagement, making them more relevant to recipients. You must know the importance of relevant content for your business.
Engagement with interactive and variety of content:  
Interactive content like videos and polls to engage recipients. Also, emails can include newsletters, promotions, product updates, educational content etc.
Email marketing strategies are reasonable and effective:
Email marketing is cost-effective compared to traditional advertising methods like print or TV ads. It is one of the easiest digital marketing methods one can use.
Categories: Types of Email marketing
Here are the important categories of email marketing you should know: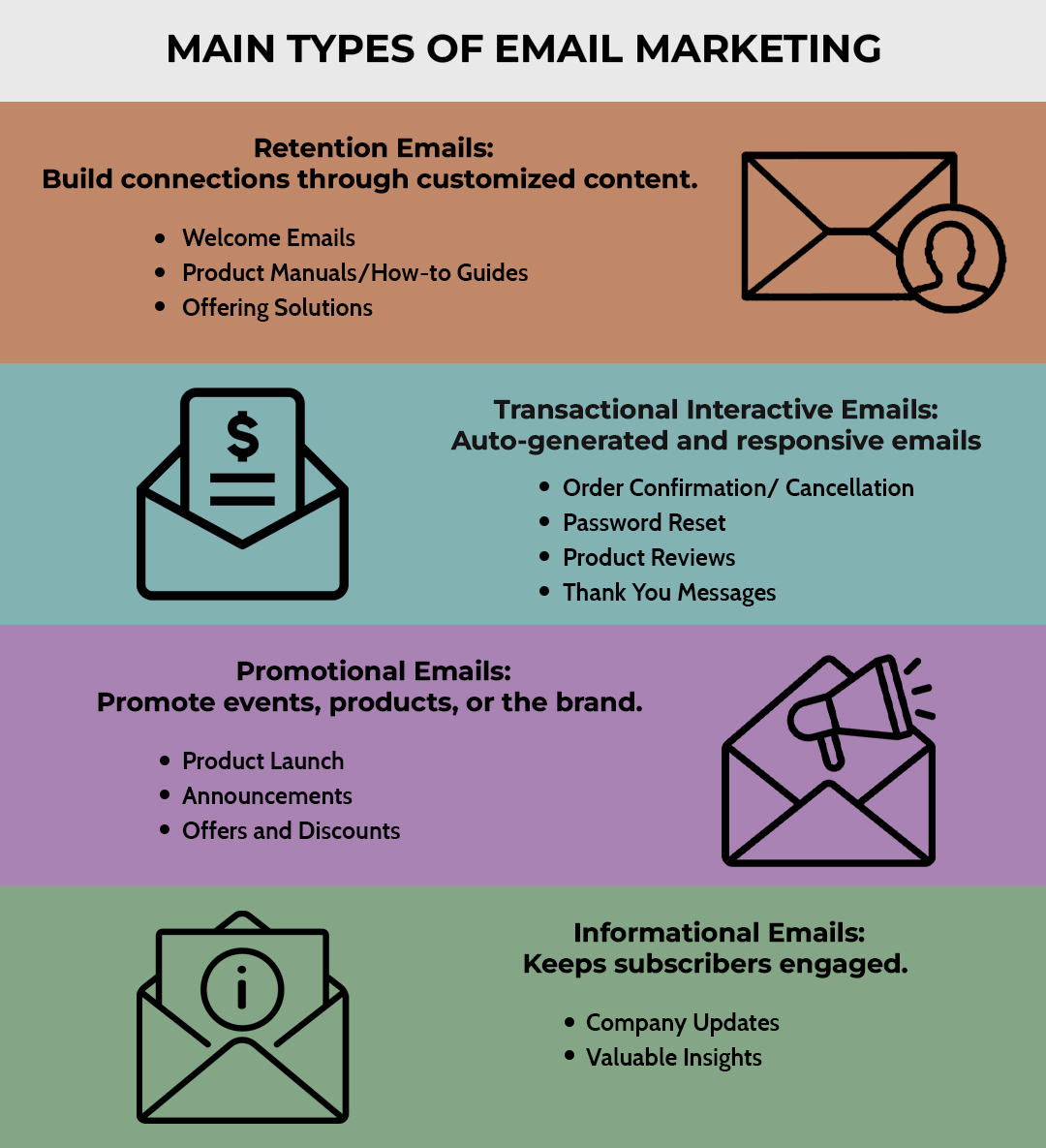 1.      New user, Purchase and Welcome Emails: User Retention Emails
Welcome emails, Product manuals/how-to guides, customer services etc. are retention emails that are used to retain your users.
It focuses on maintaining existing connections and building new ones through brand engagement with customized content.
They are centered towards looking after your audience by keeping a follow-up.
2.      Product-related dedicated emails: Transactional Interactive Emails 
Purchase confirmation or product cancellation emails are common.
These are auto-generated and responding emails such as password reset, product reviews, order confirmation and thank you messages.
And are focused on exchanging information and keeping interaction between marketers and clients.
3.      Product Launch and Announcement: Promotional Emails
Email campaigns focused on promoting a certain event, product, e-book, discounts on the brand are Promotional emails.
They are specifically linked with a call to action button.
You must have received emails from different sellers, speakers, and institutes bragging about their brand are certainly promotional emails.
4.      Offer and Discounts/ Special Sales: Spreading Information Emails 
Another type of email marketing involves informational emails which are the formal way of communicating about your business' updates, newsletters, services etc.
It could vary from product information to company details and valuable insights.
Likewise, the importance of such marketing is giving weekly news to your subscribers and keeping the connection alive.
How to do Email Marketing for Growth?
Online marketing encapsulates the abundance of ways for us to take our work globally; Understand the importance of digital marketing. The following steps can help you learn the basics of email marketing for any business growth.
Start by Setting Clear Email Marketing Goals 
What you want to achieve in this business?
Begin with defined objectives, such as increasing sales, expanding your subscriber base, or enhancing brand awareness.
Well-defined goals shape your strategy.
Secondly, Build an Engaged Email List
Use your contacts and clients' email listings.
Focus on quality over quantity when collecting email addresses.
Utilize sign-up forms, social media, and website channels to grow a list of engaged subscribers.
Now, Choose the Right Email Marketing Platform
Select an email marketing platform like Mailchimp, Constant Contact, or SendinBlue.
These tools streamline campaigns, analytics, and reporting.
It enhances a brand's possibility for wider reach.
Segment Your Email List Effectively
Meaning, filter email listings based on certain aspects.
Divide your subscribers based on demographics, interests, or past interactions.
Segmentation enables personalized and more relevant content delivery.
Try to Craft Compelling and Creative Email Content
Put your creativity and life-touch into mails.
Create engaging subject lines and valuable email content.
Understand your audience's needs and provide consistent value.
Design Mobile-Responsive Emails
Here is the most important point.
Before sending them off, ensure emails are visually appealing and mobile-responsive.
Well-designed emails significantly improve engagement.
Lastly, Implement Automation and Monitor Performance
Automate the process, set timers etc.
Leverage automation for welcome emails, follow-ups, and targeted campaigns.
Besides, do regular tests, analyze, and adjust your strategy based on email metrics like open rates and click-through rates.
The Conclusion 
Mastering email marketing for your business's promotion is a valuable asset.
By setting clear goals, nurturing a quality subscriber list, and leveraging automation and personalization, businesses can ensure lasting connections with their audience.
The power of email campaigning and marketing lies in its ability to engage, inform, and convert, ultimately driving growth and success.
Pollysys is a renowned digital marketing and IT Consultancy company. Embrace these strategies, and watch your business thrive in the ever-evolving world of marketing with this right digital marketing platform.
We are the best email marketing service providers who are qualified and certified in what we do. With an experience of more than a decade, our team help versatile brands and marketers in achieving the desired milestone.
Contact us on 020 3003 4830. Send your queries to support@pollysys.com.
Contact with us for any advice