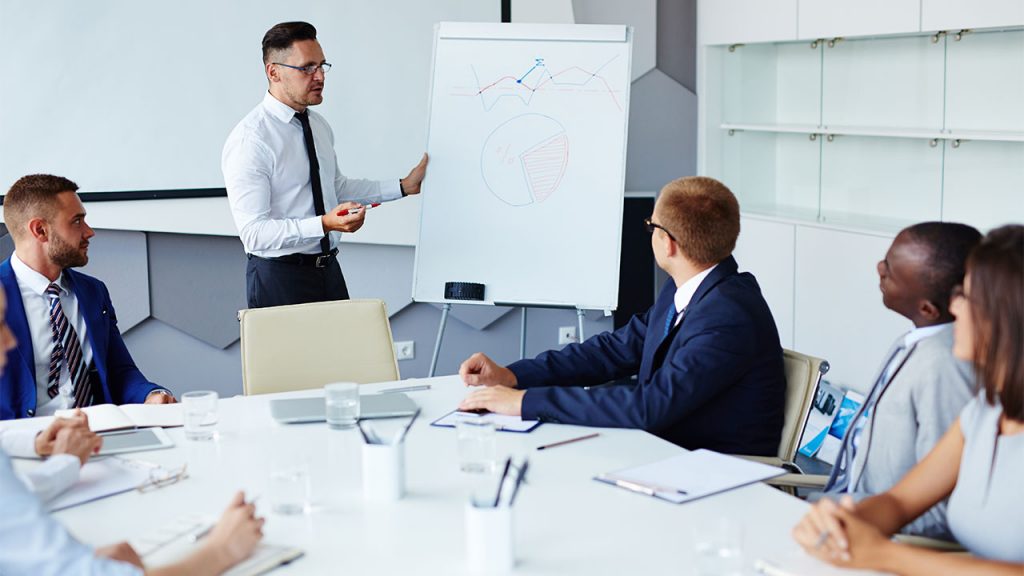 "Giving human touch to your brands makes the customer interaction more personal, engaging, impressive and coveted."
1M+ Followers on Instagram!
Inbox loaded with fan-mails!
1K YouTube subscribers added everyday!
Profits dropping in!
Knock! Knock! Yes, it's not a dream.
But you must know that, Rome was not built in a day and BRANDS are no exception.
In today's breakneck paced, digitally-driven and over-automated era, brands need to reach the heartstrings of people and connect emotionally to make themselves heard amidst the noise.
No matter how pertinent your services are or how convenient you're addressing the pain point of the customers, if it lacks the human connection, the efforts stand null and void.
That's where Brand Storytelling steps in!
Keep reading the blog to understand why a poignant Brand Storytelling stands important for your brand's visibility, impact, profitability and success.
What is Brand Storytelling?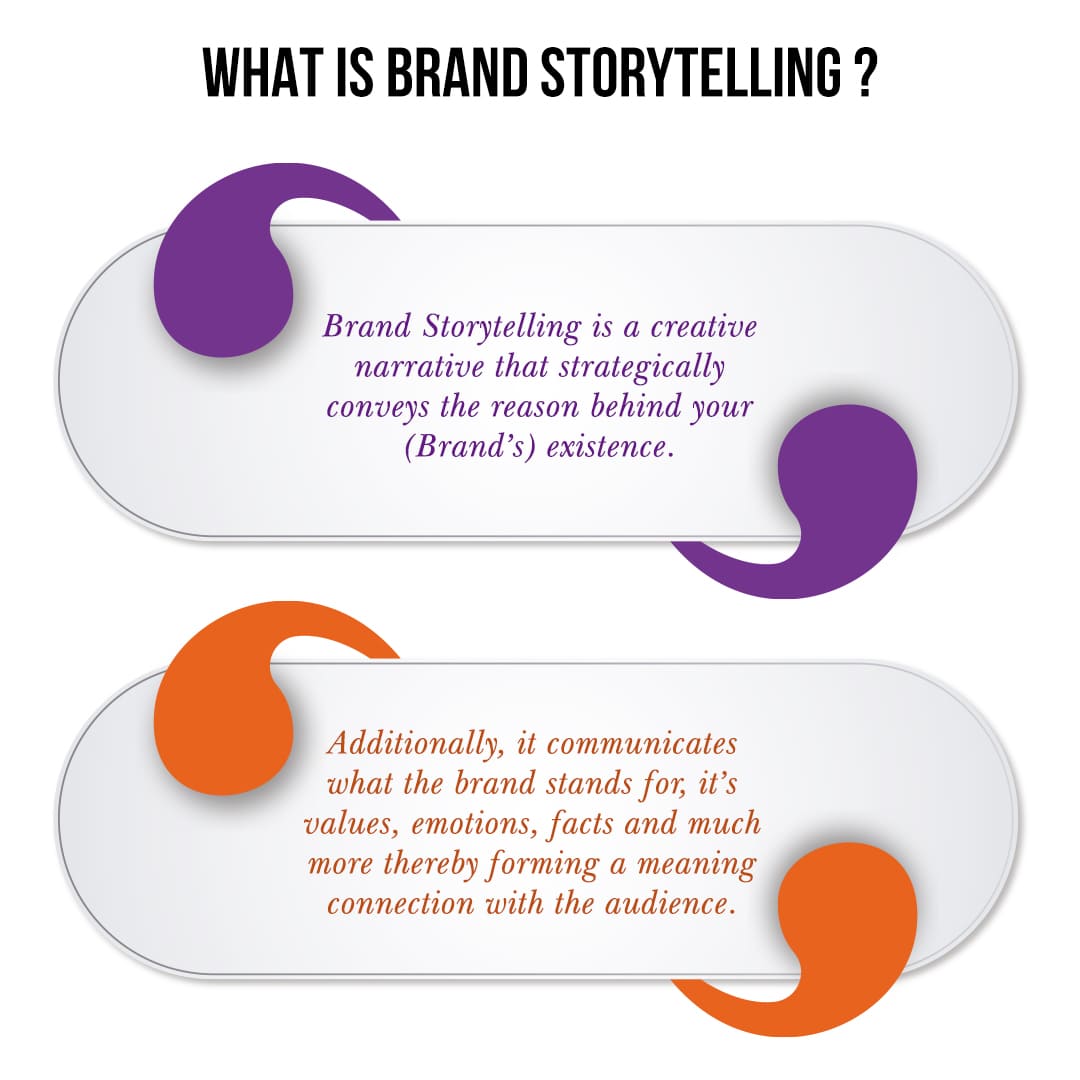 Brand Storytelling is a creative narrative that strategically conveys the reason behind your (Brand's) existence.
Additionally, it communicates what the brand stands for, it's values, emotions, facts and much more thereby forming a meaning connection with the audience.
By sharing an emotional story behind their brand and why it matters, businesses give their customers a substantial reason to buy the product/service from them.
IMPACT? It's phenomenal!
Brand Storytelling directly impacts consumer buying behaviour.
According to a survey conducted by Headstream, around 55% of people prefer buying from a brand if they're impressed and deeply touched by their brand story.
It has become imperative to hit the emotional button of the customers and engage with them at a much deeper level that ever before to make your brand survive amidst your competitors.
Why is Brand Storytelling is important in this digital age?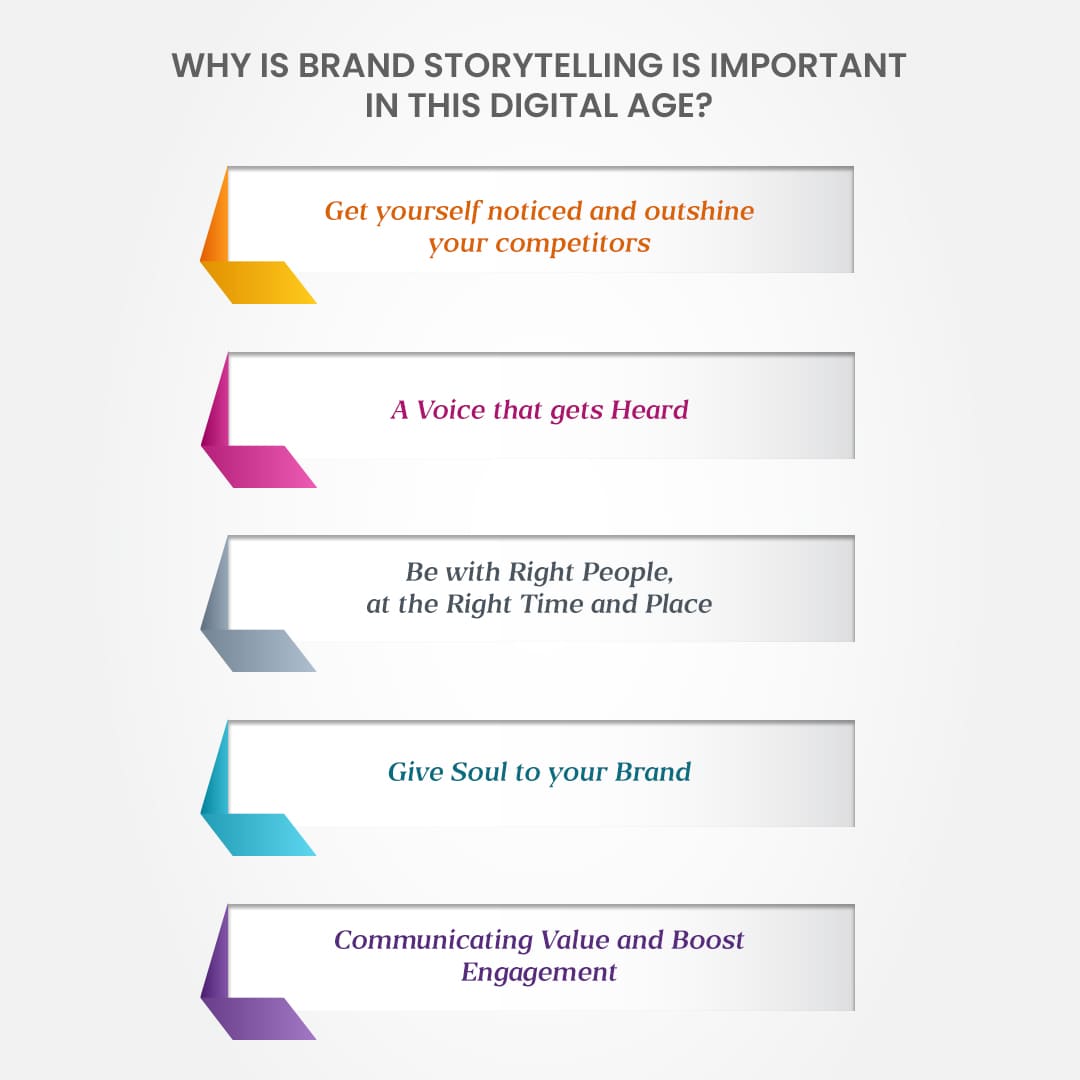 Stand more relevant to your stakeholders by weaving content about your brand that's evokes emotional and human responses!
Storytelling is the new corporate buzzword and is the future of marketing that helps to personalize your brand.
It's the need of the hour if you want to sail without wobbling in the sea of sameness.
Have a look why brand storytelling in the digital age is crucial for your success.
1. Get yourself noticed and outshine your competitors
What makes you stand out from the rest?
There is definitely a unique reason and people want to know that.
They want to know your journey, your struggles, highs-and-lows, goals, vision, success and everything.
Portraying your journey in form of story with a human touch, values that drove change, story that inspire and everything you're doing to evolve, helps to connect with your customers emotionally.
2. A Voice that gets Heard
Undraw the curtains and share your brand's story to give every reason to the customers for trusting you.
Storytelling and selling products/services based on the problems of people won't make a difference anymore.
People need to connect with a community- A BRAND!
And, it's your brand story that would help in bridging the gap by promoting transparency and cultivating more authentic relationships.
3. Be with Right People, at the Right Time and Place
To be successful, you need to be present at the right time at the right place among the right people.
Brand story help you communicate your beliefs, your goals and your objectives in the right direction that helps you not only build a loyal customer base but a community that feels like a family.
4. Give Soul to your Brand
Consumers these days demand brands to prove how their efforts are rewarding or supporting a cause and making an impact that's beyond profit.
The new marketing regime and strategies may not turn out to be the key differentiators in the current scenario.
It's the brand storytelling that's makes the difference and it's natural for the consumers to gravitate towards companies that show their humanitarian side.
5. Communicating Value and Boost Engagement
There are two key pillars of business: Pricing and Value
Competing for price is a never ending race but competing for value keeps you alive in the game for longer run.
Everything is about, what experience you offer, the value the brands add and how does it makes them feel (customer experience).
It makes your brand more memorable and unforgettable.
What are the Strategies for successful brand storytelling?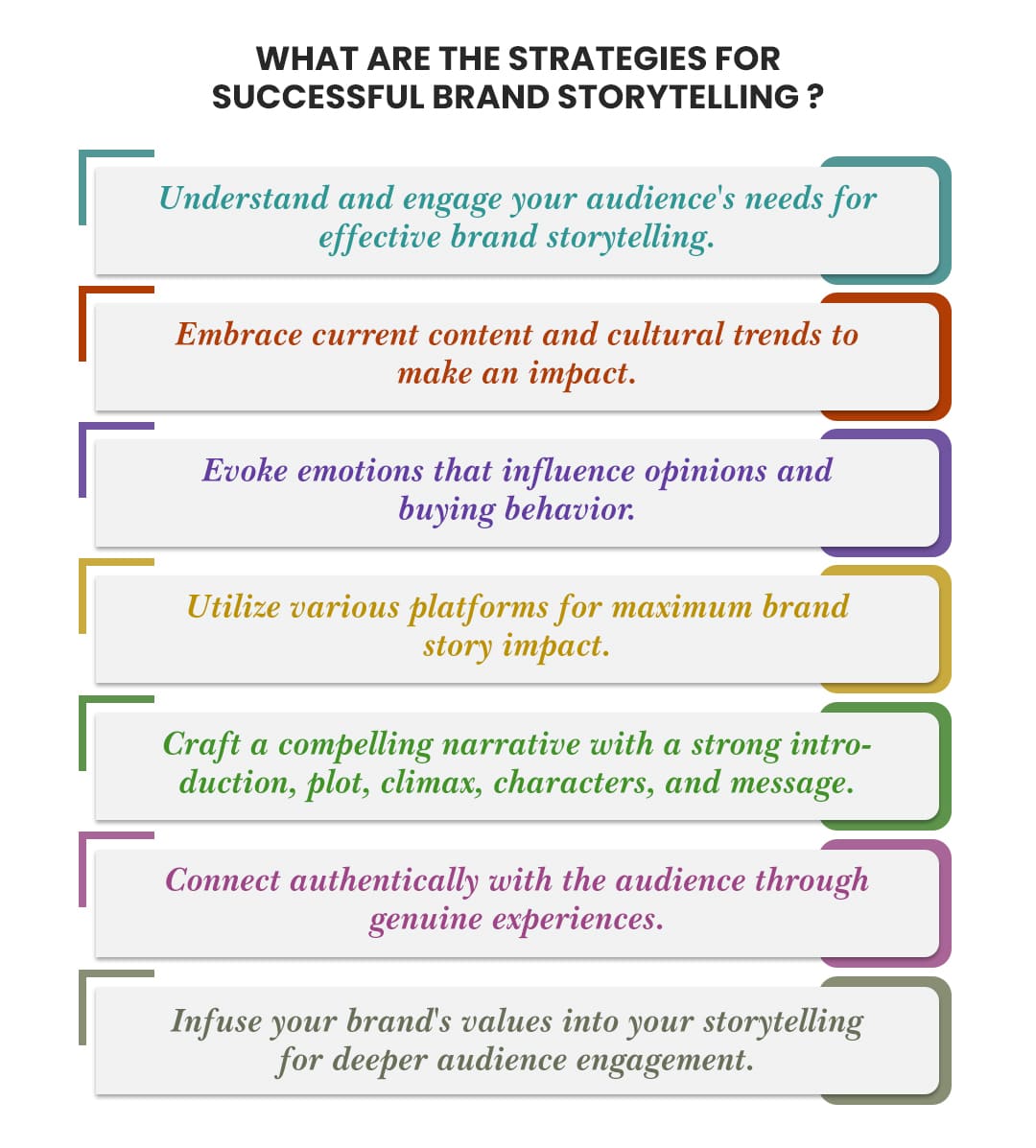 · Customer Focus
It's imperative to understand the demands and needs of the customers. This not only generates brand awareness but also captivates your audience's attention.
Understand your customer and curate content that directly hits their EQ for a better impact.
· Trends
When we say "trends", it includes both content trends as well as cultural trends.
They do impact the audience significantly and are indeed a key to marketing.
· Value-Oriented Content
The main goal of the brand storytelling is to evoke emotions that significantly influence their opinions and beliefs.
Thereby, influencing their buying behaviour.
· Go Diverse
There are multiple options and platforms available that can be utilized for brand storytelling.
You can go for social media, video marketing, content marketing etc for sharing your story for maximum and wide impact.
· Work on the story structure
For an impressive story you need to work on the introduction, plot, climax, characters and message that it intends to deliver.
· Keep it Real
To evoke emotions, the story should be as real as possible and should be able to connect with audience.
The real the experiences are, stronger is the foundation of your brand.
Above all, don't forget to incorporate your brand's values in the storytelling that helps you audience to know more about you.
Types of Brand Storytelling
Let's check out some best types of brand storytelling that helps you make a wide, profitable and phenomenal impact.
· Visual Brand Storytelling
In this type of digital storytelling, businesses can use captivating photos, videos, graphics, animations and much more to grab audiences' attention.
The visual experience is more engaging and tactfully evokes the human emotions to imply the brand's authenticity.
· Data- Driven Brand Storytelling
This type of storytelling involves statistics, data sets and analytics and help in building trust and credibility on the basis of the data.
This story when combined with your brand's mission and vision generates a powerful story that convinces the customers to convert.
· Mission Oriented Brand Storytelling
Here the entire focus is kept on the brand's existence and the reason behind its inception such as what motivated the founders to start the company, the journey, milestones etc.
Here the audience gets connected with the core principles of the company.
· Employee focused Brand Storytelling
This type of storytelling completely focuses on the company's stakeholders such as employees, founders, leaders etc.
The story includes their motivation, journey, lifestyle and their growth till now.
Authenticity gets boosted when employees share their journey and work culture within the company.
· Legacy Brand Storytelling
This is particularly more effective in the case of big or high-level industries as it focuses on company's history.
Here founders share their vision and motivation that inspired them to start the company.
This brand story highlights the longevity of the company and how it grew gradually into a big brand.
Trust, reliability and loyalty is promoted amongst the audience with this type of storytelling,
Success Stories
Have a look at some renowned and coveted success stories.
· Nike Brand Storytelling
Nike Equality campaign is one of the world's biggest brand storytelling endeavours that addressed social issues on equality and inclusivity.
The campaign was a worldwide hit and highlighted Nike's core values of fighting against the prejudices.
This eventually snowballed into a collective movement that not only addressed the common concerns but also encouraged people to stand up for justice.
This was a spectacular example by Nike to show that how much they care about the customers.
· Apple Brand Storytelling
Apple- the most iconic brand of all times has the most memorable brand story ever.
The 1984 Apple's Brand Storytelling campaign was all about liberation of human potential and standing against oppression.
The brand brilliantly recited the tale of people who stood up and come up with revolutionary ideas.
This actually made Apple get associated with brilliant leaders and other geniuses of that time.
· Old Spice
Old Spice came up with their brand story with a twist and the campaign was listed in the top campaigns of the century.
To make the brand stand above the competitors, the brand was humanized with a subtle yet impactful brand strategy .
The brand now refocused from being traditional and old to be more masculine and targeted towards younger generation.
The rest became the history!
Bottom Line
Brand Storytelling is not just a corporate buzzword but critical for a brand's success.
It's indeed the best way to drive customer engagement, build loyalty and encourages purchases.
The stories can build around the brand but the best ones actually woven around the audience the brand caters – The stories people want to hear!
This not just triggers the likes and shares on social media but actually impacts the brand's bottom line.
How's your brand story different and making the impact?
Recent Posts
Contact with us for any advice